Are you planning a week in Greece? Whether you are visiting this incredible country for the first time or you are a repeat visitor, our suggested itinerary for a week in Greece gives you a real taste of mainland Greece and its beautiful islands. Read through our Greece travel guide to learn all about this incredible country. It includes some of the most stunning highlights, including the Acropolis and Parthenon. There are plenty of opportunities to relax, soak up the atmosphere, enjoy the truly delicious local cuisine, and hop on a tour. Here's a list of hotels in Greece to keep you rested in style on this adventure.
Day One: Intro to Athens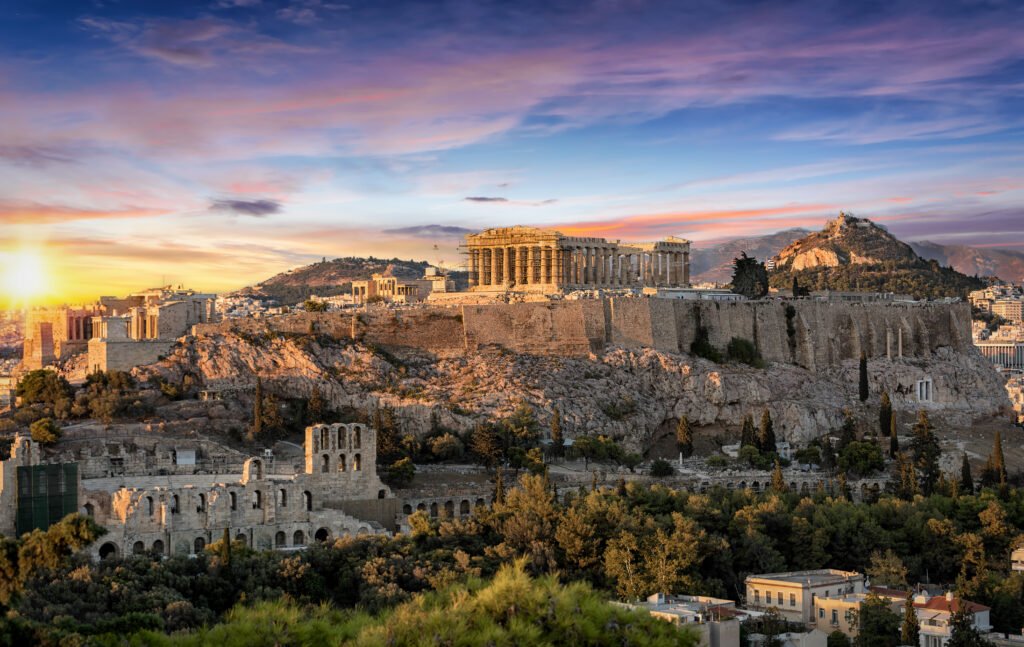 It is impossible to see all of this marvelous city in just a couple of days, but you can certainly head to all the main attractions! The best thing to do before you start is to buy a 'Combined Ticket'. This gets you into all the top sights for a reduced price and is available at most sites, including the Acropolis, the Agora, and the Temple of Zeus. Or take our myths and gods of Athens tour to fit it all in. If you can start your day early, all the better because where you are heading, everyone else will be too!
On the first day, step back into ancient history with a visit to the Acropolis first thing in the morning. The Acropolis is an ancient citadel standing on a rocky outcrop that can be seen all over Athens. It is the location of the famous Parthenon and other monuments of ancient Greek civilization. The Theater of Dionysus is always impressive and the world's first theater, longtime home to famous tragedies and comedies.
A visit to the Ancient Agora is always enlightening. This was the focus of the city's artistic, social, and commercial activities. Hadrian's Library was as imposing as it is important, while the Roman Agora was the hub of public life. Finally, a visit to the Acropolis Museum will give you a greater insight into this fascinating city and its deep history. We recommend unwinding with a glass of ouzo and a plate of cured olives or going on an Athens Nightlife Tour to end the day. Then, relax at one of our curated hotels in Athens.
Day 2– Dive Into the Past
There is still so much to see in Athens, so this will be another action-packed day! Begin with a visit to the Temple of Olympian Zeus, which is one of the most important archaeological sites in the city. Head for Syntagma Square, the city's main square, and enjoy a Greek-style breakfast. Try a rich cup of Greek coffee and a fresh tyropitta (cheese pie) in one of the kaféneio – coffee shops. You'll want to head to the nearby Parliament building just before 11:00 to see the Changing of the Guard ceremony. It's performed by the Evzonas – the guards in their distinct white uniform with pompom decorated clogs and black tasseled hats. The soldiers guard the tomb of The Unknown Soldier.
From there, catch a cab to the foot of Mount Lycabettos (300 m); if you are feeling energetic, you can walk up the winding path to the top of the hill. If you're looking for something easier, you can catch the funicular train up the mountain! At the top, there is a wonderful panoramic view across Athens to the Acropolis. It also has a good restaurant, which is perfect for a drink and lunch after your journey to the top.
Once you are back down the hill and in the center of Athens once more, it is time to join a fun tour to Cape Sounio. This beautiful cape was first mentioned in Homer's Odyssey and is where the ruins of the Temple of Poseidon stand high on the clifftop overlooking the glistening sea. Alternately, join the Cape Sounio Sunset tour to make the most of the scenery at its most beautiful time of day. Both excursions end back in central Athens, perfect for heading to Klimataria, a nearby taverna with drinking, dancing, and delicious food. Spend the night at one of Athens' stunning hotels.
Day 3- Food of Athens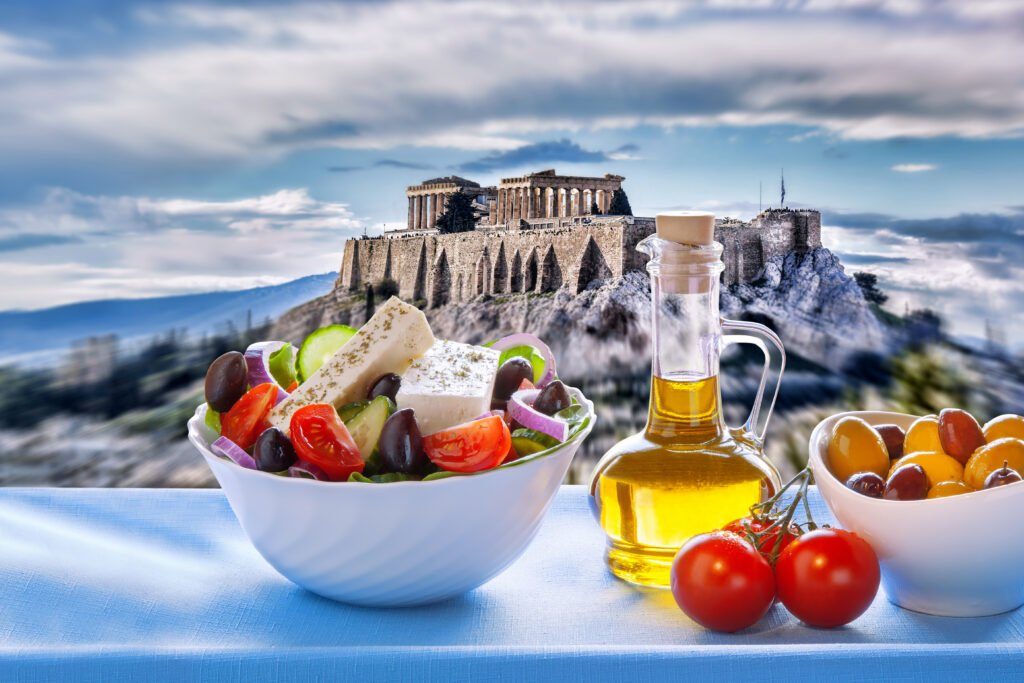 What better way to discover the true character of Athens than through its wonderful food? Join our fun-filled tour and explore the city with a guide who will reveal traditional culinary secrets as you explore the main market, family-run bakeries, and regional specialty shops where you can enjoy the taste of wonderful olive oils, salty tapenades, creamy local cheeses, and honey plus delicious local dishes including souvlakia, honey-drenched baklava, bougatsa, and Greek coffee. You will also learn the benefits of observing the traditional Greek diet and the cultural importance of food in Greece, and leave the tour full of new information and tasty snacks to take home after a week in Greece.
History buffs might instead prefer to head out to the Epidaurus & Mycenae Tour, where you'll walk in the footsteps of ancient Greeks. Learn more about the cultural, military, and mythological significance of the sites and soak in the natural beauty of their surroundings. But if you prefer using your afternoon to sample local vintages, hop on a tour to Nemea Napflio to learn more about local wine production and history.
Day 4– North to Thessaloniki
The perfect way to travel to Thessaloniki is by train as you get a wonderful view of the passing countryside. Thessaloniki is enchanting as it is cosmopolitan. It's a city with the friendly ambiance of a village and offers more offbeat energy than Athens does. The city's colorful history is waiting to be explored, with the help of an interesting and fun guided tour. There are vestiges from the Roman Empire, the Venetians, and the Ottomans melding in every corner. The hotels in Thessaloniki echo the stunning design of the streets perfectly; we've selected the best hotels in Northern Greece for you.
Start the day by diving into Thessaloniki's delicious cuisine on a food walking tour through markets, restaurants, and artisanal shops. Apo Poli is the old part of the city that sits on the hilltop. It is delightful with fountains beautiful Byzantine churches, and the bohemian art center of the city. If you're looking for some lesser-known sites that are worth the trip, check out Bensousan Han. This building has most recently become a site for artists and exhibitions to display their works. The Pasha Gardens are also beautiful. It's a forgotten green haven near Ano Poli with half-ruined structures and an ethereal view: one of the best sights you'll see during your week in Greece.
Day 5- Meteora and the Monasteries

Meteora is a spectacular UNESCO World Heritage Site. It's home to amazing rock formations rising precipitously from the ground and rough and rugged green countryside. Numerous monasteries cling to rocky ridges as they have for centuries. We offer a 3-day hiking excursion that follows in the footsteps trodden by the monks 15 centuries ago. But if 3 days sounds like a lot, you can enjoy a half-day guided hike that includes entering some of the working monasteries. This Meteora tour takes you from Thessaloniki or Athens to Meteora and back, leaving you free from planning. However, for those who want the full Meteroa experience, a full 3-day tour of the monasteries is best.
After such a memorable morning, the rest of the day is spent relaxing in Thessaloniki. A wander along the gorgeous seafront will take you to the famous White Tower with its viewing platform. Or go on a serene bird-watching excursion at Kerkini lake instead. If you're looking to relax, Thessaloniki is well known for its great regional cuisine and cozy restaurants. We recommend Molyvos, a mezze bar, and restaurant with a killer interior design.
Day 6- Back to Athens or Head Start to the Islands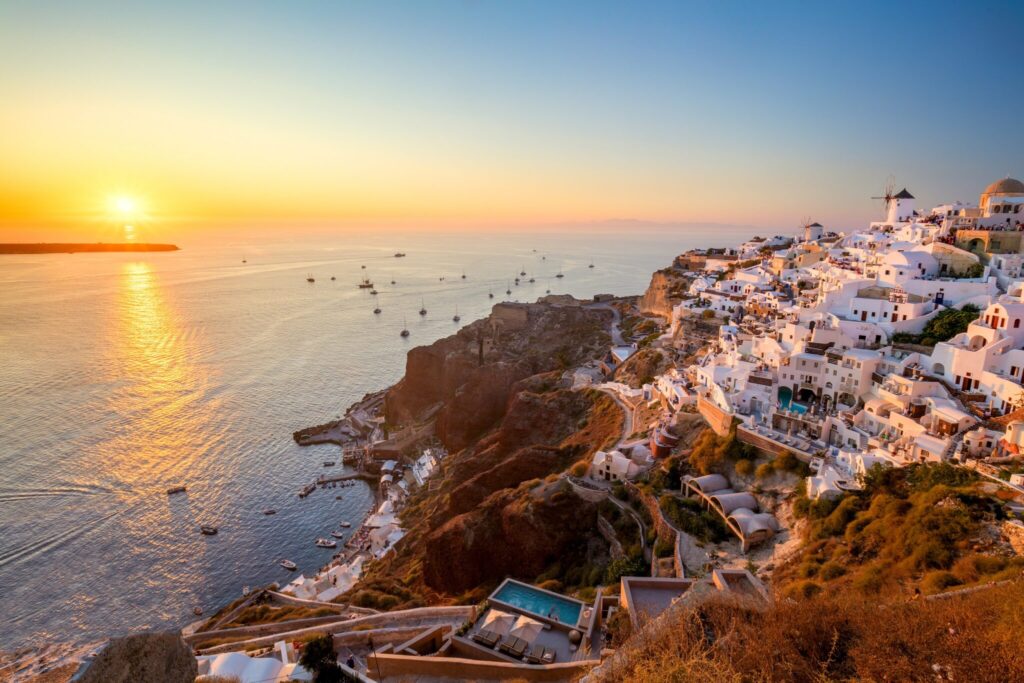 Returning back to Athens by train, you will have the opportunity to take a leisurely stroll along Ermou Street for some souvenir shopping for mementos after a week in Greece. At one end of the main shopping street is Syntagma Square and at the other is the Kerameikos archaeological site, which was first used as a cemetery in the 12th century BCE and for 1,000 years afterward. Read our Athens Design Guide to make the most of your last day in the city. With a leisurely evening in mind, why not enjoy a traditional dinner at Doris, one of the city's oldest restaurants?
Alternately, you can start your island-hopping off early with a tour to Mykonos. A private guided tour of the island will help you understand why it heads our list of top 5 Greek islands. Staying there for the night to unwind in one of these selected hotels is highly recommended. Or instead, head to Santorini with the help of our guide and avail yourself of one of our wonderful tours there. A particular favorite is the Santorini Wine Roads Sunset Tour. Wine on a fabulous Greek island at sunset- need we say more? Once that's over, unwind at one of our selected hotels there. Want to wrap up the whole experience of Athens, Santorini, and Mykonos in one fabulous trip? We have the perfect package tour for that!
Day 7- The Greek Islands
What better end to your wonderful Greek holiday than joining our leisurely cruise to three gorgeous Greek Islands? First, you'll explore Poros, relax with a coffee overlooking the waterfront and discover some of the island's artisans. Then, sight beautiful mansions in Hydra, and soak up the heady atmosphere. The trip wraps up on the lovely unspoiled island of Aegina, where you can visit the Temple of Aphaia, the island's museums, and pretty fishing villages.
Another island route to go is heading to Corfu from Athens and then set out on a tour of Corfu Town, Achilleion and Kanoni. There, you'll visit Achilleion Palace, the former residence of Empress Elizabeth of Austria, and Kaiser Wilhelm the 2nd. Then, see stunning views of Mouse Island and The Holy Virgin of Vlacherena nunnery from Kanoni. You'll then continue to the UNESCO world heritage site of Corfu Town. See its most important sites, like the Venetian quarters of Campiello, the 17th-century town hall, and more. Want to explore some more Greek islands? Read our Greek Island Travel Guide.
The Perfect Week in Greece
From ancient Athens to inimitable islands, this small country has it all, from blasts from the past to modern marvels. A week in Greece is plenty of time to explore, but we are sure you will be back for more. To maximize your journey and fill it to the brim with interesting experiences, a tour package is a great solution. Those who want to eat and drink their way through Greece's delicious local cuisines will love the 10 Day Secrets of Greek Food & Wine Journey. Alternately, history buffs fascinated with the country's storied past can discover it all with a 9-day journey through the secrets of ancient Greece. Looking for more inspiration? Look at the Greece Travel Guide for fresh ideas.