Northern Greece is diverse, spectacular, and often forgotten by tourists heading for the gorgeous islands! This region has a variety of terrains including forests, plains, dramatic mountains, and deep gorges. The area is rich in culture as various civilizations have all left their mark on its soil and there is colorful history and stunning archaeological sites to explore. Northern Greece offers warm hospitality, great food and a glass of local Tsipouro (45% alcohol content) to its visitors– Yamass – Cheers!
Thessaloniki
With a rich history, plenty of culture, and a reputation for excellent food, the country's second-largest city is a popular place to relax and enjoy lovely hikes. The seafront stretches from the ferry port to the famous White Tower, while the city center houses UNESCO listed archaeological ruins, as well as museums and churches, including Ayia Sophia. Thessaloniki is well known for its food – particularly in the Ladadika district, near the harbor. It has numerous small tavernas and bars serving local dishes influenced by Armenian and Arabic cuisine. For shopping, try Tsimikis Street, Pavlou Mela, or Mitropoleos.
During your stay in Thessaloniki, there is the opportunity to take a day tour to Pella and Vergina, home to astounding ruins and one of the largest and most lavish buildings in Ancient Greece. There are also various tours by train the stunning area of Meteora to visit some of the monasteries and hermit caves, which you can do in a single day tour of Meteora or a three day tour of Meteora.
Makedonia Palace
Overlooking the sea, this beautiful and classically decorated five star hotel oozes style and comfort. The Makedonia Palace has two restaurants that overlook the ocean giving diners ringside seats for the stunning sunsets. The main restaurant has an award winning chef at the helm, whilst the second restaurant is a colourful Italian restaurant. Facilities include hammam baths and a fitness centre.
Leof. Meg. Alexandrou 2, Thessaloniki 546 40, Greece
Colors Urban Hotel
Situated right in the heart of the city, everything you plan to see and do is on your doorstep- making this hotel great for couples and families. The hotel is modern, and each eclectic room has its own unique design. Some of the rooms overlook Thermaikos Gulf, whilst others have city views. There is a bar and massage facilities for leisurely moments. It's our top choice for families trying to figure out where to stay in Northern Greece.
Tsimiski 13, Thessaloníki, 54624, Greece
Mediterranean Palace
Promise yourself a little luxury in this gorgeous hotel overlooking the bay in the Ladadika part of the city, known for its business, food, nightlife, and the Museum of Photography. The guest rooms are all super comfortable and there is a pool, spa and gym for relaxation. Cookoo is the hotel's relaxed style restaurant for tasty lunches and dinner or just a snack and Fellows Bar is perfect for cocktails. It's one of the best places to stay in Northern Greece for foodies.
Salaminos 3 & Karatasou, Thessaloníki, 54626, Greece
Where to Stay on The Halkidiki Peninsula
Comprising of three peninsulas (or 'legs' as the locals call them!) that stretch out into the azure waters of the Aegean Sea, the Halkidiki Peninsula is stunningly beautiful. There are also 12 inland areas to discover that are protected for their natural beauty, lush forests fringed by beautiful sandy beaches, and the sea is crystal clear. With more than 550 kilometers of coastline, it is easy to find your own private stretch! Each of the 'legs' of Halkidiki has its own unique character. The temperature in Halkidiki is perfect all year round to enjoy the cycling routes and hiking trails that visit such areas as Ayios Mamas Lagune, Mt Ithamos, Mt Holomontos, and Lake Mavrotara. Nature lovers enjoy exploring the peninsula and there is plenty in store for keen bird watchers.
Electra Hotel, Stavros
Family run and very comfortable, the Electra Hotel has wonderful views of Strymonikos Bay with a backdrop of pine covered hillsides in the Stavros area. The hotel has an attractive swimming pool, comfortable guest rooms, a restaurant and a bar and is within walking distance of the town's bars and restaurants. Despite its central location, this area is peaceful and perfect for exploring the peninsula by foot or bike.
Makedonomachon, Stavros, 57014, Greece
Where to Stay in Kassandra
Kassandra is the first of the three peninsulas and is the liveliest, with popular tourist resorts, luxury hotels and good nightlife. There are plenty of beaches, but the sand in places can be coarse.
Sea Level Hotel, Polykhrono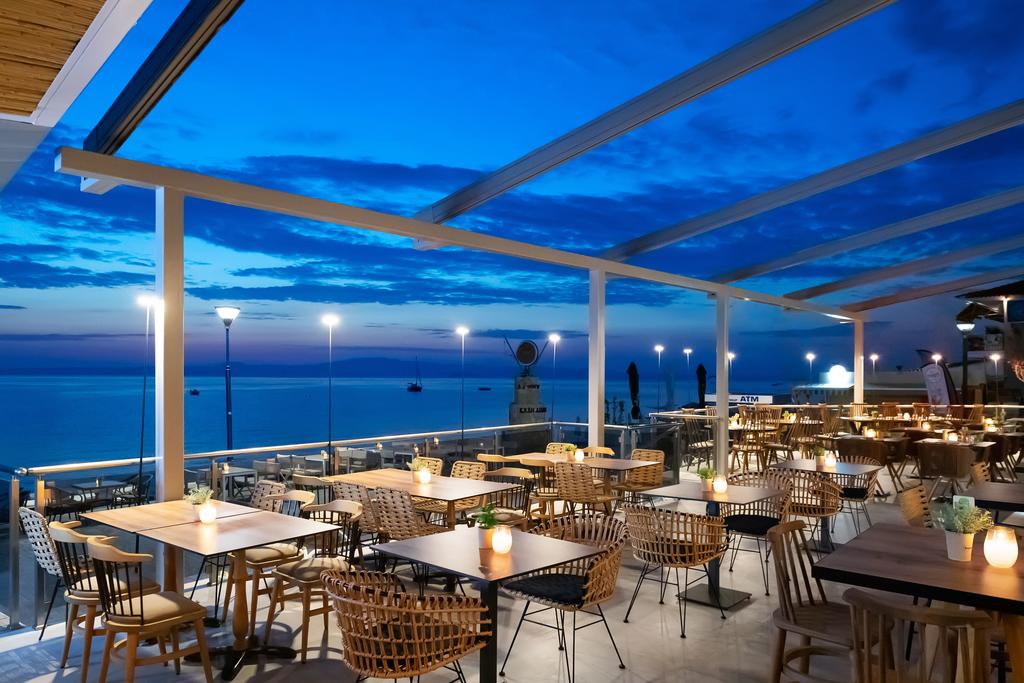 Situated right on the beach on the eastern coast of Kassandra, this hotel is perfect for couples as there are towns and villages to explore nearby and a popular way is to rent a bike. The hotel is stylish and upmarket with a restaurant, pool, and fitness center. A popular feature is the hotel's lavish American-style breakfast, and it's one of the most romantic places to stay in Northern Greece.
Polychrono 630 85, Greece
Atrium Hotel, Pefkochori
Nestling amongst olive and pine trees, the Atrium Hotel is ideal for families. It has comfortable rooms and plenty of sports including tennis, beach volleyball and diving lessons plus aerobic sessions. There is a lovely pool and regular bus transfer to the sandy beach and nearby village which are both 700 meters away. For children there is a playground, fun mini club, water-park, and regular animation shows (six days a week).
Pefkohori, Pefkohori, 63085, Greece
Renaissance Hanioti Resort
This comfortable hotel is situated just 100 meters from the long sandy beach and 150 metres from the village of Pallini, which has restaurants and shops. The Renaissance is an attractive and comfortable hotel that is ideal for families. All of the rooms have a furnished veranda overlooking the pool or gardens. There is a lovely pool, children's pool and poolside restaurant, plus hammam, hot tub and sauna.
Main Street, Hanioti, 63077, Greece
Where to Stay in Sithonia
Sithonia is the middle peninsula and the prettiest with the best sandy beaches. Sithonia is quieter with fewer resorts and a slower pace of life in its villages, valleys and beautiful secluded bays. It is known for the excellent red wine produced from grapes grown on Mt Meliton. It is ideal for couples and families seeking peace and tranquility amongst stunning scenery.
Poseidon Resort Hotel, Neos Marmaras
This delightful hotel sits amongst lush greenery and has a private beach area with sunbeds. The Poseidon has a larger pool, with a pool bar and good restaurant serving traditional Greek cuisine. The village of Neos Marmaras lies close by. The hotel has a tennis court and children's playground, and is near the Porto Carras golf course and the harbor's restaurants and boat tours.
Unnamed Road, Stili Dios, Neos Marmaras, 63081, Greece
Danai Beach Resort & Villas, Nikiti
Standing just above its private sandy beach and surrounded by lush greenery is the Danai Beach Resort. Its rooms are elegant and luxurious with marble bathrooms, fresh flowers, and furnished terraces – some with a private pool. There are three gourmet seafront restaurants and a holistic spa for pampering. A variety of water sports are available and there is a floodlit tennis court. At the Danai Resort & Villas, guests can relax and enjoy world class service.
Nikiti Beach, Nikiti, 63088, Greece
Sonias House, Nikiti
These stylish self-catering studios are just 20 meters from a three kilometre stretch of sandy beach. The studios are comfortably furnished including the spacious balconies and are popular with couples looking for an escape in Northern Greece. There is a cafe restaurant on the ground floor and the village of Nikiti with shops lies a kilometre away. Vourvourou Beach, famous for its small lagoons, is a ten minute drive away, and it's our top choice for couples looking for where to stay in Northern Greece.
Nikiti, Nikiti, 63088, Greece
Where to Stay in Athos
The third 'leg' of Halkidiki is Athos and much of the peninsula is 'off limits' as it is the location of Mount Athos – the only monastic state in Europe. Mount Athos is a sacred place, famous for its private monastic community that can only be visited by men- if they apply for permission in advance. Everyone can enjoy the beauty of the Athos peninsula though, by staying in either Ouranoupouli or Ierissos as both lie some kilometers from the Autonomous State of the Holy Mountains.
Avaton Luxury Hotel & Villas
Situated just five kilometers outside Oranoupouli, the modern and contemporary designed Avaton offers stunning holiday accommodation. Avalon overlooks Komitsa Bay and has its own private beach. There are rooms, suites and villas with private pools and all are beautifully furnished. The Avalon restaurant is excellent and offers modern Mediterranean cuisine and is known for its superb selection of artisan breads that are baked on site. The Avalon's Concierge can arrange massages and other spa treatments as well as helicopter rides and water sports.
Komitsa Bay, Ouranoupoli, 63075, Greece
Mt Athos Resort
This is the area's new luxury 5 star resort which lies on the edge of the village. Modern and very comfortable, the resort is ideal for couples and also for families and accommodation includes family suites. There are two lovely infinity pools – one of them for children and steps lead down to the resort's private beach. The resort has three restaurants serving Greek, seafood and fusion cuisine.
Limani Ierissou, Ierissos, 63075, Greece
Where to Stay in Zagori
This is an unspoiled mountain wonderland region in the Pindus Mountains in north-western Greece that covers 1,000 square kilometres and is sprinkled with 46 villages (Zagorohoria). It is a wonderful untouched part of the country with towering peaks, dense forests, lakes and rivers plus numerous trails to some of the highest summits. There were no roads in the area until the 1950's and even today strict building regulations prevent any modern development.
Some of the villages are well preserved and it is fun to just wander along their streets, smelling wonderful aromas of home cooked meals and meeting the villagers as they go about their work. In contrast, a number of other villages lie tumbledown and derelict. In each of the communities, the central square is surrounded by tall plane trees and there are trellises laden with vines.
Papaevangelou Hotel
Papaevangelou Hotel sits on the outskirts of Papigo with scenic views of nearby Mount Camilla. This traditionally built rustic hotel is charming, and one of our top choices for where to stay in Northern Greece. There are wooden floors and ceilings throughout, and each elegant guest room is houses beautiful furnishings. The hotel is relaxing with stunning views in all directions.
Papigo, Papigko, 44004, Greece
MountGrace Suites & Spa
Situated just 90 meters from the monastery of Ayia Paraskevi, this is a delightful place to stay with attractive comfortable guest rooms, a restaurant and bar. There are spa facilities – a hammam, sauna and hot tubs. You can rent a bicycle in the nearby village of Monodendri if you feel like exploring the beautiful countryside.
Monodendri Zagori, Pc 45500
Pirrion Wellness Boutique Hotel
Situated in Ano Pedina, a picturesque village with stone houses with slate villages and a monastery on its outskirts, this comfortable hotel is small and traditional in style. Each of its guest rooms is unique and houses beautiful antiques and fireplaces – ideal for winter holidays. The hotel restaurant has views of the village and a seasonal Mediterranean menu.
Ano Pedina 440 07, Greece
Northern Greek Getaways
This stunning stretch of Greece is full of gorgeous escapes and incredible history. Whether you're stepping into the past or embracing contemporary culture, you're sure to find out where to stay in northern Greece to fit your fancy!