New Delhi has been India's capital for less than a hundred years, yet history seems to seep from every wall. Beyond the splendor and museums of the British period, the city teems with hidden gems. Our New Delhi design guide highlights the architectural wonders. When it comes to accommodation, look no further than where to stay in New Delhi. Our round-up of hotels in New Delhi is also sure to help. But the Best Things to do in New Delhi are as much about culture as they are map points.
Amid the cacophony of its streets a blend of cultural traditions rub alongside each other. One way to get under its skin is through tours of its oldest sections or through its food. Don't forget that the well-connected capital is also a perfect base for world-famous sites further afield – including the Taj Mahal.
Taste Your Way Around Delhi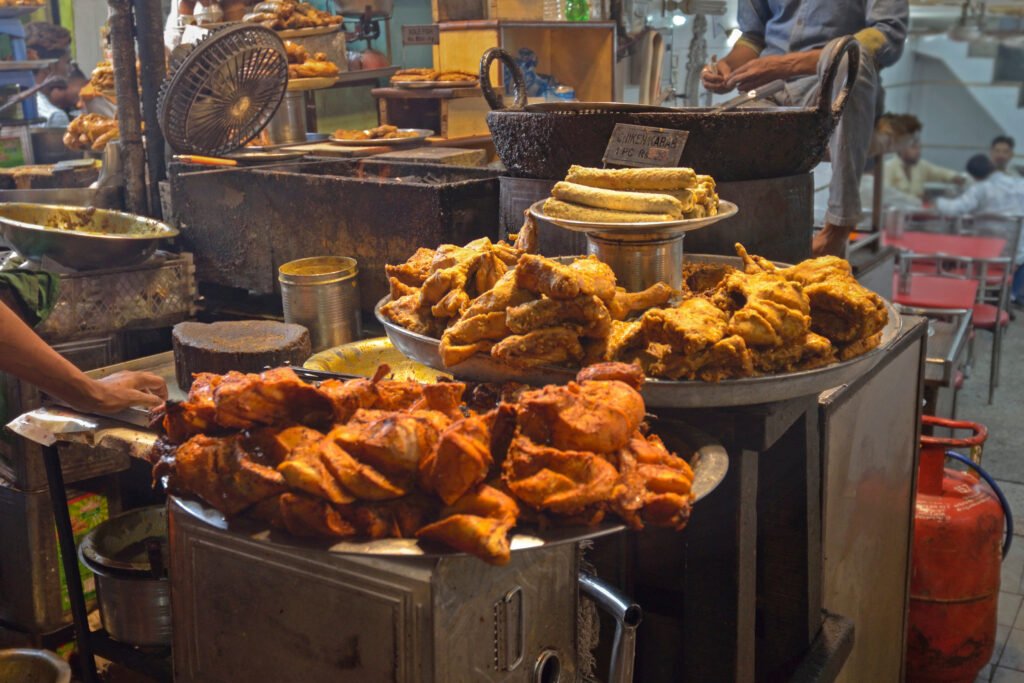 Delhi in the early morning is the perfect time to begin any exploration of the region's foods. Join our breakfast trail in our Old Delhi tour and you'll take in the old city's narrow alleys and markets. Here, you'll get to sample freshly prepared traditional breakfast dishes from the city's most popular vendors. As the city wakes around you, you will try foods you won't find at any other time of day. Having sampled the likes of nagori halwa and nihari, you'll reach the perfumed streets of the city's biggest spice market. The tour ends in a traditional confectionary store.
If you're not a morning person, our Old Delhi night food walk might be the tour for you. You'll smell the many delicious dishes long before you'll see them in the historic lanes of Chandi Chowk and around. The flavors of traditional Sikh, Hindu, Jain, Buddhist and Muslim cuisine are just part of the experience. On foot you'll get a real sense of what these areas are like to live and work in. You'll also see much of the extraordinary architecture normal to Delhi, making this a treat for all the senses.
But should these two tours not entirely satisfy your desire for Indian flavors, we have one more treat for you. Our Old Delhi's Belly tour isn't linked to tummy trouble – far from it. Instead, it is a chance to have an expert guide direct you through its warren of market stalls. Along the way, you'll be able to sip chai straight from street vendors and chat with locals you'll encounter. By doing so, you'll gain a much better understanding of the basis for India's varied cuisines.
Tackle New Delhi Head On
The poverty obvious across New Delhi can be hard to take. However, it would be a mistake to consider the millions of people who live in the city's slums to be helpless victims. Our Delhi slum tour respectfully peels back the façade and immerses visitors in the thriving communities here. You'll soon discover these areas are an integral part of New Delhi, home to everyone from street sweepers to lawyers. Touring the meat market and a chapatti factory, you'll leave with a greater understanding of New Delhi's slum dwellers.
Explore the Golden Triangle
India's Golden Triangle consists of the northern cities and heritage sites of New Delhi, Agra, and Jaipur. Agra is home to the Taj Mahal, perhaps the world's most famous symbol of love. You'll discover the story of how and why it was built on our Taj Mahal & Wonders of Agra tour. Here it's enough to say that despite its fame, the Taj Mahal doesn't disappoint. Starting from Delhi, this tour also takes in the Mughal-era Agra Fort.
If time is not a limiting factor, you would do well to join our 5 day best of Rajasthan tour. In addition to visiting the Taj Mahal, you will stop at the Golden Triangle's third point. The pink city of Jaipur is a treasure trove of wonders including the lake-borne Jal Mahal palace. The tour also includes days at the blue city of Jodhpur, and a river trip in Udaipur.
Slow Down in Rishikesh
Our 2 day yoga and spirituality tour departs the hum of New Delhi for the tranquility of Rishikesh. The gateway to the Himalayan Mountains, is located on the banks of the River Ganges. This has made it a center for spirituality. A number of ashrams (religious retreats) open their doors to inquisitive visitors, including the Beatles in the 1960s. The tour then continues to Haridwar. A holy city and Hindu pilgrimage site, there are several important temple sites in the area.
Discovering New Delhi's Delights
The best things to do in New Delhi are numerous and varied as our list of tours in New Delhi readily demonstrates. A real highlight of the city are the food-related tours available. A slum tour shows the realities of life for many residents. The northern-most point of the Golden Triangle, the city also offers tours to Agra and Jaipur among other treasures of Rajasthan. Finally, you can explore the importance of spirituality to Indian life in Rishikesh.