5 Day Best of Rajasthan Private Package Tour Including Taj Mahal from New Delhi Highlights
01
Stand in awe at the Taj Mahal, Agra's most romantic monument
02
Soak in the beauty of Jal Mahal and the imposing Mehrangarh Fort
03
Uncover the secrets of Fatehpur Sikri, Akbar's wondrous capital
04
Float along the river in Udaipur and spot marble mansions and opulent palaces
Why we chose this tour
Our 5 Day Best of Rajasthan Package Tour Including Taj Mahal from New Delhi begins in Agra with the iconic Taj Mahal and ends in Udaipur, the city of floating palaces. Surrounded by opulent beauty and ancient stories, this 5 day adventure is the best way to see India's magnificence with the expertise of local guide to tell you the secrets and legends of this magical country. This tour is available every day and leaves with guaranteed departures.
Book With Tourist Journey
We hand-craft each tour package which we offer
Each tour and experience is led by a true local expert full of passion
Hassle-free experience promise. We take care of everything so you just have to enjoy
Choose the hotels you stay at from our curated selection
Great memories and the best stories guaranteed
Easy booking, easy cancelation and best price guaranteed
5 Day Best of Rajasthan Private Package Tour Including Taj Mahal from New Delhi Itinerary
Day 1 - Taj Mahal, Agra & Fatehpur Sikri
Begin your adventure by leaving Delhi behind and heading to Agra, where you'll explore one of the world's most stunning and iconic man-made structures: that of the glimmering and romantic Taj Mahal.

Delve into the mysteries and hidden secrets of this palatial structure, and learn more about the black Taj Mahal that was never built.

Continue to Fatehpur Sikri, a sprawling ancient city close to Agra that was built by Akbar, the famous Mughal Emperor.

This is the most well-preserved heritage site from the Mughal Era, inspired by Akbar's ancestor Timur.

Fatehpur Sikri's design is based on Persian principles and ancient royal courts, while also incorporating elements of Hindu and Jain architecture.

The Red Sandstone structures are the best examples of the Hindu and Jain styles, and marvelous in their own right.

You'll stop at other highlights of this city that was the capital of the Mughals for 10 years, including Diwan-i-Am, Diwan-i-Khas, Panch Mahal, Buland Darwaza and Jama Masjid.

Leave the past behind with a scenic drive to Jaipur, where you'll reset after your first day of exploration


Overnight in Jaipur (Breakfast included)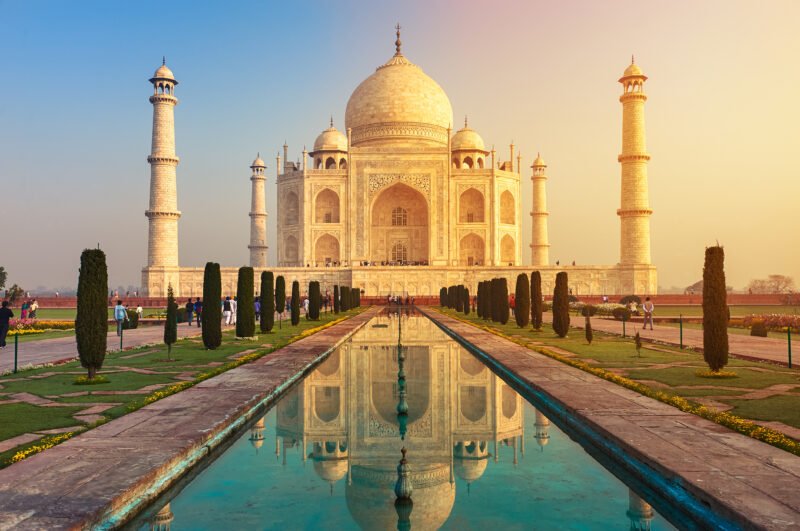 Day 2 - Pink City of Jaipur
Your second day is spent around the pink city of Jaipur, a chaotically energetic and expansive urban center scattered with historical treasures.

Start with the Amber Fort and Palace, constructed from glowing red sandstone and polished white marble to defend against enemy attacks, nestled against the shimmering backdrop of Maota Lake.

Admire the gorgeous and intricate wall paintings and frescoes that adorn the walls and the decorative gems and jewels that add a little sparkle to their charm.

Continue to the Jal Mahal, or the serene Water Palace that sits in the center of Sagar Lake.

Once a shooting lodge for the Maharajah, this splendid pastel building contrasts wonderfully with the deep blue waters of the lake for a sight you're sure not to forget.

The next stop is Hawa Mahal, a 5 story honeycomb building erected by Maharajah Sawai Pratap Singh in 1798.

This unique building has 953 windows called jharokas that are covered by delicate lattice work, and the entire palace is mean to resemble the crown of Lord Vishna.

Your final stop of the day is the City Palace, built by Maharajah Sawai Jai Singh II, a perfect fusion of Mughal and Rajput architecture.

Explore the buildings, gardens, museum, temple, and courtyards of this large complex as your day draws to a close.

Overnight in Jaipur (Breakfast included)

Day 3 - Blue City of Jodhpur
After a day in the pink city, make your way to the Blue City of Jodhpur, beginning at Mehrangarh Fort: one of India's most spectacular that was build in 1438 by Rao Jodha, the founder of Jodhpur.

Sitting on an imposing rock 120 meters above the ground, this fortress was the locations for scenes from "The Dark Knight Rises" as well!

Continue your geological survey with a trip to the Rao Jodha Desert Rock Park, built to restore the natural ecology of the area.

Founded in 2006, it's now a haven for rock-loving flora and fauna to thrive: see what you can spot on your journey.

The last stop of the day is Jaswant Thada, a white marble memorial built for the Rajput community in the 19th century.

Created by Maharajah Sardar Singh in memory of his father Maharajah Jaswant Singh II, the 33rd Rathore ruler of Jodhpur, the various paintings and portraits inside the cenotaph tell the compelling story of the city's historical rulers.


Overnight in Jodhpur (Breakfast included)
Day 4 - Ranakpur & Udaipur
Leave Jodhpur behind with a scenic drive to Rankapur, where day 4 starts with a Jain Temple built by a devout and wealthy businessman.

This huge complex encompasses 29 halls, 80 domes, and over 1,400 marble pillars, and each is an artistic marvel in its own right.

The best part is that no 2 pillars are alike, so keep an eye out for their unique detailing.

Then you're back in the car for a ride through the rolling landscape to the city of Udaipur.

The City Palace, originally erected in 1559 CE by Maharana Udai Singh to commemorate Udaipur as the new capital, has been added to over the past 400 years by various kings from the Mewar Dynasty.

A breathtaking blend of medieval European and ancient Indian architecture, the granite and marble that make up the towers, domes, and arches offer a magnificent opportunity to explore.

The last stop of the day is the world-famous Lake Pichola and its unique origin story dating from the 14th century.

Pichhu Banjara, a gypsy tradesman, built the lake, and today it's lined by opulent palaces, marble temples, sprawling mansions, and bathing ghats that you'll see from your traditional boat ride.


Overnight in Udaipur (Breakfast included)
Day 5 - Jagadish Temple & Return to New Delhi
After a tasty breakfast, visit Jagadish Temple, which was built in 1651 by Maharana Jagat Singh, and it's Udaipur's oldest temple.

32 marble steps lead up to the main shrine, and there's a stunning brass structure representing Garuda, the celestial bird and guardian of Lord Vishnu.

After this stunning side-trip, head to the airport for your flight back to Delhi and the end of this amazing adventure! (Breakfast included)

NB - all timings on 5 Day Best of Rajasthan Private Package Tour Including Taj Mahal from New Delhi are approximate
Have a question?
If you have any questions about our 5 Day Best of Rajasthan Private Package Tour Including Taj Mahal from New Delhi, please contact us. Our team is standing by and will be happy to help
Ask a Question
Important Details
Includes
Transportation to and from your Hotel/Accommodation in New Delhi
Flight back to Delhi from Udaipur
4 overnights in double occupancy rooms
Excludes
Personal travel insurance
Essential Information
Jaipur - Megha Niwas 3* boutique hotel or similar
Udaipur - Radisson 4* hotel or similar
Jodhpur- Fairfield by Marriott 4* hotel or similar
NB: all hotels can be substituted with equivalent properties according to availability.