Tulum is a compact city less than 2 hours south of Cancun on Mexico's Yucatan Peninsula. It's famous for its ancient Mayan ruins set atop a cliff overlooking crystalline Caribbean waters. The city has beautiful beaches, natural biospheres nearby, chic boutiques, subterranean cenotes for swimming, and exceptional bars and restaurants. Here is our Tulum city guide, with suggestions for what to do and how to get to the city.
How to Visit the City
Most travelers visiting Tulum arrive via Cancun International Airport around 120 kilometres north of the city. You can hire a car at the airport and enjoy an easy drive along Highway 307 which hugs the beautiful Caribbean coastline, or catch the bus from downtown Cancun bus station. The bus operates 7 days a week and passes through Tulum. There are also private shuttle transfers available from Cancun International Airport to Tulum starting at around $109 USD one-way. If you're staying in Playa del Carmen, it's even easier to reach Tulum by ADO bus, car, or taxi as it's just 65 kilometers away.
How to Travel Around Tulum
Getting around Tulum is easy. The ADO bus station is located in the town centre, and once you've arrived you can walk, cycle, drive, take shared shuttles, or taxis to your location. It takes around an hour to walk from Tulum town center to the archaeological zone by the beach, and 15 minutes to cycle. If you're staying in a hotel in the town, Ola Bike Tulum can deliver a bicycle to your hotel for daily use. Buses operate to the beach and archaeological site a few times each day and taxis cost around $5-6 USD each way.
Tulum Neighborhoods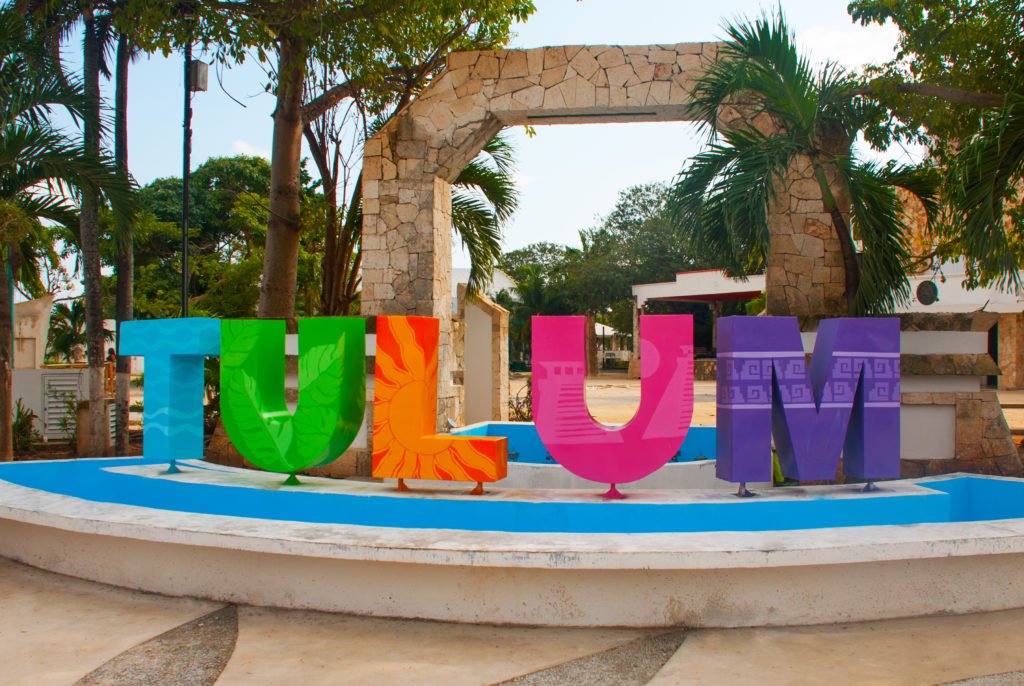 While most visitors opt to stay in Cancun and Playa del Carmen, only venturing to Tulum for a day trip, they're missing out. Staying in Tulum gives visitors are more authentic view of Mexico and the compact town is easy to navigate on foot or bicycle.
Tulum Beach
Just a few kilometers from Tulum Town centre this is an idyllic spot for those wishing to view the morning sunrise and partake in beach yoga. With Tulum archaeological site within easy reach, it's easy to imagine life here during the time of the Mayans. With soft, white sand beaches, palapas and palm trees, it's a place for relaxation with resort-style all-inclusive hotels, beach clubs and restaurants for waterfront dining. You can snorkel, sunbathe and swim in clear water cenotes, visit ancient temples, national parks, and much more.
Tulum Town
For those who wish to stay in the heart of the action, Tulum Town is the perfect choice. It's a great place for first-timers to the area as it's easy to reach other cities and attractions of the Yucatan. It's also handy to access the clifftop Mayan ruins of Tulum's famous archaeological site, beaches, and parks. Authentic Mexican cantinas and restaurants can be found dotted around the town where you can sample delicious burritos and mojitos, you can browse stylish boutiques, take a dip in a subterranean cenote, and even visit the Mayan ruins of Coba from here.
Macario Gomez
If you prefer to experience the simple life in Mexico and reconnect with nature, get off the beaten track and head for Macario Gomez, 20 minutes from Tulum. This bohemian enclave is friendly and welcoming with reasonably priced accommodations, souvenir shops, fresh fruit stands, and small taquerias where you can sample tasty tacos and burritos. It's also near the ancient Mayan city of Coba so you can venture there for a day trip!
Food, Drink, & Nightlife of Tulum
Tulum has amazing bars and restaurants ranging from outdoor eateries set beneath trees wrapped with atmospheric fairy lights to buzzing hot spots serving Mezcal and mojitos by the dozen. Laid back al fresco restaurants offer romantic candle lit evenings à deux, while street side taquerias serve mouth-watering tacos and burritos for breakfast. When it comes to nightclubs, Tulum is quite laid-back compared to Cancun and Playa del Carmen, however it does host weekend beach parties, monthly full moon events, and DJs play live sets in jungle themed locations.
Shopping
Tulum is abundant with charming boutiques selling chic clothing, handwoven straw hats and handmade jewelry. You can find lots of beach wear and kaftans in Tulum, many ethically produced using organic materials and natural dyes. There are sophisticated interior stores selling everything from cushions to blankets and lamps and art galleries and handicraft shops where you can stock up on gifts for family and friends. If you prefer browsing colorful local markets, Aldea Farmers Market is held on the Coba Road in Tulum on the first Sunday of each month and there are handicraft markets held in Playa del Carmen an hour to the north. One of the best markets is in Puerto Morelos on the Riviera Maya. This quarterly craft market specializes in local handicrafts created by a community of Mayan women. There's a local dance festival, a breakfast area, and you have the opportunity to learn lots about local culture.
Culture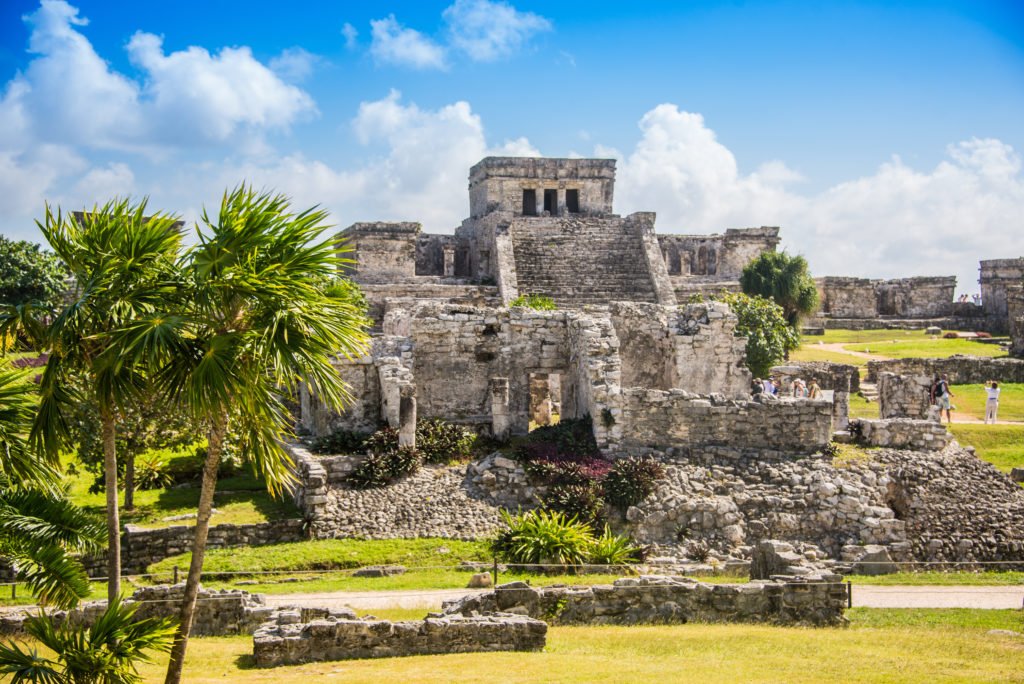 No visit to Tulum would be complete without a visit to the archaeological site of Tulum. This coastal, ancient Mayan city perched on a cliff top boasts sweeping views of the turquoise Caribbean below. Arrive early or late afternoon to avoid the crowds and gain incredible photos. Alternatively, you could visit Xel-Ha, a scenic eco-park 20 miles north of Tulum. It's known as the world's largest natural aquarium and features caves and cenotes abundant with marine life. Here, you can explore Mayan ruins, zip line, hike along jungle pathways or simply relax in a hammock. There are dozens of cenotes along the Yucatan Peninsula too, many around Tulum which are the ideal place to take a swim or cooling dip.
Accommodation
From luxury beach houses with private plunge pools to palapa style villas overlooking the Caribbean, Tulum has them all. The city boasts adults-only and design-driven boutique hotels with top-notch restaurants, eco-conscious tree-house accommodations and deluxe family-friendly resorts with palm-fringed pools, wellness spas and waterfront bars which cater to All-Inclusive guests.
Places to Visit Near Tulum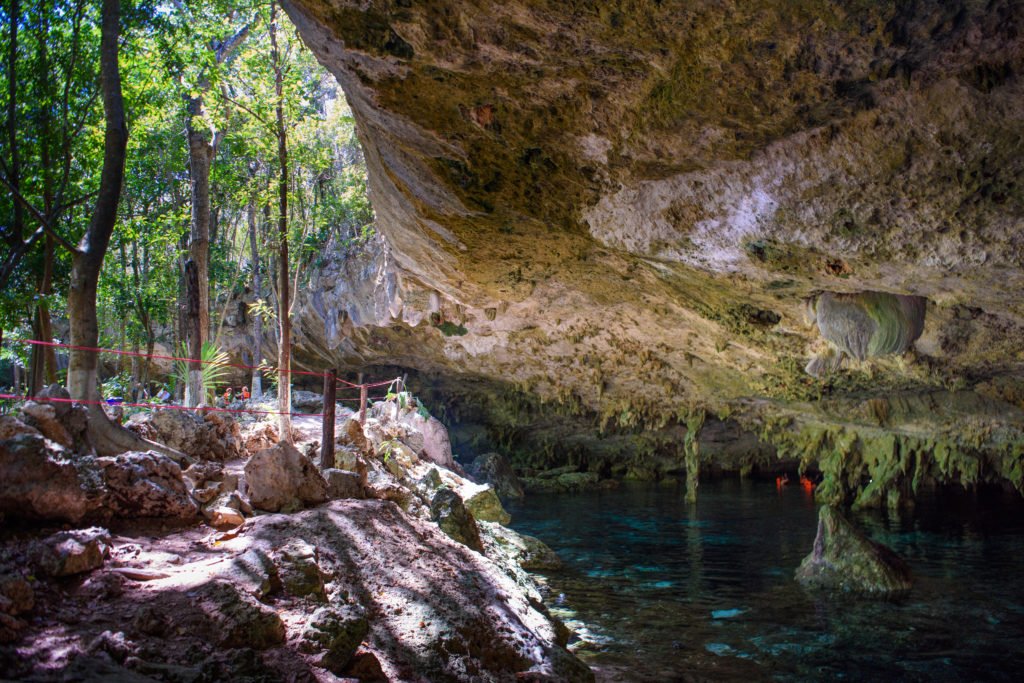 If you enjoyed visiting Tulum's archaeological site, head for Coba, 40 minutes' drive inland. This ancient Mayan city may not be the most famous on the Yucatan Peninsula, but it's interesting to explore and there are fewer tourists! You have to cycle through dense jungle to reach the ruins but once there you can climb to the top of the main pyramid – Nohuch Mul and achieve fabulous vistas of the surrounding landscape. Alternatively, take a leisurely diving expedition at Cenote dos Ojos to discover what lies beneath the open limestone cavern. If you love nature, try to spend a day at Reserva de la Biosfera Sian Ka'an. This UNESCO designated site spanning over 1.3 million acres is a rich ecosystem, home to over 375 species of birds, 115 mammals and 300 plus butterfly species. The best way to see the reserve is by private boat as a knowledgeable naturalist guide can provide you with insightful information and history of the area. There are Mayan archaeological sites to discover, labyrinth canals to navigate, and you may even catch a glimpse of an elusive jaguar or manatee on your travels, so don't forget your camera!