Mexico City is filled with unique and unusual places and spaces. From historic plazas or ancient palaces and temples, to hotels designed like ice cubes or restaurants set inside old mansions and tree-covered bungalows, there's much for design lovers to see and do in Mexico City! There's a lot going on, and that's why we've written this Mexico City Design Guide to keep you from drowning in splendor.
What to Do
Templo Mayor
Mexico City wasn't always known by this name. It was once a thriving Aztec city called Tenochtitlan and was home to over 300,000 people. This ancient city was all but forgotten until the late 1970's when an Aztec carving was discovered near the Zocalo. This discovery prompted an archaeological dig which revealed more than historians ever imagined possible. A large stone pyramid, the main Aztec place of worship known as Templo Mayor, was uncovered in addition to a walled area known as the Sacred Precinct. Archaeologists also found a selection of jade and turquoise masks, sculptures, a monolith of the moon goddess Coyolxauhqui, and several obsidian knives. If you are interested in history and design, wander across the walkway and see how the Aztecs constructed their cities and buildings and explore the fascinating Templo Mayor museum showcasing significant finds from the site, alongside an impressive model of Tenochtitlan.
Seminario 8, Centro Histórico, Ciudad de México, MX 06060
Palace of Fine Arts
Mexico City's Palace of Fine Arts is one of the most important performance and exhibition spaces in the city. The building features artworks by some of Mexico's finest creatives including David Alfaro Siqueiros, Diego Rivera and Jose Clemente Orozco. The structure itself is a masterclass in Art Nouveau, Art Deco, and Baroque styles. Designed by Adamo Boari in 1903, the spectacular building was finally completed in 1934. Materials used throughout the interior were both innovative and experimental with Carrera marble surfaces, glass curtains, and a Marotti crystal roof. Visit to explore impressive architecture, beautiful artworks, or see a concert or performance for a special evening in Mexico City.
Av Hidalgo 1, Centro Historico, Cuauhtemoc, 06050 Ciudad de Mexico.
Palacio Nacional
Mexico City's National Palace is an architectural gem of Centro Historico. Stretching all along the eastern quarter of the main square, the site has been the seat of Mexico's political power since the Aztec empire. The exterior is impressive with balconies, arched windows, gardens, and courtyards; however, the interior is even more breathtaking. Walls and sweeping stairways are decorated with colorful, detailed Diego Rivera murals, showcasing the history, life, and times of the Mexican people. The palace is home to the Federal Treasury, National Archives and old offices of the president, plus there are verdant gardens, a royal chapel, and courtyards to explore!
Avenida Pino Suarez, Corregidora esquina Guatemala, Zócalo, Ciudad de México, MX 06060
Where to Eat
Pujol
Pujol in the Polanco neighborhood has been named the world's best restaurant several times over by numerous publications. Set inside a tree-covered bungalow, this spacious, airy restaurant draws on natural textures and elements of the great outdoors to create a special dining experience. With wooden tables, grey granite, and a bar with a sunken floor so bartenders can be at eye-level with customers, there is no detail which hasn't been considered. The design is distinctly Mexican with parquet floors, steel work, and chairs adapted from Cuban-Mexican designer Clara Porset creations. It's a welcoming space with an open table in the main restaurant and a delightful inner courtyard where you'll want to sit for hours after your meal. In addition to the stunning surroundings, the chef draws inspiration from Mexican ingredients, reinterpreting classic dishes with his own unique creations. The restaurant offers a tasting menu, a ten-course taco bar menu, and cocktail events on the terrace.
Tennyson 133, Polanco, Ciudad de México, MX 11560
Rosetta
Rosetta is tucked away inside a large mansion in the Roma neighborhood of Mexico City. The decor is delightfully vintage with floral wallpaper, white wooden tables, and a plethora of plants. French doors and heritage colors give an almost colonial feel to the place and menus are inspired by Mexican, Mediterranean and Middle Eastern dishes. Dining at Rosetta is akin to visiting a wealthy neighbors house for a meal. It's a romantic experience and the perfect place for a special occasion or celebratory dinner in Mexico City. The restaurant also has an onsite bakery which is renowned for its yummy herb-infused sweet bread buns; don't leave without taking some with you!
Colima 166, Col. Roma, CDMX 06700
The House of Tiles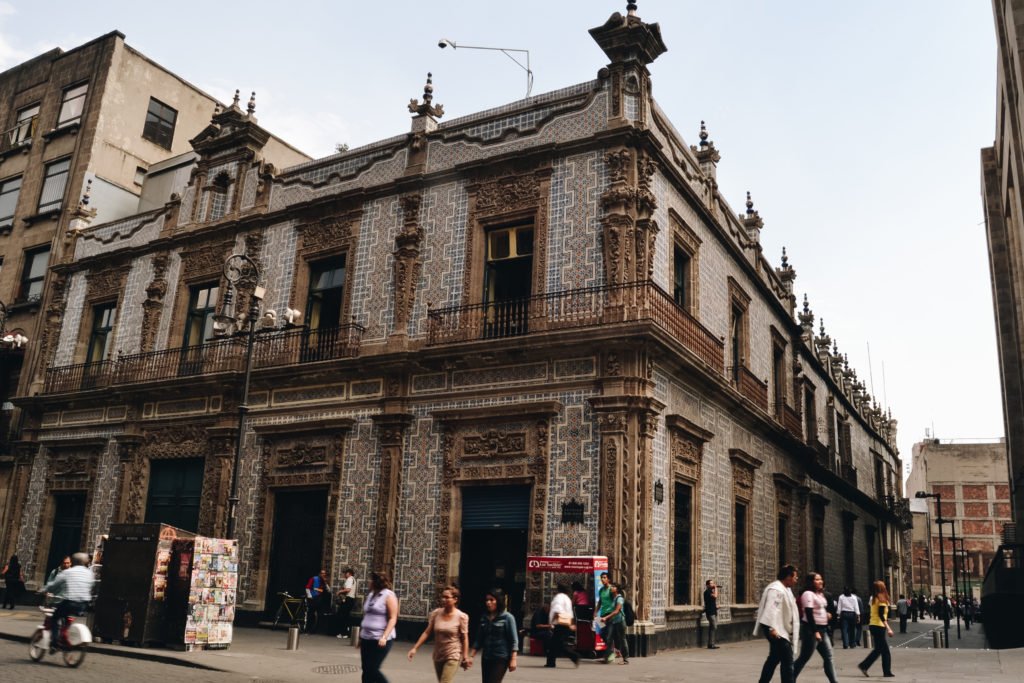 Also known as Casa de los Azulejos, this colonial masterpiece is a sight to behold. Built by the Count Valle de Orizaba family, the building is recognized for its tiled façade – a beautiful arrangement of blue, yellow, and white tiles. Located in the heart of Centro Historico, the interior boasts a glass atrium, balconies and columns – a blend of Baroque, Mudejar and Oriental designs. Two large murals decorate the interior patio walls and stairways and gold frames have angels embellished on them along the second floor façade. This building has a rich history and today you can experience it in the form of a restaurant, as it's the flagship for one of Mexico's most popular dining chains.
Francisco I. Madero 4 Centro Histórico, Mexico City 06500 Ciudad de México
Where to Stay
Condesa DF
Located in La Condesa neighborhood, this fabulous hotel is housed in a 1920's building and filled with custom furnishings by Parisian designer India Mahdavi. The vibe is warm and modern throughout but not pretentious. The 40 rooms were inspired by the serenity of a monastic bedroom with calming spaces, neutral themes, wood furnishings, and interesting signature pieces. Rooms may be simplistic and tranquil in design; however, the rest of the hotel is a design lovers dream. With culture areas, lounges, and breakfast rooms painted in teal with off-white furnishings, a rooftop which overlooks the bohemian neighborhood and a chill out room with a chilled out cinematic vibe, there's everything to love about this charming hotel.
Avenida Veracruz 102, Colonia Condesa, 06700, Ciudad de Mexico.
Habita
Mexico City's unique spin on a contemporary design hotel, Habita resides in Polanco neighborhood, a leafy district with hip restaurants and upscale shopping. The minimalist hotel opened in 1950 and today, the completely remodeled design is still one of the most popular hotels in the city. The exterior, reminiscent of a cube of ice, is wrapped in frosted glass to allow lots of natural light. The 36 rooms of this boutique hotel are simplistic and modern in design with a guest bed, desk, Eames chairs, and crisp white linens. With an on-site restaurant serving international, contemporary cuisine, and a spa offering relaxing massages and reflexology, it's the perfect place to unwind after a day of exploration.
Av. Pdte. Masaryk 201, Polanco, Polanco V Secc, Miguel Hidalgo, 11580, Ciudad de México