Reykjavik is a bustling capital city, but it also retains the traditional feel of an old fishing village. The Vikings settled here in 874 AD, and since then the city has blossomed into an innovative metropolis. Reykjavik is bursting with historic monuments and contemporary architectural gems, along with superb shopping and dining options and a vibrant nightlife scene. With so much to see and do, our Reykjavik City Guide offers some guidance on how to soak up the highlights during your stay.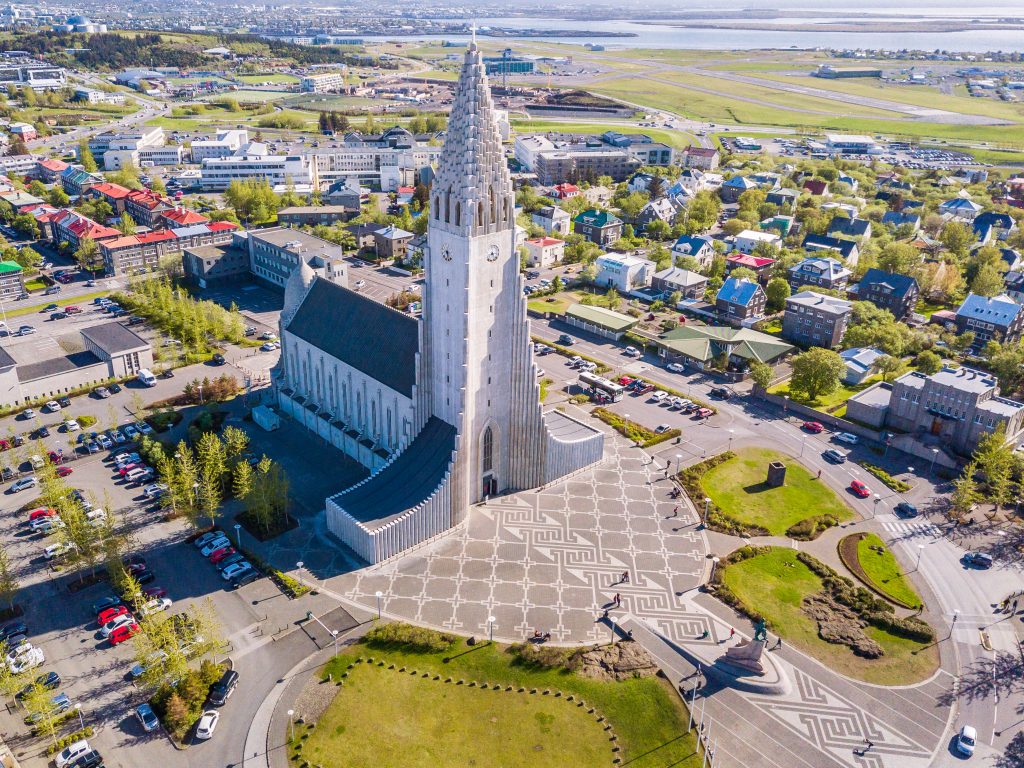 Getting to Reykjavik
If you're traveling to Reykjavik from international destinations, you will arrive at the main airport, Keflavik International Airport. It is situated just 45 minutes south of the capital city. You can rent a car, take a taxi, or get on bus number 55 into Downtown Reykjavik. Alternatively, Gray Line and FlyBus offer a dedicated shuttle service that coincides with flight arrivals. If you plan to visit Reykjavik from other towns and cities in Iceland, daily flights operate in and out of Keflavik International and Reykjavik City Airport via Air Connect Iceland. You can also hire a car and travel along Route 1 – an expansive ring-road that circumnavigates the entire island.
Getting Around Reykjavik
Reykjavik is a compact city and most areas near Downtown are easy to access by foot or bicycle. You can rent a car in Iceland if you plan to traverse the country. However, if you are just planning to stay in Reykjavik, it's not really necessary. Taxis operate throughout the capital, usually priced by kilometer. A 3-kilometer ride will cost around $12-13 USD. But the most budget-friendly way to travel throughout Reykjavik, aside from walking, is by local bus. Strætó buses operate frequently and you can purchase a Reykjavik City Card with unlimited travel for 24, 48, or 72-hour periods.
Where to Stay in Reykjavik
Our Reykjavik City Guide has you covered with the best places to stay! Reykjavik's accommodations cater to all – whether you're traveling on a budget or seeking 5-star luxury. One stylish option is the Kvosin Downtown Hotel, set in a redesigned office block and decorated with Scandinavian furnishings and romantic four-poster beds. Another super-stylish option sure to get you into the Icelandic mood is the ION City Hotel, conveniently located on a bustling central street. Prefer breathtaking sea views and sleek sophistication? Check out Tower Suites Reykjavik. If you're curious about more hotels and options in the Icelandic capital read our definitive guide, Where to Stay in Reykjavik.
Neighborhoods
Roaming the picturesque neighborhoods of Reykjavik is a treat, each one with its own unique character. For those wanting to hop between several neighborhoods to see all the hidden gems, this insider tour makes it a breeze. Alternately, a guided tour focusing on Reykjavik's fascination with magical beings puts a fun spin on a walking tour. If you'd rather go it alone and explore, here is a handy shortlist of what can be found in each neighborhood. Don't forget to peruse our hotels in Reykjavik to find the best spots to stay in these neighborhoods.
101 – Downtown
The Downtown area of Reykjavik is popular with tourists. It's a historic area and the beating heart of the capital. Most of the city's shopping, restaurants, bars, and nightlife can be found here, and the area is easily accessible by foot.
104 – Laugardalur
Laugardalur is a family favorite neighborhood, home to Reykjavik Zoo, Iceland's largest swimming pool, and lush botanical gardens. Laugardalur is a tranquil residential area – nestled away from the hustle and bustle of Downtown yet easily accessible.
105 – Hlíðar
Hlíðar is ideal for those wishing to stay near Downtown but removed from the action. This neighborhood is less than 15-minutes walking from the Perlan Wonders of Iceland exhibition, verdant parks, art museums, and the magnificent Hallsgrimskirkja.
107 – Vesturbær
Vesturbær is a charming waterfront neighborhood west of Downtown, close to the National Museum of Iceland and the National Gallery of Iceland. There are several restaurants, bistros, and a popular outdoor public swimming pool in the neighborhood. Vesturbær is just 30 minutes walking or a short bus ride from Reykjavik's lively center.
170 – Seltjarnarnes
The quaint town of Seltjarnarnes sits just outside Reykjavik on a peninsula, surrounded by the deep blue sea and beautiful nature reserves. You can view the Northern Lights clearly from Grótta Lighthouse during the winter months. In the summer, birdwatching and seaside walks are popular pastimes. This charming township also boasts a fascinating Medical History Museum and a star observatory.
Sites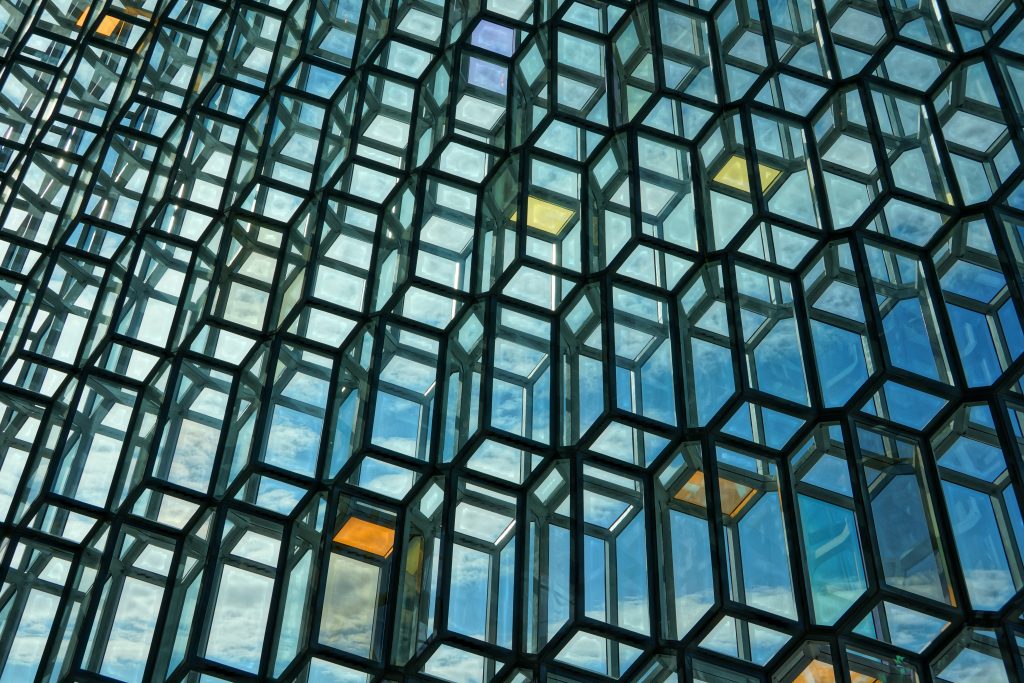 Harpa Concert Hall
No Reykjavik City Guide is complete without a visit to this gem! Harpa Concert Hall sits on the waterfront in Reykjavik – a glistening glass structure reflecting the myriad colors of Iceland's changing skies. The concert hall opened to huge fanfare in 2011 and has since hosted some of the world's most iconic artists. Moreover, it's home to Iceland's Symphony Orchestra and the Icelandic Opera. Visitors can take a tour of the 1,800-seat auditorium, enjoy a thrilling performance or dine in one of the hall's two restaurants.
Perlan
Perlan sits on the edge of Reykjavik. This interactive Icelandic museum is easily recognizable by the glass dome which sits atop the structure. The dome also doubles as a revolving restaurant, offering incredible panoramic vistas of the city, coastline, and surrounding countryside. Perlan also hosts the Wonders of Iceland exhibition, where visitors can learn about volcanos, tectonic plates, and geothermal regions. There's an underwater adventure, a real ice cave to explore, and a planetarium where you can discover Aurora Borealis and delve deep into the mysteries of the universe!
Hallgrimskirkja
If there's just one Reykjavik attraction to see during your stay, make it Hallsgrimskirkja. The facade of this fascinating church was inspired by the way lava cools on basalt rocks, forming intricate patterns. But this traditional yet futuristic religious structure is just as impressive inside. It features a 15-meter-tall pipe organ as well as an observation platform inside the bell tower boasting exceptional views of Reykjavik's skyline.
Dining & Nightlife
Dining out in Reykjavik is a treat – with tempting restaurants punctuated throughout the city. Restaurants specialize in innovative Scandinavian and Icelandic cuisine incorporating fresh seafood, free-range meats, and traditional skyr yogurt. In addition, the city boasts a range of Italian, American, Asian, and vegetarian eateries, along with fast food favorites and cafes. Don't leave without sampling the famous Icelandic hot dog, said to be one of the world's best! Street food markets are gaining popularity in Reykjavik. Every Saturday in July and August the capital hosts a fabulous foodie extravaganza. Stalls serve up Icelandic fare, burgers, pulled pork, and delicious veggie dishes – so go hungry! Foodies on the hunt for the best local flavors will love this tour, which hits all Reykjavik's essential culinary highlights.
Reykjavik's nightlife is equally impressive with chic bars hidden away in old biscuit factories, loft apartments, boutique hotels, and microbreweries. Many of these bars transform into nightclubs where you can dance like a local until the early hours.
Shopping
Laugavegur is Reykjavik's main shopping street in the Downtown area, alongside Hverfisgata and Skolavordustigur. These lengthy shopping hubs are packed with malls, boutiques, outdoor adventure shops, art galleries, and jewelry stores. It's customary for locals to gift books at certain times of the year, so you'll find antique bookstores dotted around the city. If you underestimated the weather or just want to stock up on cozy clothing during your stay, head for Alafoss wool store 15 minutes outside Reykjavik. You'll find hand-knitted Icelandic sweaters, blankets, and an abundance of gifts to bring home with you.
Day Trips from Reykjavik
Why should a Reykjavik City Guide stop within the city limits? Within an easy drive from Reykjavik, Iceland's Golden Circle boasts national parks, spectacular waterfalls, hiking trails, and cultural attractions. If you're staying a couple of days in Reykjavik, drive or take a guided tour to Gullfoss Waterfall and the famous Blue Lagoon. Or instead, explore the charming harbor town of Hafnarfjörður, a short drive from the capital. It has a smattering of shops, bakeries, and traditional restaurants. Moreover, each year it hosts the annual Viking festival where revelers can feast, drink, and dance like their ancestors for a few days. But if you don't wish to venture too far from Reykjavik, head for Snaefellsnes Peninsula. It's a tiny coastal area with nature reserves, a lighthouse, and spectacular views of the Northern Lights.
In conclusion, Reykjavik offers visitors plenty of cultural, culinary, and natural delights, as well as being a convenient springboard for trips to the rest of the country. With our handy Reykjavik City guide, you can be sure you won't miss a thing.