Corfu has been enchanting travelers for centuries and is easily one of Greece's most iconic islands. Each year, vacationers flock to Corfu's sandy shores to wash their troubles away in the ethereal Ionic Sea. It's the perfect place to set up in a dreamy hotel, take a tour, feast on terrific cuisine, and take a break from the outside world. Whether you have just 2 days to spend in Corfu or you're planning a longer escape to this dreamy island, our Corfu Travel Guide has everything you need to know!
When to Visit Corfu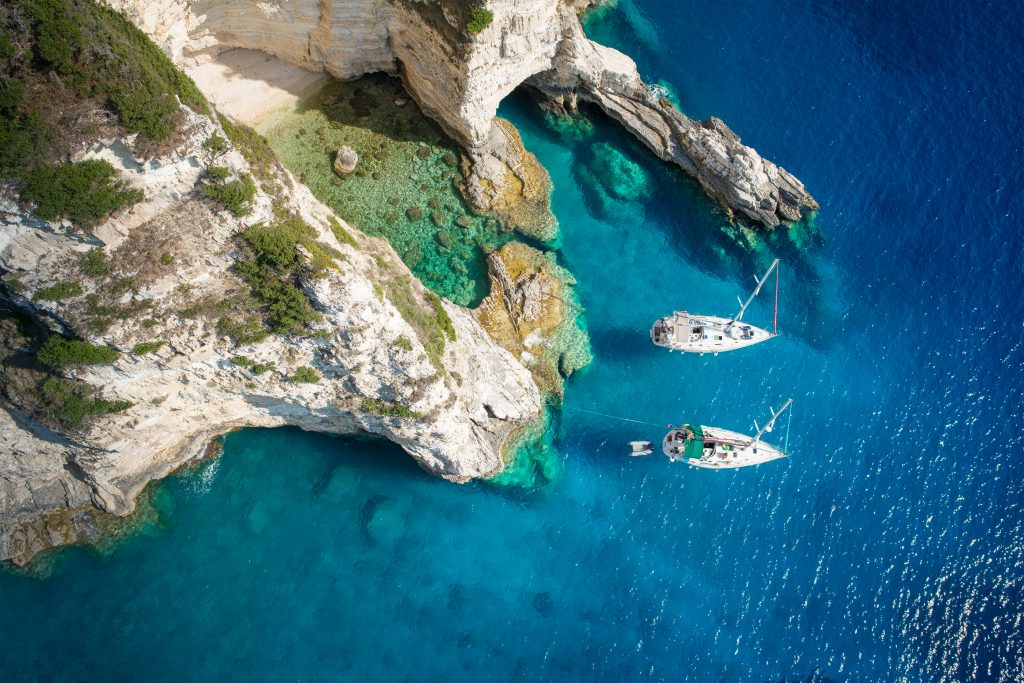 Corfu is stunning year-round! It's no surprise it made it onto our list of the 5 best Greek islands. But if you're looking forward to some time in the sun and sea, plan your visit for the warmer months of the year. July and August are peak season – when temperatures are at their hottest and beaches are filled to capacity. If you wish to avoid the crowds, book your visit to Corfu for the shoulder season. For example, April, May, or September through November. During these months, the weather is pleasant and you can enjoy a more serene version of the island life. Learn how to get to Corfu from Athens with our handy guide.
What to Do in Corfu
Discover Old Town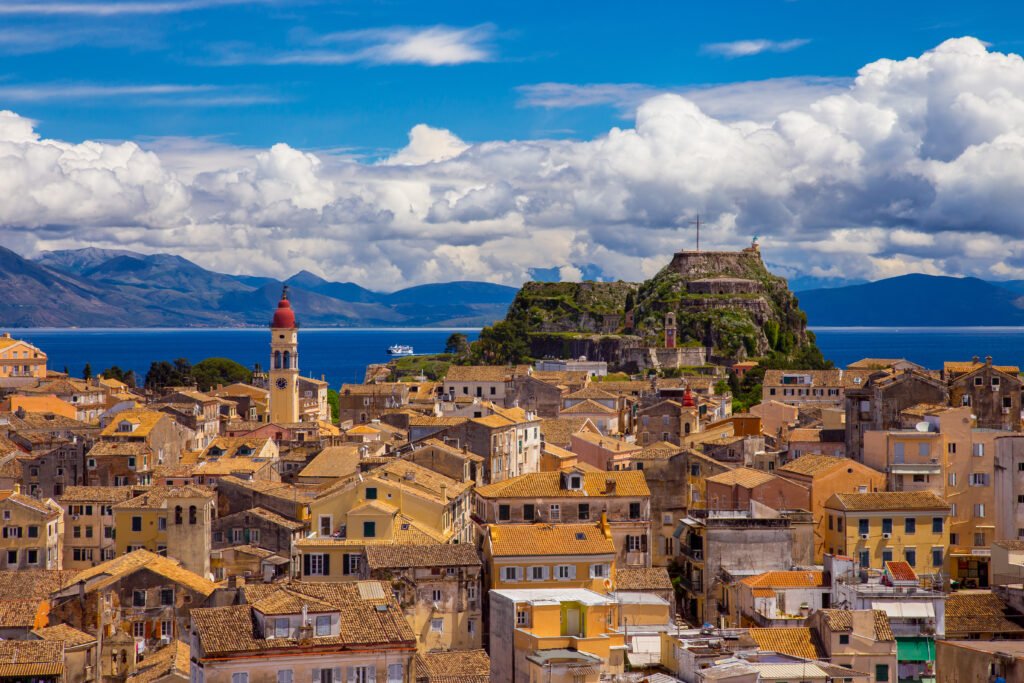 No Corfu Travel Guide would be complete without a visit to Old Town, nestled between two mighty fortresses. Corfu's Old Town is an enchanting labyrinth of streets and alleys, elegantly lined with Venetian and Neoclassical facades. The historical center, a UNESCO World Heritage Site, is a great place to start. Don't miss Spilias Square, Saint Spyridon Church, the Liston, and the Statue of Georgios Theotokis. Then discover the island's two fortresses: the eastern Old Fortress, and the western New Fortress. Our Achilleion, Kanoni & Corfu Town Private Tour will take you to Corfu's essential sites with an expert guide. Or, hop onto our Paleokastritsa Monastery, Kanoni & Corfu Town Tour if monasteries are more your scene. Either is a great way to learn the history and enjoy the best highlights on the island.
Go for a Swim
Corfu is famous for its incredible beaches – and they surely don't disappoint. The island is surrounded by soft, sandy shores with something for every mood. If you prefer less crowded beaches, rent a bike and enjoy a leisurely ride on the way to more isolated coves like Rovinia, near the village of Liapades. Alternatively, you can rent a car and head to more distant shores. Located in the northernmost tip of the island, Cape Drastis features a dramatic backdrop of white-washed cliffs extending down to the shore. For a perfect sunset, head to Logars Beach and enjoy a refreshing drink at the clifftop restaurant.
Sail Away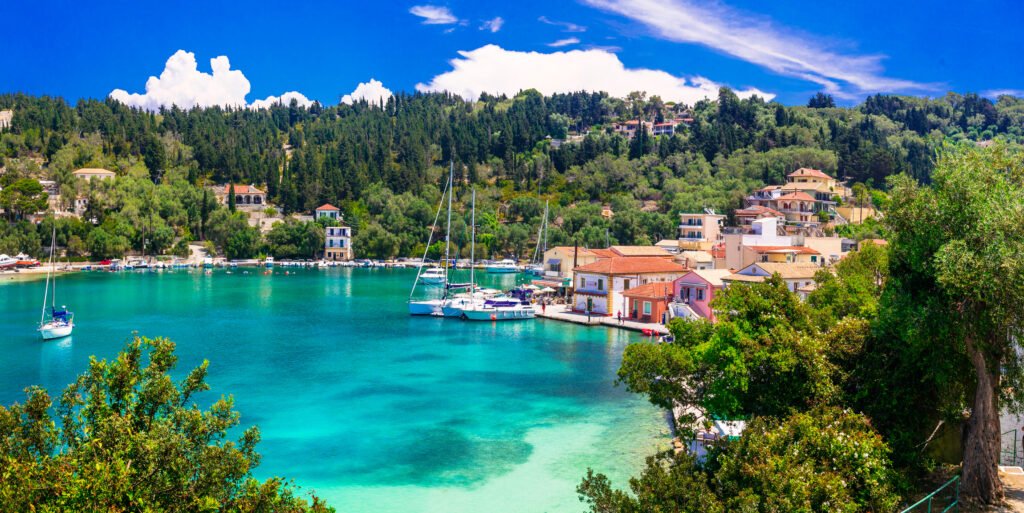 Corfu locals claim that once you visit the island, you'll never leave it. Perhaps an exception is to sail away for the day! The turquoise waters that surround Corfu are dotted with hidden gems and treasures to discover. You can rent your own sailboat and take a trip to the Diapontian Islands (a set of three deserted islands off the northwestern coast) or the small islands of Paxoi and Antipaxoi, located just 10 miles south of Corfu! Learn all about the best way to island-hop in Greece with our Greek Island Travel Guide.
What to Eat in Corfu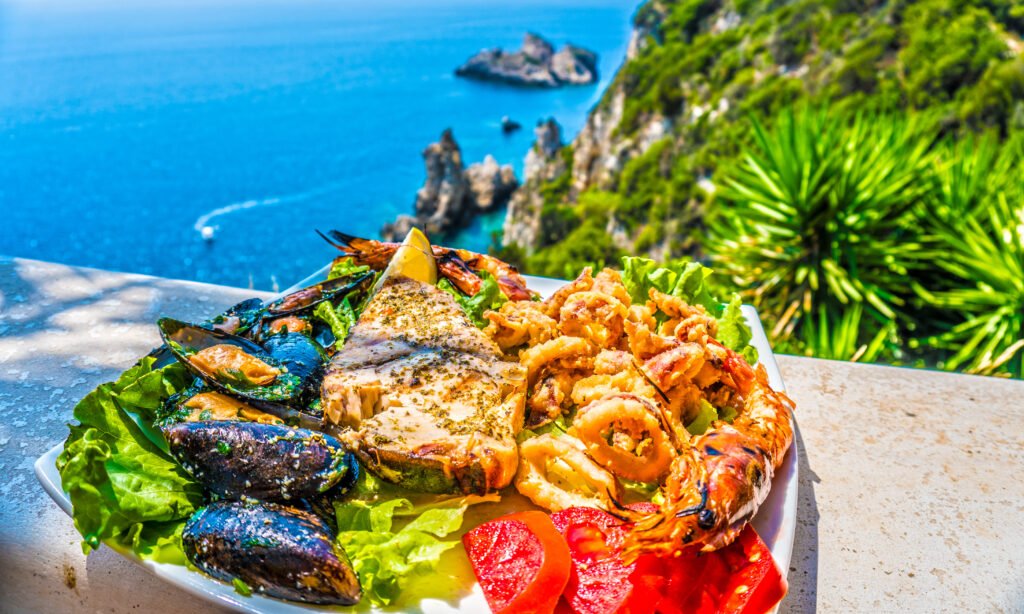 Greek cuisine is a favorite around the world, but there is something special about the local food traditions of Corfu. With a combination of Mediterranean flavors, influenced by both Greek and Italian traditions, Corfiot cuisine is an especially delicious treat. Some of the most typical dishes include bourdeto (fish cooked in a tomato and pepper sauce), sofrito (beef seasoned with garlic and a wine sauce), and pastitsada (rooster seasoned with a spicy tomato sauce and served with thick spaghetti).
Where to Stay in Corfu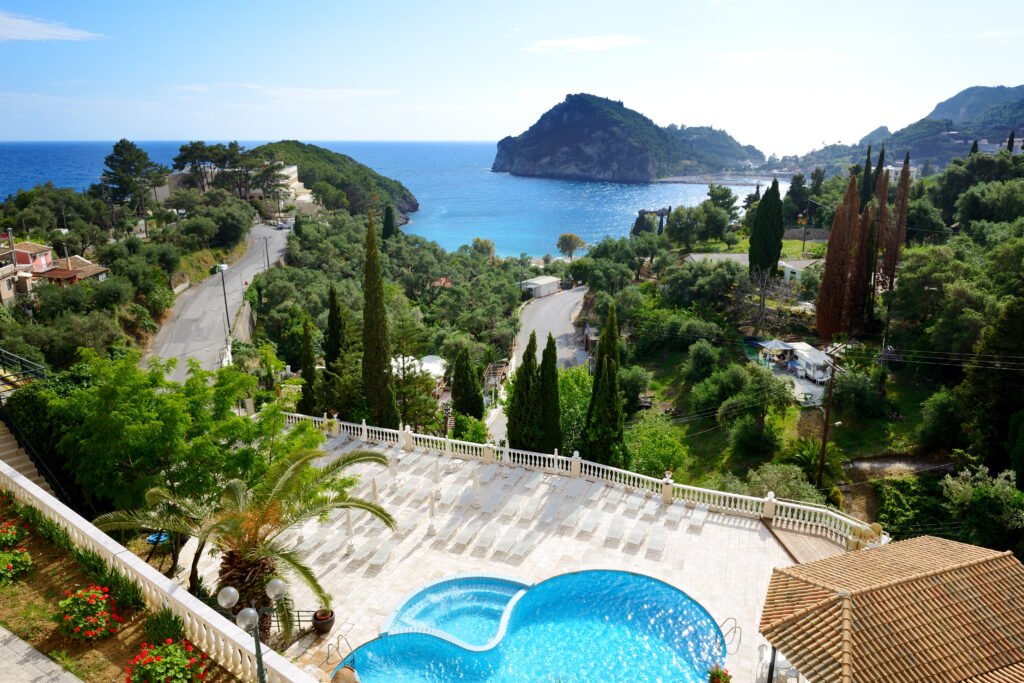 Our Corfu Travel Guide has you covered with tips on where to stay to maximize your experience! Stretching for less than 60 km, Corfu is easy to explore. However, for such a small island, its landscapes are incredibly diverse – so you'll want to choose your base carefully. If you prefer the resort lifestyle, head for the south of the island, where you'll find lush resorts and grand hotels. To the north, the atmosphere is more rugged, especially as you make your way to Corfu's highest peak, Mount Pantokrator. To the east of the island, pebble beaches line the shores and small villages are filled with charming villas where you can stay. On the west side of the island, you'll find some of Corfu's most stunning beaches – with picturesque sunset views that make filters irrelevant.
While it may be hard to go wrong in this island paradise, it's recommended to make the most of your time while in Corfu. Hopefully, with the help of our Corfu travel guide, your stay will be completely unforgettable.