The birthplace of modern democracy, Athens attracts travelers from all over the world to explore it's ancient ruins and bustling streets. For many visitors, Athens is the jump-off point to a dazzling destination elsewhere in the country. However, the city is a top-destination in it's own right, well worth more than just a layover! Our Athens Travel Guide offers some inspiration to extend your time there and soak up everything this iconic city embodies.
When to Visit Athens
It's always a great time to visit Athens! With its mild Mediterranean weather, the Greek capital enjoys pleasant temperatures year-round. If you're seeking sunshine without the intensity of high-season, visit between March and May or September and November. However, if you plan to do a bit of island hopping you'll want to plan your journey between May and September. Keep in mind that most of the islands shutter for the low-season and transportation is limited.
What to Do in Athens
Step Back in Time
No Athens Travel Guide would be complete without an emphasis on ancient ruins. Start at the top of the Acropolis, where you'll enjoy a panoramic view of the Parthenon, the Erechtheion, and the Temple of Athena Nike. Immerse yourself in mythical history with a guided tour! If you have some extra time, add the Odeon of Herodes Atticus and Temple of Poseidon to your list. At sunset, both are perfect spots to take in the majestic views.
Go Museum Hopping
After traveling back in time, discover the plethora of museums bursting with hidden treasures and unique pieces of art. History buffs will enjoy the wealth of artifacts collected in the Acropolis Museum and the National Archaeology Museum. The Benaki Museum celebrates Greece through the ages, taking visitors on a journey from the Bronze Age all the way to World War II. If you don't get the chance to visit the Cycladic islands – which you should – you can still visit the Museum of Cycladic Art. The museum houses an impressive private collection of art from the region.
Explore Modern Athens
When you're ready, return to the present day and explore the bustling streets of modern Athens. Just beneath the Acropolis, you'll find the Plaka, Athens' most charming residential neighborhood! It's a pedestrian-only pocket of the city that's just perfect for a morning stroll. Cobblestone streets are lined with unique shops and eateries, so plan to stop along the way for a bite or to peruse hand-crafted souvenirs. If you want to embrace Athens' fast-paced pulse, look no further than the Monastiraki neighborhood! With its busy streets and buzzing flea market, this is the spot to enjoy a cocktail at a rooftop bar or shop for antiques at the flea market. For an upscale vibe, head to the Kolonaki neighborhood to window-shop and people-watch while sipping a frappe at one of the trendy cafes. For an insider's perspective, join a Street Art Tour with a local guide!
Go for a Swim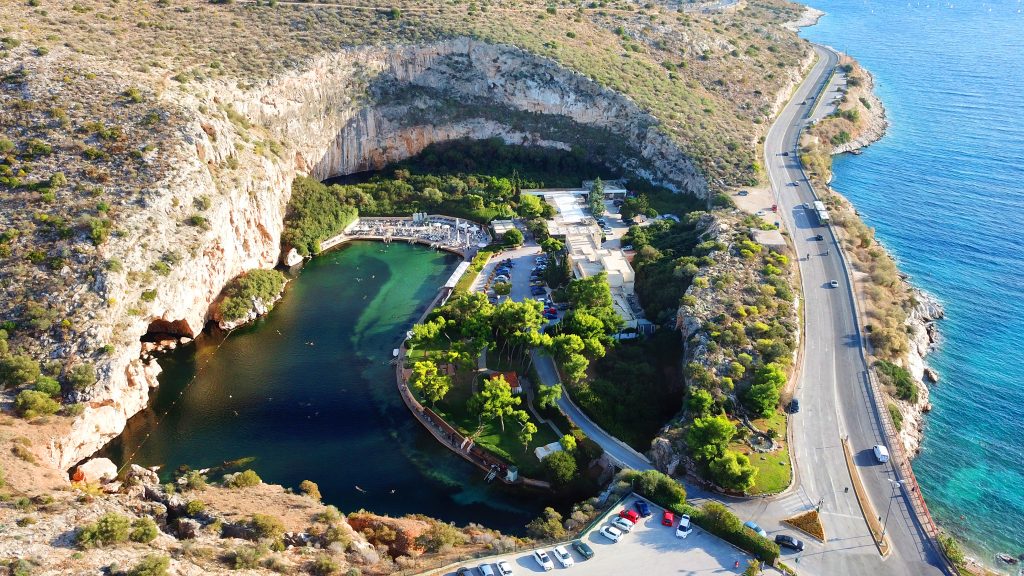 The Greek Islands get all the love, but Athens is just a quick metro ride away from turquoise waters. The ports of Rafina and Pireus are lined with charming cafes and sandy shores – perfect for laying out a towel and going for a refreshing dip. If you prefer a more lively scene, head to Voula to enjoy a cocktail at one of the bumping beach bars and lounges. If you're feeling fancy you can even charter a boat and go for a sail! Those who prefer still-water won't want to miss Lake Vouliagmeni – it's off the beaten path but well worth the visit. By night, you can enjoy a candle-lit dinner while admiring the illuminated water and caves.
Climb to the Highest Point
There is no better way to end your Greek adventure than with a sweeping view of its capital. Located northeast of the city center, Mount Lycabettus is the highest point in Athens. Climb on foot or take a funicular to the top (which is advised in the hotter summer days). From the summit, standing 300 meters tall, you'll be greeted with exquisite panoramic views of Athens. Take your time identifying the landmarks you've just visited, such as the Acropolis and the Temple of Olympian Zeus, across the city skyline.
What to Eat in Athens
Food is essential to any Athens Travel Guide – what better way to experience the city than with your taste buds? For the ultimate culinary adventure, join an Athens Food Tour! Athens offers everything from traditional tavernas with live bouzoukia to classic fine dining. Sample a bit of everything: meat lovers must try souvlaki (grilled lamb, chicken, or pork meat served skewered or in a pita smothered in tzatziki), cheese fanatics will delight in deep-fried saganaki and honey sesame-coated halloumi, while seafood enthusiasts can sample the catch of the day alongside fried kalamari. Don't forget to toast yiamas with a glass of ouzo or rakomelo – opa!