Dark and magical, Iceland transforms itself throughout the winter months into an Arctic wonderland – filled with outdoor adventures, snow-covered waterfalls, dancing Northern Lights, and steaming hot springs. You can dress in lopapeysa – a traditional Icelandic jumper – and blend in with locals, partake in a spot of snowmobiling, or browse for gifts at a festive market. With superb opportunities for atmospheric photography and sunrises and sunsets which appear to last for hours, winter in Iceland is the perfect time to experience this ethereal country!
Explore the Golden Circle
The Golden Circle is one of Iceland's scenic highlights. Located less than 2 hours' drive from Reykjavik, it's the perfect place for a winter day trip. The region is spectacular at this time of year. Gullfoss waterfall glistens with snow and high geothermal activity encourages gushing geysers to put on a show. Nearby, Thingvellir Natural Park is one of the most important cultural and geological sites in Iceland. A place where two tectonic plates meet, it's not only geographically interesting, it was also the site of the world's first democratic parliament. You can go horseback riding across black volcanic lava fields or enjoy a relaxing soak in steaming waters at Laugarvatn Fontana Wellness Center.
Discover Ice Caves
Photographers and adventure seekers will adore visiting Iceland's Blue Ice Caves. These magnificent caves are only accessible to visitors between late October/November and March – perfectly coordinating with your winter trip. The caves can be blue, white or black showcasing unusual formations, patterns and reflections as you explore. The most famous are the blue glacier ice caves of Vatnajökull National Park on Iceland's east coast. These vast natural cave networks are bathed in atmospheric blue light – you'll feel like you've been transported to another planet. Ice Cave Tours are available throughout the winter with a knowledgeable, professional guide.
See the Northern Lights
Aurora Borealis – or the Northern Lights – are created when solar particles enter the earth's magnetic field. They appear as a symphony of lights, dancing in a kaleidoscope of colors. The Northern Lights only appear above 60 degrees latitude, therefore areas in Norway, Finland, and Iceland are some of the best places to see this natural phenomenon. The best times to view this spectacular show are between September and April, with November to February being the most popular months. Tours are available from Reykjavik and other towns across Iceland with horseback riding, 4 x 4, snowmobiles, and even boats transporting tourists to various locations for a glimpse. Some of the best points on the island to view Aurora Borealis are Seltjarnarnes Peninsula, Thingvellir National Park, Vik, and Eldborgahraun.
Unwind in the Blue Lagoon
Most visitors to Iceland have heard of the Blue Lagoon. The turquoise, milky waters are so rich in minerals they are believed to heal a variety of ailments. This incredible geothermal spa in southwest Iceland, just 45 minutes from Reykjavik, offers you the opportunity to reconnect with nature even in the middle of winter! Water temperatures rarely dip below 37 degrees Celsius. Sit back, float, apply a mud mask, or head into the treatment rooms for a pampering massage or rejuvenating body treatment. Afterwards, enjoy a gourmet lunch at the fabulous Lava Restaurant while admiring the other-worldly landscapes. Iceland's Blue Lagoon has been named by Conde Nast Traveler as one of the top spas in the world and by National Geographic as a wonder of the world. With such high praise, it would be remiss not to spend a few hours here!
Dress Like a Local
Lopapeysa is a thick, traditional Icelandic wool jumper with pretty patterns around the collar and neck area. Usually hand-crafted by local artisans, they are super soft and just the item for chilly winter evenings. Believe it or not, these sweaters are quite high on the trend factor and can be purchased in stores – such as Alafoss – throughout the island.
Hit the Slopes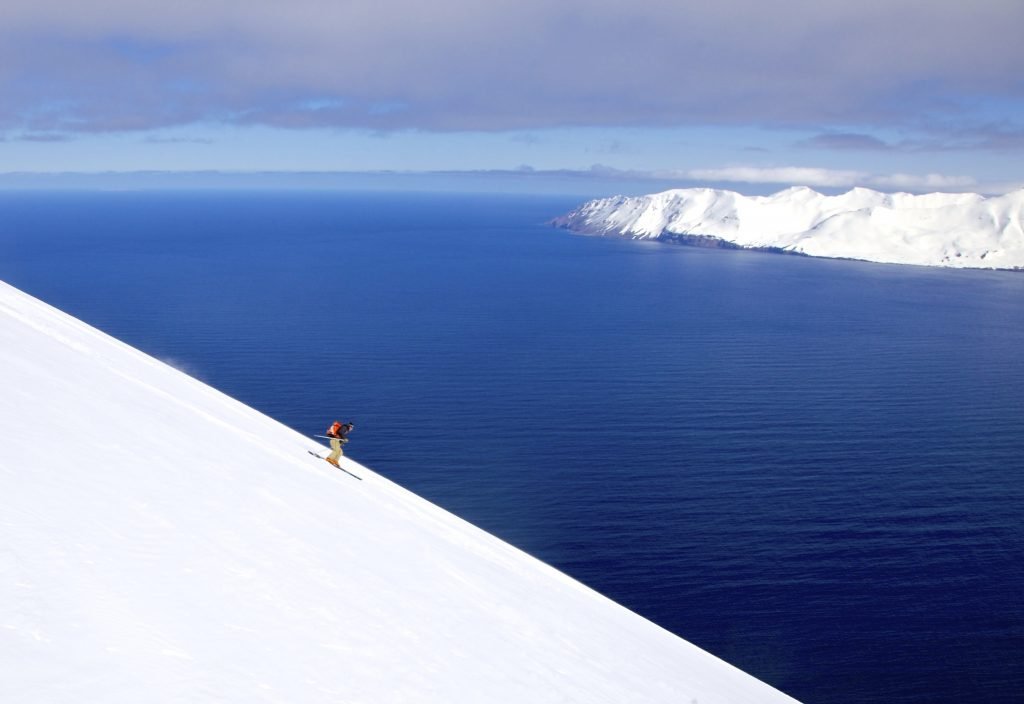 North Iceland's ski resorts open each year from November to May. The most popular resort is Bláfjöll – boasting an impressive 15 kilometers of slopes. With almost guaranteed snow during winter, you'll be able to test your ability on the slopes. Afterward, ski huts remain open late so you can enjoy a drink with friends. If skiing isn't your activity of choice, try a snowmobile tour instead. Most activities take place on Langjokull, Iceland's second largest glacier. It's a fun afternoon or evening adventure, and if you wish to glimpse the Northern Lights, head out at night and admire the auroras as you follow them dancing across the sky.
Get Festive
If you plan to visit Iceland over the festive period, you're in for a special treat. Reykjavik has pop-up festive market stalls and a food hall where you can sample local delicacies. From early December until Christmas Eve, one-day markets, festive buffets and concert music fills the air in Reykjavik. Alpine wooden huts are laden with handcrafted artisan products and charming tree decorations which you can browse. As ice skaters show off their skills on the rink, sip a cup of Glögg – a Scandinavian warming spiced wine and feast on delicious baked goods. Outside Reykjavik, one of the most exciting festive markets takes place in the fishing town of Hafnarfjörður. With elves, trolls and Vikings all popular within the town, they feature heavily in the celebrations. The small town has 20-30 wooden huts selling delicious cookies, hot drinks and local crafts, plus there's live music and horse carriage rides to top off your evening! Truly the best way to enjoy winter in Iceland.