Iceland is renowned for its hot springs, thermal rivers, and pools – attracting visitors to bathe in mineral-rich waters believed to heal a variety of ailments. Our Spa and Wellness Guide to Iceland will inspire you to visit this breathtaking country and experience the epitome of relaxation. Fully escape into nature, swimming in warm rivers surrounded by mountains and towering cliffs, or opt for a full day lagoon pampering package tailored just for you! With geothermal bakeries, whale watching, and the Northern Lights all accessible from these hot spring spas, you're sure to have a memorable experience whichever one you choose to visit.
Gamla Laugin (Secret Lagoon)
Our Spa and Wellness Guide to Iceland takes you off the beaten path, tucked away in the quaint village of Flúðir, to the Secret Lagoon. Constructed in 1891 around natural hot springs and a geyser which gushes every few minutes, this lagoon boasts the oldest swimming pool in all of Iceland. During winter months, the Northern Lights put on their mesmerizing show above Gamla Laugin. As you lay back and relax in the steaming water, glance upwards to see reams of green, indigo, and blue as the lights dance across jet-black skies.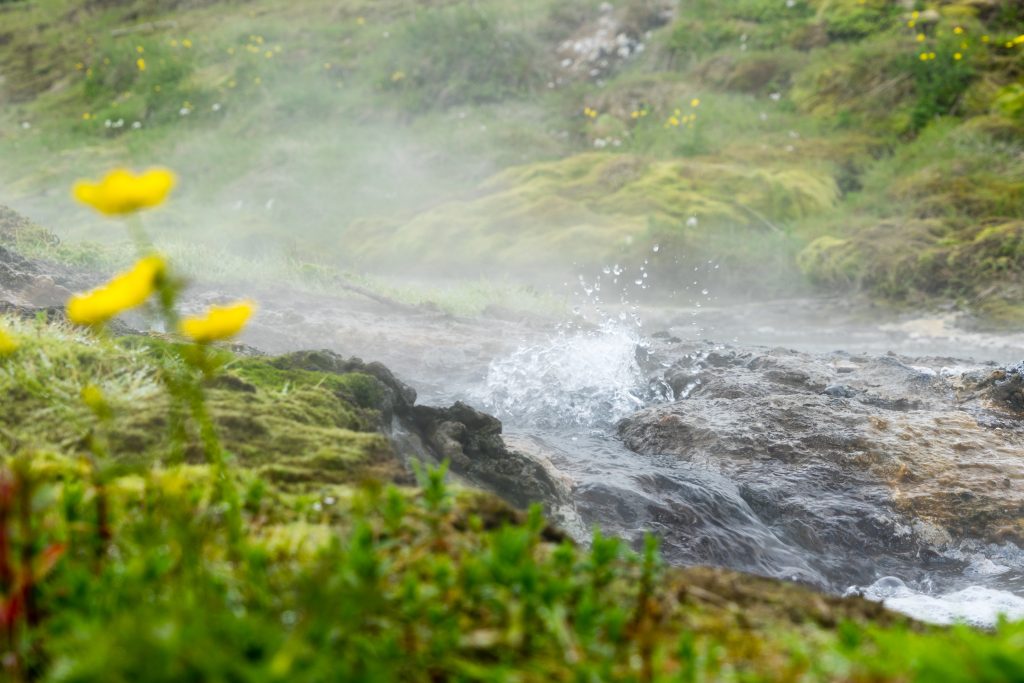 Hvammsvegur, 845 Flúðir, Iceland
Reykjadalur Hot Spring River
In a desolate valley near Hveragerði, 45 kilometers from Reykjavik, the great outdoors beckons you. Here, hot springs, flowing rivers, and mud pools steam and bubble like a cauldron. The walking trail to reach the river is steep and narrow, although there are options to ride horseback through the geothermal valley or venture with a guide. Reykjadalur Hot Spring River is a popular place for locals, but lesser-known to tourists, so if you wish to relax in mineral-rich waters amidst emerald mountains along with the locals, this is the place to visit.
Reykjadalur Valley, Hveragerði, Iceland
Myvatn Nature Baths
This impressive hot spring gets its water from the National Power Company's source in Bjarnarflag. Containing impressive amounts of alkaline, sulfur, and rich minerals it is said to assist with healing medical conditions such as asthma, skin, and respiratory problems. These steam baths look similar in design to the famous Blue Lagoon, but they are lesser-known, situated in the north of Iceland, and cheaper to visit. There's a café for snacks and light lunches, where you can dine on the terrace overlooking turquoise waters and countryside. If you stay until late, you'll have a great opportunity to see the captivating Northern Lights, so don't forget your camera!
Jarðbaðshólar, 660 Myvatn, Iceland
Blue Lagoon
The other-worldly landscape of the Blue Lagoon in Iceland captivates from the outset. Rich, dark volcanic landscapes surround milky, steaming aquamarine waters which peak at 39 degrees Celsius throughout the year. Slip into the healing waters, adorn a mineral mask, and relax – or swim to hidden lava coves to escape the throng of visitors and enjoy peace and tranquility. Blue Lagoon offers spa packages to suit all, with massages and nourishing skin treatments designed to pamper and revitalize. After your session, enjoy delicious Icelandic and international cuisine in Lava Restaurant, before sitting on the deck and soaking up the vistas.
Grindavik, Iceland
GeoSea Sea Baths
This coastal bathing spa is hidden in a small fishing town in Northern Iceland. The town has been harnessing geothermal waters for hundreds of years, and the mineral-rich seawater, reaching temperatures of 39 degrees Celsius, can soothe and assist many skin conditions including psoriasis. Set aside a cliff overlooking Skjálfandi Bay, GeoSea Sea Baths is also the ideal space to partake in whale watching, and as night begins to fall, sip a glass of wine in the outdoor baths in anticipation of the greatest light show on earth – Aurora Borealis.
Vitaslóð 1, 640 Húsavík, Iceland
Laugarvatn Fontana Geothermal Baths
These simmering outdoor mineral baths are located in the heart of Iceland's Golden Circle. Locals have been enjoying the healing benefits of Laugarvatn Fontana since 1929. With wide-open vistas, you can fully reconnect with nature as your body and skin renourishes and rejuvenates. Outside, a tranquil lake allows you to alternate hot steam rooms, saunas, and warm relaxing pools with a cooling dip to improve muscle movement, blood circulation, and arthritis. After your session, sample geothermal bread from the spa bakery and enjoy rooftop vistas of mountains and lakes as the light changes. The nearby town of Laugarvatn is a charming place for a stroll, with local art, interesting architecture, and forest openings where locals host events throughout the year.