Tel Aviv is hailed as the city that never sleeps. Who wants to sleep when miles of gorgeous Mediterranean coastline, world-class restaurants, shopping, and great bars are just outside your door? This city is the beating heart of Israel and its cultural capital, a metropolis with a young and vibrant energy and a big heart. Tel Aviv is innovative; she does her own thing and plays by her own rules. As one of the hippest cities in the Middle East with a population of less than half a million, she is a small city with a big personality. If a holiday for you is synonymous with sun tanning on the beach, eating mouth-watering food, and absorbing a full-of-life culture, Tel Aviv is the city for you. Our Tel Aviv city guide will help you navigate the White City on your next visit.
Travel Around Tel Aviv
Tel Aviv is a small city with big city vibes. During the daytime hours, coffee shops are jam-packed with cafe-goers sipping "cafe hafuch," or cappuccinos. Come nighttime, bars are radiating with life, every night of the week. Because of its small size, the city is simple to navigate. For those who are loyal to their 10,000 daily steps, Tel Aviv is a great place to get them in. Tel Aviv is a walker's paradise and a good set of legs are all you need to get around. This ultimate urban walking tour will take you to the loveliest parts of town.
Tel Aviv also has a great public transportation network. This includes a reliable bus system, public taxi vans called "monit sherut," and regular taxis. Likewise, Tel Aviv is a very bike-friendly city with a number of city bike and electric scooter rental companies throughout the city. They're also currently adding more throughout the streets.
An enjoyable walk or bike ride is along the coast from Tel Aviv's port to the old Jaffa Port. Rothschild Boulevard is also a very pleasant street for a walk. There are plenty of places along the way to stretch your legs and down an espresso.
Neighborhoods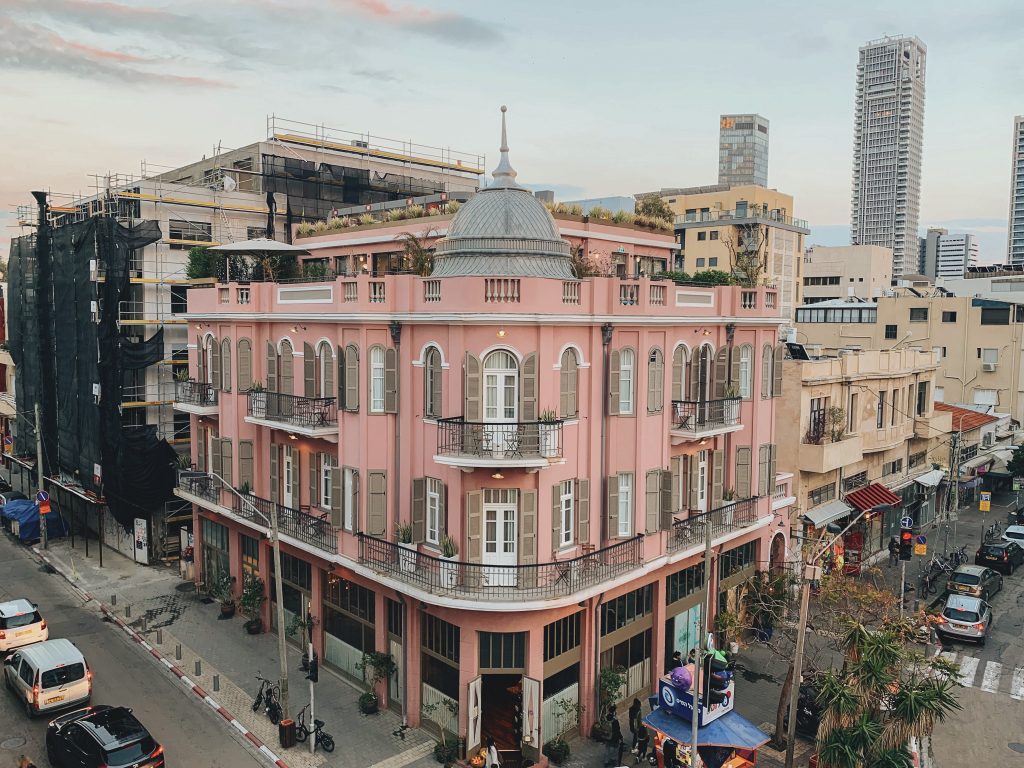 Tel Aviv might be small in size, but there is nonetheless a large number of neighborhoods to discover.
Lev Ha'ir
The heart of Tel Aviv, or "Lev Ha'ir," includes central areas of the city like the White City, Rothschild Boulevard, and Dizengoff Street. The White City is a UNESCO World Heritage site named as such due to the white Bauhaus-style buildings. Learn their story with a White City Bauhaus architecture tour.
Rothschild Boulevard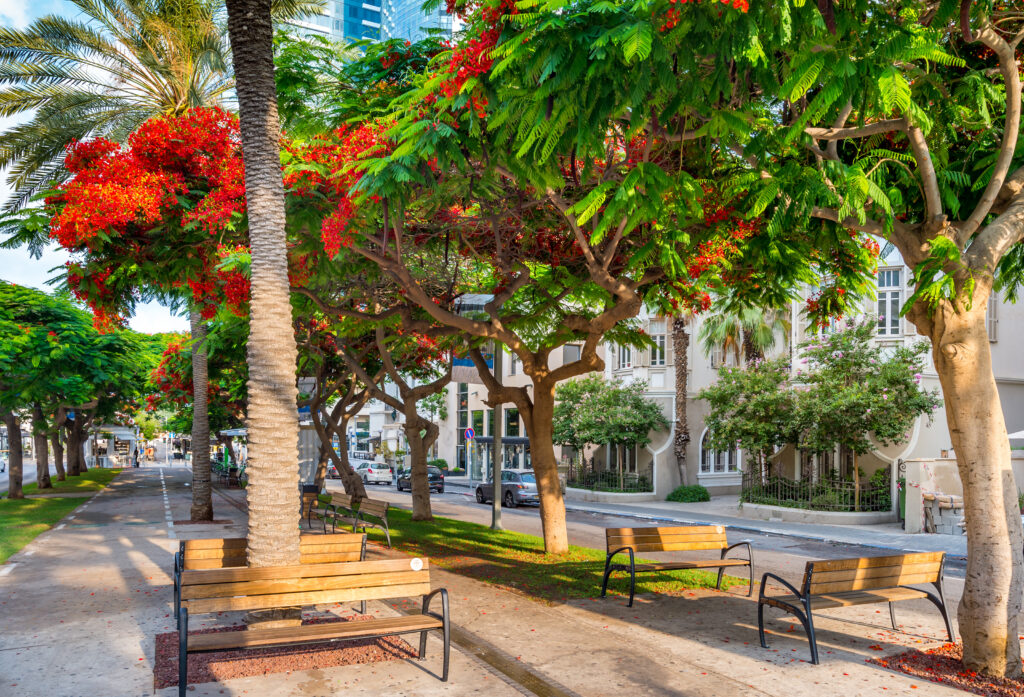 Rothschild Boulevard is one of the trendiest places to see and be seen in Tel Aviv. The Boulevard has a separate path for bikers and a path for walkers. Cafes, kiosks, and juice stands pervade the boulevard, along with high-end restaurants and more casual eateries. You can also find some designer clothing stores and art galleries in the area. It's also one of the best places to see the famous Bauhaus architecture that covers the city.
Florentin
Florentin is the hipster area of Tel Aviv and where you head to feel youthful. The neighborhood is crowded with Israeli liberals and artists in their 20s and early 30s, tattoo parlors, bakeries, charming restaurants, and imposing street art. You'll find the Levinsky Market, an absolute must-see for those seeking culture and good food. Tiny mom-and-pop shops permeate the pedestrian-only street, selling everything from nuts and spices to cheese and halva. While the grunginess of the area is disenchanting, Florentin is a "don't judge a book by its cover" kind of place. It's one of the most unusual areas of Tel Aviv and well worth an afternoon of exploring its quaint streets and sitting among the work-at-home entrepreneurial crowd at one of its many neighborhood coffee shops. A street art tour of the area is definitely the best way to get the vibe.
Neve Tzedek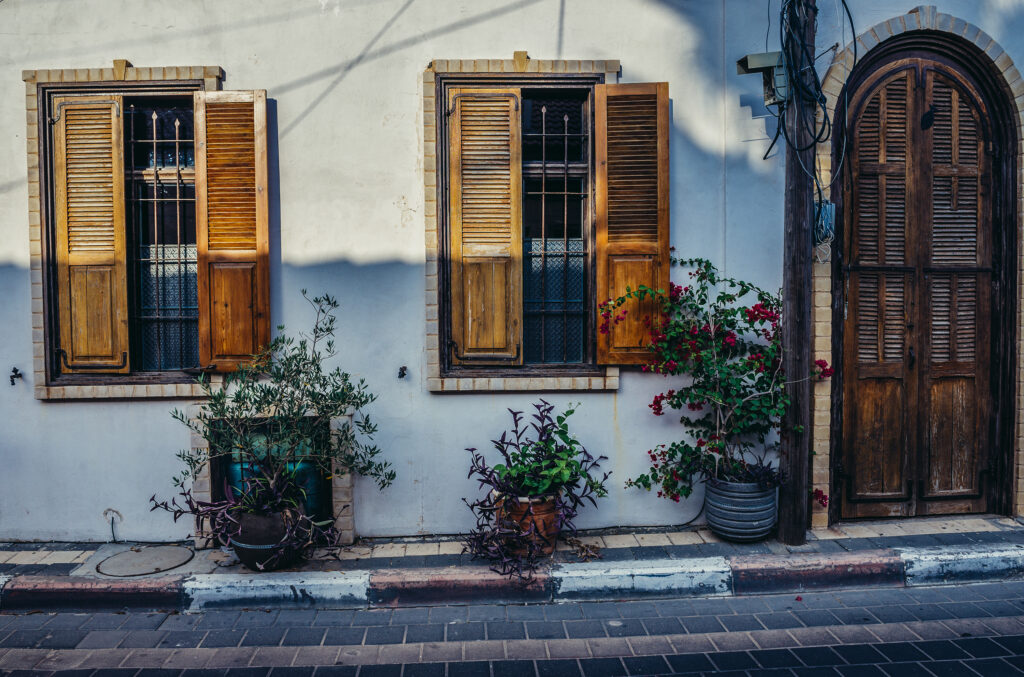 From Florentin, you can hop right on over to Neve Tzedek, one of the most exquisite neighborhoods of Tel Aviv with some rightfully expensive real estate. The neighborhood, with its little cafes, restaurants, and charming boutiques has a very European feel to it. The Suzanne Dalal Center for Dance and Theater, with the famed Batsheva Dance Company is also located here. Our Tel Aviv design guide will help you map out the best places to indulge your aesthetic cravings.
Jaffa
Walking south from Neve Tzedek, you will reach Jaffa. This ancient port city is bustling every night of the week. Along the water, the port area is lined with bars and restaurants. But, the commercial hub of Jaffa undoubtedly lies in its flea market area. The flea market is a magnet for night owls and party-goers looking to have a good time. The streets are filled to the brim with delicious restaurants and rowdy bars. During the day, the flea market is teeming with shoppers perusing its tiny alleys, in search of knick-knacks and antiques to buy.
Beach Life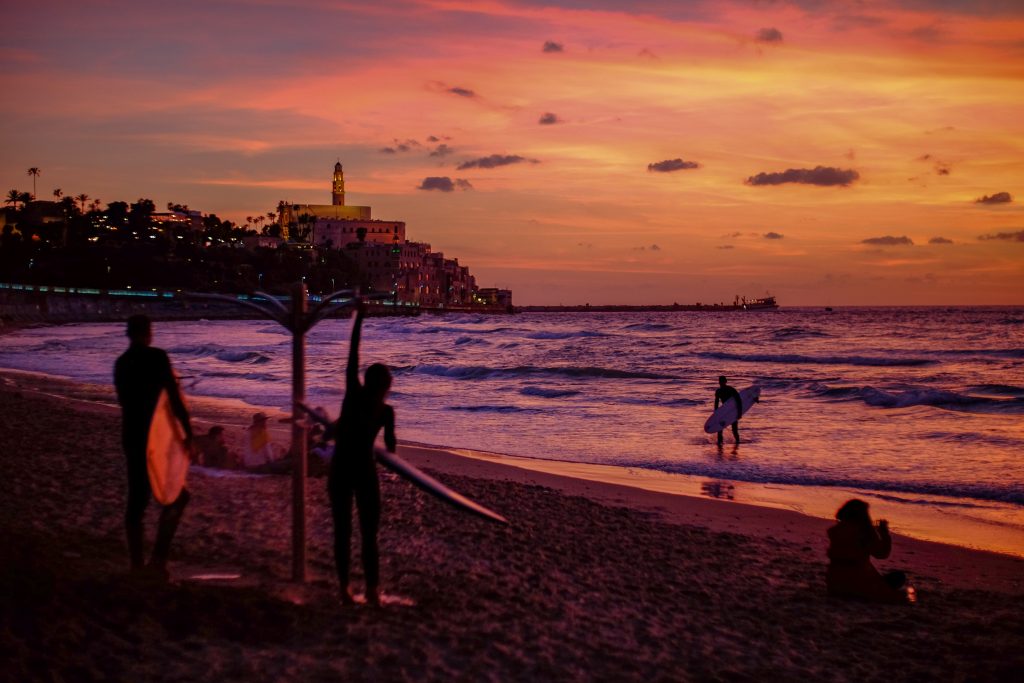 No Tel Aviv city guide would be complete without discussing one of the city's best features – its beaches. With stunning Mediterranean weather all year round and kilometers of beaches with pristine soft sand, much of Tel Aviv's uniqueness comes from it being a metropolis located smack dab on the beach. The city lives and breathes the sea and the beach life vibes can be felt near and far. During the summer months, the beach is a welcome respite from the scorching sun. But, thanks to mild winters and 300 sunny days a year, the beach can be enjoyed year-round. You'll see runners, bikers, surfers, paddleboarders, and even Israeli dance groups relishing in the sun, occupied by their practice.
Along the kilometers of pristine sand, you'll find different beaches, each with its own personality. The northern beaches include the Orthodox beach, the surfer beach, the dog beach, and the beach popular among the gay crowd. In central Tel Aviv, you'll find Gordon Beach, one of the most crowded beaches during the summer months, especially on Fridays and Saturdays. The beach is an especially popular place for water sports, as there are several paddleboard companies concentrated in this area.
Restaurants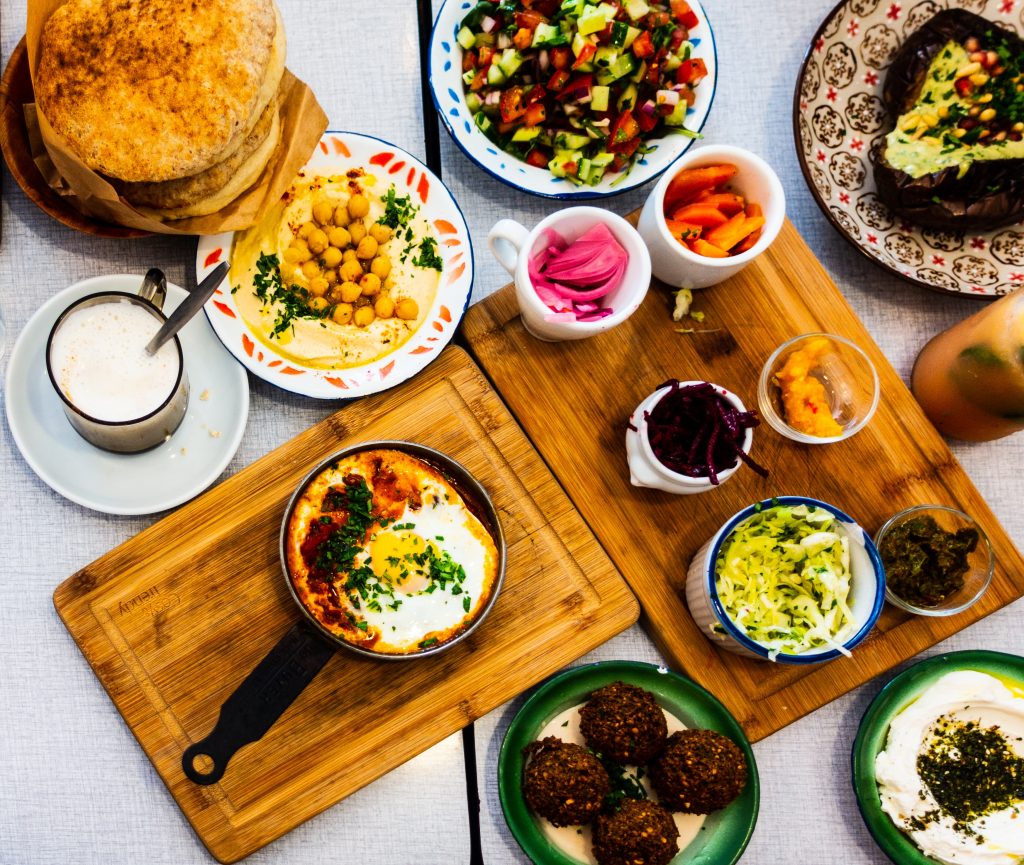 Tel Aviv is home to world-class cuisine. Whether you're a top chef or an amateur foodie, you are sure to be blown away by the quality and the blend of international and local flavors. The food has evolved immensely over the years, and influences from different parts of the world are palpable. Produce is seasonal, meaning that what you get is fresh. Whether you're a pescatarian, meat lover, or vegan, you will be equally impressed by the food. There are cheap eats to be found, like hummus and falafel, as well as more upscale chef restaurants. Check out our top picks with our handy guide. And after dinner, don't miss the city's hopping nightlife at the best bars in Tel Aviv.
The Carmel Market is one of the best places to go for a comprehensive culinary experience of Israeli cuisine. The market is one of the most popular areas in Tel Aviv for both locals and tourists. Hundreds of vendors gather six days a week to sell everything from produce to candy and spices. There are also a number of eateries located throughout the market serving up some of the most delicious food in Tel Aviv. Discover them all with a Carmel market tasting tour.
Shopping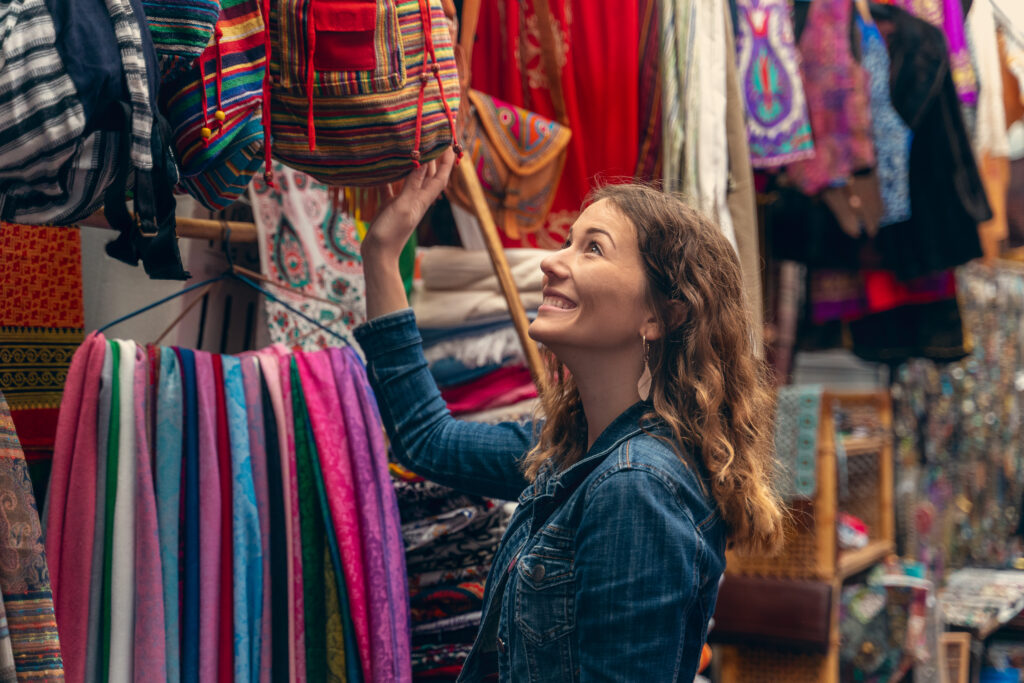 Tel Aviv is a shopper's paradise. If you are looking to purchase an entirely new wardrobe, trinkets for your home, or souvenirs, you'll have a variety of places to satiate your shopping needs. For mid-range boutique shops, head to Dizengoff Street. For higher-end shopping and international stores, you can go to the TLV Fashion Mall, the Ramat Aviv Mall, or Kikar Hamedina. You can also find chain stores at the Sarona Market and Hatachana. For those on a budget, Allenby Street and King George have a collection of clothing stores and vintage shops. The Carmel Market and Shuk Hapishishim are great markets to find cheap clothing, antiques, souvenirs, and jewelry. Nahalat Binyamin, the street parallel to the Carmel Market, holds an open-air crafts market on Tuesdays and Fridays. It's a great place to pick up some unique jewelry, art pieces, and presents.
Culture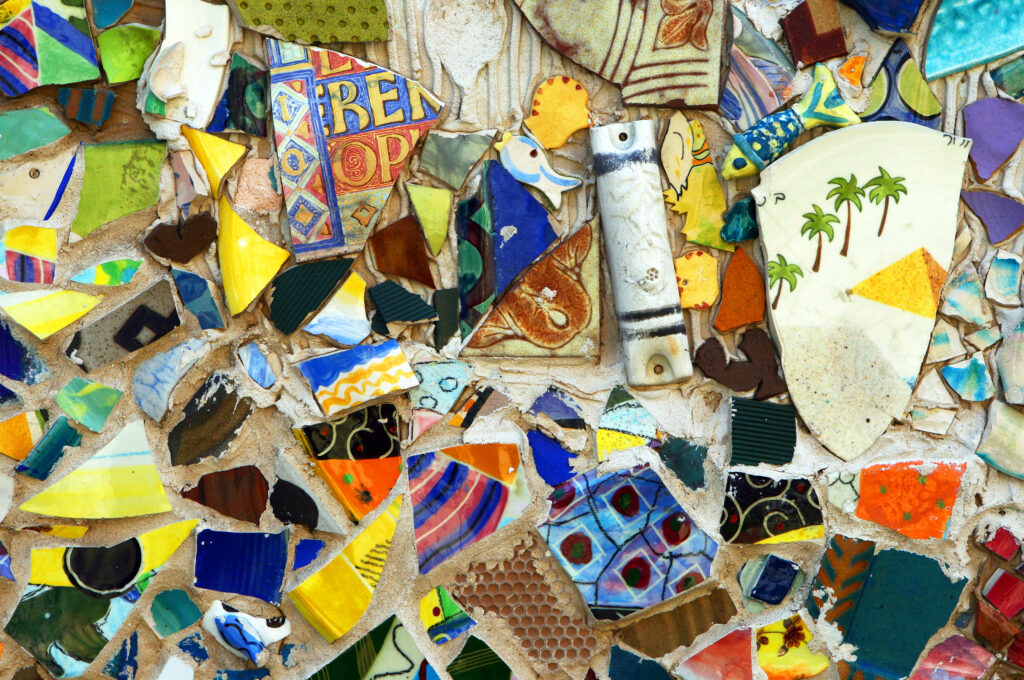 Tel Aviv is the cultural mecca of Israel. There are vast opportunities to see theater performances, dance shows, attend art galleries, visit museums and catch outdoor concerts by both local and international artists. The Tel Aviv Museum of Art is Israel's largest art museum and a great place to see exhibits from different artists like Chagall, Dali, and Picasso. Tel Aviv is also home to the world-renowned Batsheva Dance Company, and some amazing theater companies like Habima and the Cameri. Many shows offer English subtitles, making them tourist-friendly.
Accommodation
Tel Aviv is full of accommodation options, from five-star hotels to more budget-friendly options. Most of the big hotels are located along the beach, like the Dan Panorama, and the David Intercontinental. In recent years, a number of high-end boutique hotels have sprung up, and many visitors are opting now to stay in these more unique accommodations which are conveniently located in popular areas of the city. Here's our take on the best places to stay.
Traveling Tel Aviv
Whether you're looking to tour the city solo or join a group of friends, there's nothing better than taking time to explore Tel Aviv. From glittering skyscrapers to secluded beaches, you won't run out of things to do. Explore our selection of local tours for fun and easy experiences that make the most of your visit. Be sure to rest up before visiting the city that never sleeps to make the most of your journey in Tel Aviv!