Our 7 day Jordan itinerary is a comprehensive guide. One week is rarely enough time to feel at home in a new country, unless that country is Jordan. The Hashemite Kingdom is world-famous for its generous hospitality. It is a natural part of the culture and is only enhanced by its tourism economy. The rose city of Petra, a UNESCO World Heritage Site since 1985, is a bucket list favorite. With some of the best preserved Roman ruins in the world and hospitality that is second to none, Jordan is worth more than just a day or two in your itinerary. The best things to do in Jordan can easily fill a week.
The Jordanian Tourism Authority will waive the $60 visa fee if you stay for at least 2 nights. Extending your journey offers more incentive than just waking up to a cup of the world's best coffee for another few days. If you're lucky enough to have an entire week, here is a 7 day Jordan itinerary to get the most out of your visit. See our tours of Jordan and hotels in Jordan to round out your planning.
Day 1: Jerash & Madaba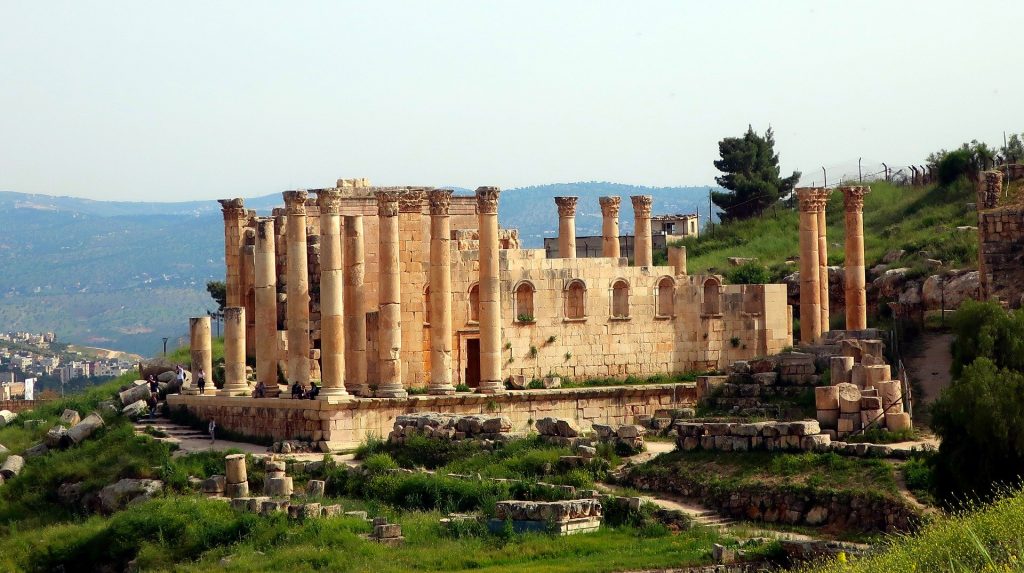 Head to Jerash and Madaba on a 4 day highlights of Jordan tour to explore some of the best-preserved Roman ruins outside of Italy. Jerash, the "Pompeii of the East", is home to Hadrian's Arch, the Corinthian columns of the Temple of Artemis, and exquisitely preserved colonnaded streets, theaters, and public baths. Archeology enthusiasts won't want to miss a visit to the Jerash Archeological Museum for some in-depth discovery. Then head to Madaba, the "City of Mosaics", infamous for its collection of Byzantine and Umayyad artwork. Visit the Greek Orthodox Church of St. George to observe it's 6th-century mosaic map of the Holy Land. See the Madaba Archeological Park to explore the Church of the Virgin Mary and its impressive collection of artifacts from the Hellenistic, Roman, Byzantine, and Islamic eras.
Day 2: Amman
Jordan's bustling capital city, home to over 4 million people, is a charming blend of old and new. Originally built on seven hills, visitors can enjoy stunning views of the surrounding cities and explore Amman's ancient highlights. Most of the historical sites are located downtown in the city center. These include the iconic Citadel, Al-Qasr palace, and Great Temple of Amman. Don't leave without a visit to the Jordan Archeological Museum and Roman Theater, which continues to host important cultural events. Head out on an Amman cultural tour to discover all this city has to offer.
Day 3: Wadi Mujib & Ma'in Hotsprings
Wadi Mujib is a spellbinding canyon that spans 70 kilometers, it's Mujib River flowing into the Dead Sea. Once known as the Arnon Valley, Wadi Mujib is believed to be the place where Moses led the Israelites across. The Mujib Biosphere Reserve is located approximately 1 hour and 20 minutes from Amman. It contains the Ma'in Hotsprings, an oasis in the desert with a heavenly resort and spa.
Day 4: Dead Sea
Head to the lowest point on earth to paint yourself in mineral-rich mud and soak in the restorative Dead Sea.  Treat yourself to an overnight stay in a luxury resort hotel and spa. Indulge in the full wellness experience and prepare for your Petra adventures to come. Our Amman, Madaba, Mount Nebo, and Dead Sea tour from Amman is the perfect addition to any Jordan itinerary. Or read through our spa and wellness guide to Jordan to see some of the best spots to relax and refresh.
Day 5: Petra
Walk in the footsteps of the ancient Nabateans as you explore the rose-colored city of Petra, one of the Seven Wonders of the World and a bucket list favorite. Petra is likely to be on your bucket list, and is a must for any 7 day Jordan itinerary – and for good reason. The ancient hidden city was strategically carved into the rocks and then lost for thousands of years, before claiming its status as a UNESCO World Heritage Site and popular tourist attraction. Walk through the winding Siq and prepare to be astonished by the iconic Treasury. If you're a true adventure enthusiast, you won't want to miss the stunning hike to the Monastery to take in the breath-taking views from atop. We offer a number of tours in Petra to explore this magnificent area.
Day 6: Wadi Rum
If you've ever wondered what it's like to explore Mars, head to the Valley of the Moon. It's the closest earthly equivalent and an absolute must on your 7 day Jordan itinerary. Storm through the stunning desert, Lawrence of Arabia style, with a Wadi Rum Jeep safari and sleep under the stars in a traditional Bedouin campsite or luxe Martian tent. Feast on authentic Bedouin zarb, a mouth-watering barbeque buried underground and cooked to tender perfection. Arrange a sunrise camel ride for the following morning and you'll be sure to have some epic dreams in anticipation.

Day 7: Aqaba
As your week in Jordan comes to a close, you must be tired from all of your adventures. Head to Aqaba to wander the colorful markets of Old Town and pick up some local spices before checking into one of the many luxurious resort hotels that dot the coastline. Hop aboard a glass-bottom boat or snorkel to experience some of the best aquatic life in the world. Or simply drape yourself in a fluffy white robe and lay by the infinity pool. You've certainly earned a rest after scattering your footprints across this majestic kingdom. 
Journeys Through Jordan
Jordan is a complex kingdom full of modern marvels and ancient wonders. From paved city streets to wild expanses of sand, the Hashemite kingdom is well worth your time! Additionally, our guide to Jordanian customs and cultures can help you navigate with ease.