With an endless backdrop of powdery dunes and chiseled canyons, Jordan's serene light and rosy hues are the perfect natural filter for any photo. Just a few casual clicks produce astonishing results, so try not to share in the fate of Narcissus as you admire the seemingly lit-from-within version of yourself smiling back from your camera. To keep that glow and bring it home with you, don't leave Jordan without indulging in the therapeutic sites that have attracted visitors since ancient times, including Cleopatra herself. From the buoyant restorative waters of the Dead Sea, to the luxurious spa treatments available at the 5-star resorts, Jordan is a destination where you can go to discover a new country and leave having discovered yourself. Our spa and wellness guide to Jordan will leave you glowing inside and out by the end of your trip.


Away Spa at the W Amman

Away Spa takes "The Glow" seriously, with a treatment menu designed to achieve Innerglow, Outerglow, and Afterglow. Choose from massages, peels, wraps, facials, mani-pedis, waxing, and more. If your idea of ecstasy involves self-induced sweat, Away Spa has FIT packages that combine personal training sessions with a massage, steam room, and detox meal. Hello, gorgeous. Once you're beaming like a firefly, head to Wet Deck, The W's rooftop bar and one of the trendiest spots in Amman.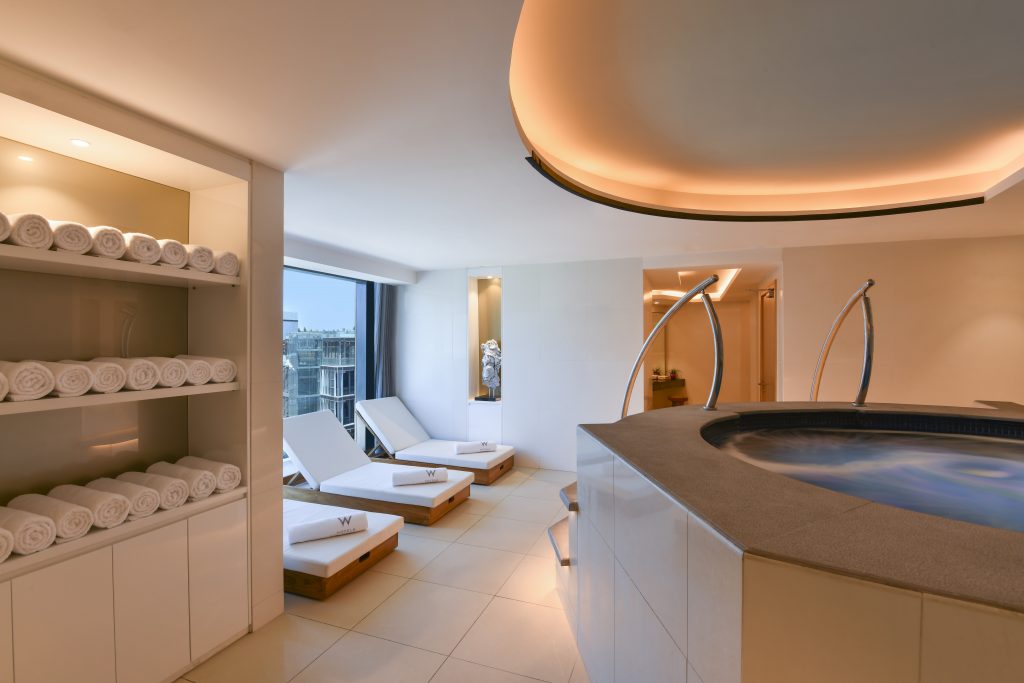 Ma'in Hot Springs Resort & Spa

Immerse yourself in history and tranquility, 264 meters below sea level, in the thermal mineral springs where King Herod is said to have bathed. Experience pure bliss at this resort and spa that prides itself in offering authentic Arab hospitality, which no journey to the region is complete without. Soak up the mineral-rich thermal waters and enjoy a Dead Sea body wrap or polish before continuing your journey. Ma'in is a mere 13 kilometers from the Dead Sea and 30 kilometers from the mosaic city of Madaba.


Movenpick Resort & Spa – Dead Sea

If you are seeking world-class luxury, look no further. You cannot have a spa and wellness guide to Jordan without talking about one of the most well-known places for pampering yourself and healing the body – the Dead Sea. It's easy to get to from Amman with this tour that also hits Madaba and Mount Nebo.

The Movenpick's Zara Spa is an award-winning treatment facility, with a team of therapists and medical professionals ready to transform you into your best self. Choose from a Hydro pool, a Dead Sea pool filled directly from the source, and an Infinity pool with a sea view. Studies have shown that the combination of the mineral-rich Dead Sea water and black mud, not found anywhere else in the world, have significant health benefits including increased circulation, alleviation of arthritis and allergies, and skin revitalization. Experience the ancient ritual of Hammam, then allow the purifying properties of Dead Sea black mud to restore your skin's natural minerals. It's best to plan this experience prior to Petra or Wadi Rum so you have something to look forward to, otherwise you will never want to leave.



Desert Glamping – Sun City Martian Dome

Fall in love with the panoramic mountain views and Bedouin hospitality at Sun City Camp in the heart of Wadi Rum. This section of our spa and wellness guide to Jordan focuses purely on wellness, and there's no better way to take care of the mind than escaping to the desert. Start your day with sunrise yoga or a camel ride and drift off to sleep under a sky full of stars. Sun City's signature Martian Domes offer guests the perfect combination of luxury and authenticity, to be at one with the desert while moon-gazing from the comfort of a king-sized bed. Camping with bathrobes and slippers? Yes, please.



Al Manara, a Luxury Collection Hotel, Aqaba

If glamping isn't your thing, fear not. The Al Manara is your post-Wadi Rum oasis in Aqaba. In addition to the usual menu, Al Manara offers treatments from all over the world, including Chinese reflexology, Ayurveda, and hot sand massage with local Aqaba herbs. Plunge pools, steam rooms, and therapy baths delight Kaphic types, while Pittas and Vatas can fan their wind and flames with jet skiing, kayaking, and sailing at the private beach.



Al Yakhour Turkish Bath

After a day of exploring the wonders of Petra, relax your weary muscles with a visit to Al Yakhour in Wadi Musa, the city surrounding the visitor's center. Clean, friendly, and a massive slice of bliss for a sliver of the cost, this is the perfect way to indulge your champagne taste on a beer budget. Don't leave Jordan without experiencing an authentic soapy scrub – you'll emerge invigorated and ready to dive into wherever your journey takes you next.



Gaia's Cocoon Spa & Beauty Lounge

When in Amman, experience pure luxury at this women-only spa. With services ranging from massages, mani-pedis, and facials to hammam treatments, body toning, and nutrition consultations, Gaia's has everything you need to achieve near-nirvana levels of relaxation. For an ultra-luxe experience, treatments can be upgraded to their VIP Royal Suite.



Janna Spa

If you are looking for a local vibe, Janna Spa in Aqaba caters to residents and tourists alike. From Moroccan baths, sugaring, and waxing to yoga and zumba, this women-only haven even offers child care and kids' classes for the full Aqaba community experience. Be sure to hit up the Janna Cafe for coffee, local pastries, and a post-workout sugar high.