Head to Jordan's capital city of Amman and walk through the footsteps of several civilizations, each one leaving behind ancient ruins mere steps from the last. Explore the Temple of Hercules, the Umayyad Palace, a Byzantine church, and an Ayyubid watchtower, all in a day's journey. But Amman doesn't stop there! In addition to having impressively preserved ancient ruins, the city is a lively combination of ancient and modern, with breathtaking views and so much to explore. Check out our Amman City Guide for the best places to stuff yourself with savory falafel, shop for treasures in the winding souks, and take in Instagram-worthy views with no filter required.



Soak Up Amman's Historical & Religious Sites
The Citadel
No Amman city guide would be complete without mentioning this iconic site. The area known as The Citadel is perched on the highest hill in Amman, Jabal Al Qala'a. This ancient site was occupied as early as the Bronze Age, and is surrounded by a 1700 meter-long wall, which was damaged and rebuilt repeatedly during the Bronze and Iron ages, as well as the Roman, Byzantine, and Umayyad periods. The Citadel's top attractions include the Temple of Hercules and the Umayyad Palace, making it one of the best travel experiences in Jordan. The recommended way to travel to and from The Citadel is to hire a taxi there and then enjoy the long scenic walk downtown.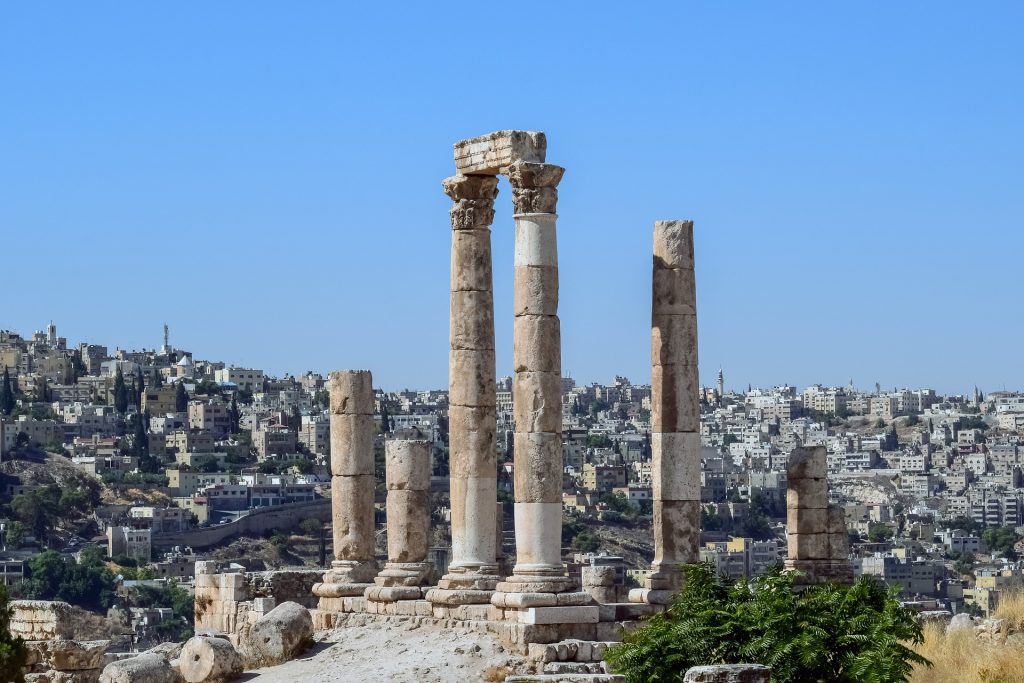 The Jordan Archeological Museum
Located on the Amman Citadel, the Jordan Archeological Museum is conveniently situated to allow you to explore deeper while visiting the city's ancient ruins. Visit the museum's exhibits that span from prehistoric times all the way to the 15th century, displaying an impressive collection of pottery, jewelry, and coins. Whether you're just kicking off your adventure in Jordan or winding things down, this is the perfect opportunity to learn more about Jordan's rich history and the fascinating stories behind the sites.



King Abdullah Mosque
The magnificent King Abdullah Mosque was completed in 1989 by the late King Hussein as a memorial for his grandfather. This is the only mosque in Jordan that openly welcomes non-Muslim visitors, and its impressive capacity of 7,000 includes a women's section as well. The Islamic Museum within the mosque houses a collection of photographs and personal belongings of the late king, as well as shards of ancient pottery, coins, and stone engravings. Women who wish to enter are required to cover their hair, arms, legs, and jeans, so headscarves and abayas (robes) are available at the entrance.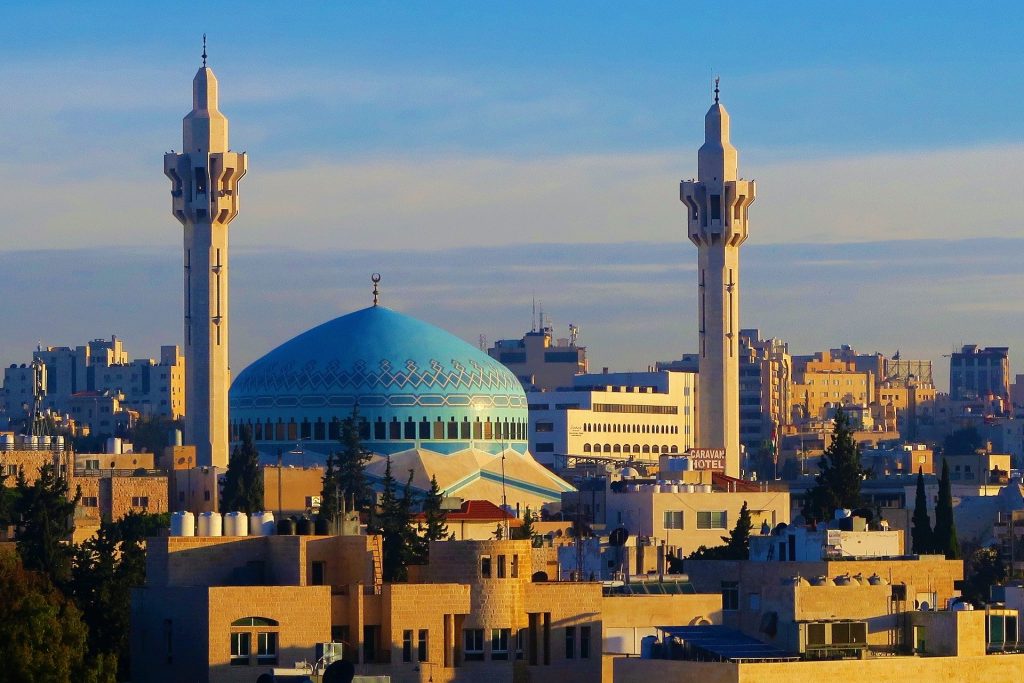 The Royal Automobile Museum
Located next to the Al Hussein public park, The Royal Automobile Museum houses the late monarch's impressive car collection. A unique treat for avid motor enthusiasts, the museum commemorates the King's love for automobiles, and includes cars and motorcycles from 1886 up until the 1940s. The museum also boasts the iconic rover that was used while filming The Martian, which filmed important scenes in Jordan's UNESCO world heritage site, Wadi Rum. As a gesture of appreciation for the Jordanians' warm hospitality during the filming, the rover was subsequently gifted to Jordan and remains a symbol of pride for the country.



Explore Modern Amman
Rainbow Street
Though Amman has plenty of history to explore, this Amman city guide would not be complete without mentioning ways to experience the modern parts of Jordan's capital. Amman was famously built on seven hills, so it's no surprise that it's not a very walkable city. Rainbow Street is a popular exception, with its lively cafes, colorful shops, and buzzing nightlife. Inhale falafel fit for a king at the iconic Al Quds walk-up stand, which has been around since 1966 and proudly served both King Abdullah and the late King Hussein. If you're in the mood for a sit-down experience, head to one of Amman's best restaurants, like Sufra or Shams El Balad, for a mouth-watering Jordanian feast. For unique souvenirs and keepsakes, head to The Soap House and The Jordan River Foundation's showroom, to support positive initiatives working hard to empower women and give back to the community.



Nightlife
With a population of over 4 million people, Amman has a vibrant nightlife that trails only Tel Aviv and Beirut for the best in the Middle East. Head to trendy West Amman for a bustling variety of clubs, bars, and cafes to experience the best of Jordanian nightlife. Rainbow Street is popular when the sun goes down as well, with hip spots like Copas Central and La Calle crowded every night of the week.



Souk Jara
Just next to Rainbow Street, in Jabal Amman, Souk Jara is a weekly traditional market where locals from all over Jordan sell handmade crafts, antiques, homemade food, and artisan products. Souk Jara is a Friday must for travelers who want to contribute to the local community and bring home unique and stunning treasures.



Darat Al Fanun
One of the city's oldest art galleries, Darat Al Fanun has a legacy of supporting artists from the Arab world since 1988. The creative space merges visual arts, new media, performance, and film, while regularly hosting community events, concerts, and an in-house residency program for local and international artists.



Getting Around Amman
Built atop seven hills, Amman is an up and downhill adventure for even the most avid trekkers. While you're guaranteed to get your daily steps in, exploring the city 100% by foot isn't realistic. Fortunately, there are many ways to get around. Most travelers arrive in Amman from Queen Alia International Airport, and from there you can take a private (yellow) or shared (white) taxi into the city center.


While private and shared taxis are abundant in Amman, shared taxis are recommended for the adventurous only, unless you've done some research on the routes and speak some basic Arabic. The same goes for public buses, which are the most budget-friendly option but may be outside of your comfort zone, as many destinations are listed in Arabic only and the pace is a mixture of hustle and delays. If you prefer a more convenient transfer, you can also rent a car, hire a private driver, or join a group tour that visits Amman.


Where to Stay in Amman
Amman is a diverse city with something for everyone, and accommodation is no exception. It's worth noting that when booking accommodation in Jordan, using the five-star system as a gauge will probably result in a surprise upon check-in, as Jordanian standards may differ from what you're used to. That being said, whatever you're looking for, you're sure to find it.


Amman has a variety of charming budget options with glowing ratings, like Amman Pasha Hotel, Sydney Hotel, and The Boutique Hotel Amman. Mid-range is where you want to keep an eye out, just because you pay for a four-star upgrade doesn't mean you're guaranteed a swimming pool, so do your research or manage expectations. The Crowne Plaza or Amman Marriott both offer the comforts of home for a reasonable price. If you're looking to splurge, you're in for a real treat, because nobody does luxury quite like the Middle East. Stay at the InterContinental Jordan, W Amman, or the Four Seasons for the softest sheets to sink into after a long day of exploration.

If our Amman City Guide has you itching to explore Jordan's capital, check out our suggestions of how to spend a few days in Amman.