Cancun is a buzzing, vibrant party resort with bars, restaurants, and nightclubs which open till the early hours. With all of that going on, you need to find a place to relax and rejuvenate so that you're ready for the next chapter of your holiday! Fortunately, Cancun boasts some of the country's (if not the world's) best spa resorts. Whether you wish to pamper yourself with a luxurious natural botanical massage by the Caribbean Sea or prefer to participate in a traditional Temazcal Ritual with a shaman, Cancun has the perfect spa or wellness experience to cater to your needs.
Nizuc Resort & Spa
Nizuc Resort & Spa opened in 2013 – a private beachfront bolthole for discerning travelers who enjoy the finer things in life. In 2020, it was voted the "Most Instagrammable Hotel in the World" and it's easy to see why. It boasts palm tree lined infinity pools, white sand beaches, and aquamarine waters as far as the eye can see. It's the perfect place for relaxation and recharging mind, body, and spirit. The resort boasts six world-class Mexican and international themed restaurants. Rooms glow with Mayan touches, but the pièce de résistance is the 30,000 square foot spa.
The first ESPA-branded resort on the Yucatan, the hotel spa harnesses ancient beliefs of the Mayan civilization to bring you a selection of exquisite treatments. First, treat yourself to a Mindful Massage. Using breathing and visualization techniques, the body begins to enter a state of serenity as rose quartz crystals are placed to rebalance energy. Once you're suitably relaxed, a trained therapist begins an energizing full body and scalp massage, so that you're ready for your next Mexican adventure. The Mayan use of herbs and healing stones are also prevalent in treatments at Nizuc Resort & Spa, as Mexican agave, pure cacao oil, and sea salt are all used to purify, nourish, and exfoliate the skin. In addition to spa treatments, guests can indulge in yoga, meditation, salsa, dance, golf, and tennis in the resort.
Blvd Kukulcan, Mz 59, Lote 1-03, Km 21.26, Punta NIZUC, 77500, Cancun
Le Blanc Spa Resort Cancun
Le Blanc Spa Resort Cancun is a tranquil sanctuary for those seeking a retreat in the heart of the Hotel Zone. Chic, modern rooms are styled in cool color palettes, with crisp white linens and silver/grey soft furnishings, while the restaurants cater to foodies, offering a culinary journey through menus featuring Mexican, Japanese, Italian, and French cuisine. Activities include snorkeling, jungle tours, golf, spin classes, and water yoga, but after you've indulged in all of this, the best place to unwind is in Le Blanc's state-of-the-art wellness center. The spa offers a complimentary hydrotherapy journey transporting you through a sauna, steam room, ice room, jacuzzi, and warm and cold lagoons. Afterwards, treat yourself to a re-hydrating oxygen facial or signature diamond facial which combines sophisticated ingredients and biotechnology to help reverse signs of aging.
Blvd. Kukulcan, Punta Cancun, Zona Hotelera, 77500, Cancun
The Grand at Moon Palace
If you've spent the day browsing handicraft markets or visiting the ancient Mayan ruins of Chichen Itza, now is the ideal time for a pampering session. The Grand at Moon Palace offers a complete, unique wellness experience, with a juice bar, fish pedicures, hair salons, and an extensive spa menu filled with bath therapies, body scrubs, facials, and more. Lie back and indulge yourself with an 80 minute four-hands massage or a Kukulcan Mayan massage or take a cooling dip in the spa's hydrotherapy pool to refresh before dinner. In addition to its world-class spa facilities, this hotel also boasts a golf course, a video game lounge, and even a double wave simulator which you can surf along called FlowRider!
Chetumal, Km 340, Riviera Maya, 77500, Cancun
Spa Xbalamque Cancun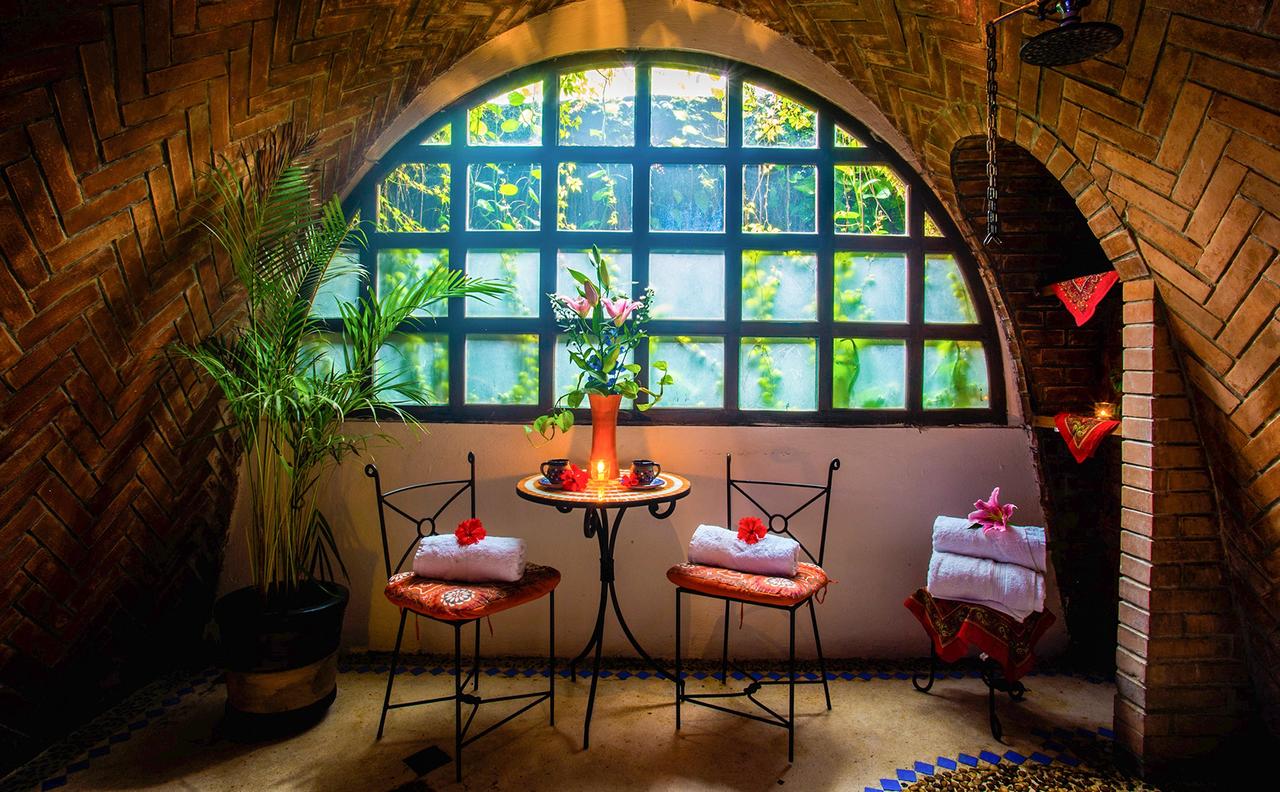 If you're seeking a different, more authentic spa experience head for Spa Xbalamque in downtown Cancun. This cozy hotel on Avenida Yaxchilan is decorated in traditional Mayan style adorned with statues, wall murals, wood carvings, and trickling ornamental fountains. Instead of a menu advertising myriad massages and facial treatments, it focuses on Ritual Temazcal, a healing ceremony which connects you to nature through meditation and sound. These methods are said to promote creativity and facilitate emotional release within, allowing you to unblock channels which hinder the journey to enlightenment. The hotel offers a 2-hour long Ritual Temazcal or a shorter 30-minute detoxifying steam bath with Mexican medicinal herbs which can be booked by appointment.
Avenida Yaxchilan 31, Lt. 18, SM 22 Centro, Benito Juarez, Cancun
Secrets – The Vine
Secrets – The Vine Cancun boasts a world-class spa, with treatments highlighting the benefits of natural products. The spa, in Cancun's Hotel Zone, entices guests to indulge in a selection of luxurious treatments. These include the high-performance caviar facial, a sculpting green coffee wrap, or a water lily sun relief treatment. It's the perfect antidote to a day by the pool or beach. One of the spa's most popular treatments, a papaya-pineapple and crème fraiche 'Tropical Escape Body Wrap' is enough to make your mouth water. That's when you know it's a good time to sample à la carte and gourmet dining options in the hotel! The party at Secrets – The Vine continues into the evening with activities and themed party nights to entertain all.
Blvd Kukulcan, Km. 14.5, Rtno. Del Rey, Lote 38, Zona Hotelera, 77500, Cancun.
Zoetry Villa Rolandi – Isla Mujeres
Zoetry Villa Rolandi is on Isla Mujeres, an hour by boat from Cancun. It's a short walk from Dolphin Discovery and the island's marina. This relaxed hotel sits between lush greenery and clear turquoise waters. They offer beach yoga, culinary classes, dance sessions, golf, and paddle boarding. Traditionally designed suites with hot tubs overlook a private sandy cove and Cancun on the mainland. In the resort's Thalasso Spa guests can enjoy a relaxing couples massage, a Mayan massage using traditional healing practices, and even a Japanese reflexology ritual. Full tailor-made spa packages are also available. The 'Romantic Escape' caters to couples. Or indulge with the 3-hour 'Welcome to Zoetry' package which includes a mud wrap, foot bath, Swedish massage, and an exclusive facial. Bliss.
Fracc. Laguna Mar, SM7, MZ75, L15/16, Carr. Sac Bajo, 77400 Isla Mujeres, Q.R., Mexico
Chilling in Cancun
Famous for its fun in the sun beaches and party scene, Cancun also boasts a more soothing side. From upscale spas at boutique hotels to hidden escapes, Cancun offers a plethora of relaxing experiences.