Our design guide to Marrakesh is perfect because Morocco has a rich and colorful history that spans more than 1,000 years. Marrakesh is the country's fourth city and like the others, is well known for its variety of architectural styles including Andalusian, Berber-Arabic and French, and its streets are filled with fascinating sites.
Koutoubia Mosque Marrakesh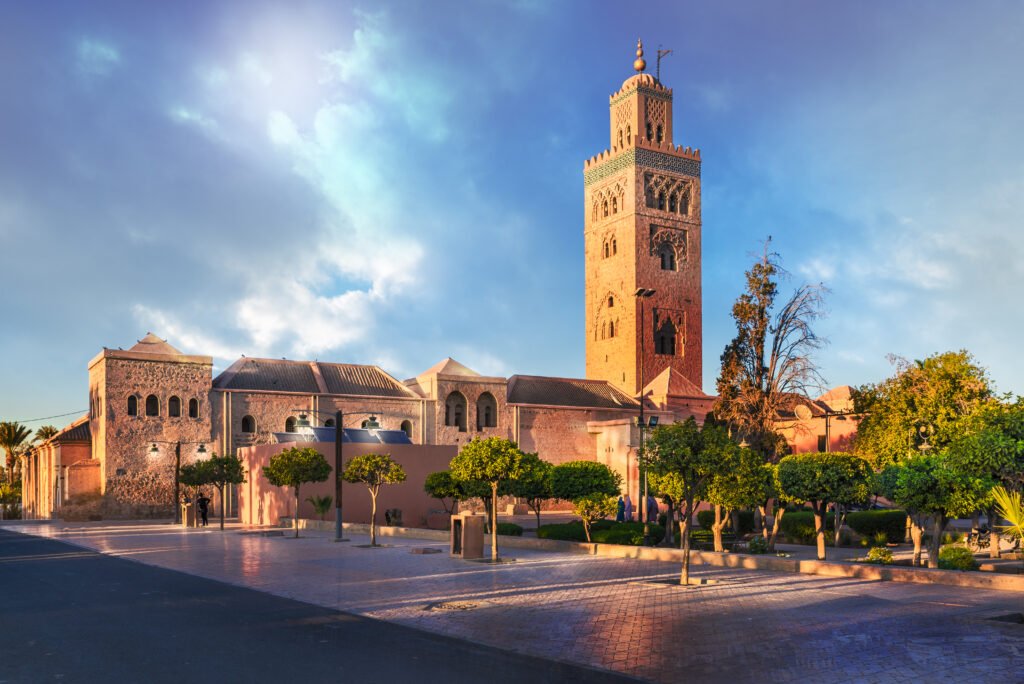 There are a number of buildings to visit if you are fascinated by superb architecture, starting with Koutoubia Mosque is situated in the heart of the Medina (old city) close to Djemaa-el-Fna, the main square. This mosque is the largest in the city and its minaret stands 77 metres high and its rose- coloured stone is very distinctive. The mosque dates from the 12th century, but in the last 100 years, its position was very carefully adjusted, as it was felt that it did not face Mecca properly! Unfortunately, non-Muslims cannot enter the mosque, but its Moorish architectural style with archways and intricate stonework can be appreciated from the outside. The mosque is lit at night.
Koutoubia Mosque is in Rue el Ksour
Bahia Palace
Bahia Palace means 'Palace of the Brilliant' and it was built in the late 19th century and has 150 rooms – including a harem. The rooms are beautifully curated and have a rich assortment of Berber ornaments, and there are beautiful palace gardens, with numerous citrus trees to enjoy, putting it close to the top of the list of our design guide to Marrakesh. The palace hosts various events including a major arts festival, be sure to see what's on during your visit.
Bahia Palace, Avenue Imam El Ghazali is open daily throughout the year from 09.00-16.45
Ensemble Artisanal Marrakesh
Whilst the souk area is a real 'must see' with the numerous colorful stalls piled high with all sorts of products, and we know it can be overwhelming so we've provided a guide to the souks and markets. Another place that is well worth discovering is the Ensemble Artisanal Marrakesh. This is a newly opened shopping complex for artisans and their handicrafts. The building is rose- colored and is very stylish inside, and rich in Islamic architecture and decoration. There are several floors where you will find numerous craftsmen making leather products and clothing. There is a group of women making traditional Berber rugs as well. If you didn't enjoy haggling in the souk, the good news is that the prices are all fixed so souvenir shopping is easier! Once you have finished shopping, it is fun to sit at the outdoor coffee shop on the ground level and relax with a Marrakech-style mint tea.
Souk Semmarine and the other souk areas are open 09.00 – 21.00 daily. The Ensemble Artisanal Marrakech, Ave. Muhhamed V is open Monday-Saturday 09.30-19.00 and Sunday 09.00-14.00
Majorelle Gardens
A truly unique place to visit whilst you are in Marrakesh are the stunningly beautiful Majorelle Gardens. They were created in the 1920's by the French artist Jacques Majorelle and are an exotic oasis of peace and tranquility. There are enormous cacti, cocoa palm trees, banana trees, myriads of  brightly colored flowers, and a bamboo thicket. In the heart of the gardens there is a vibrant blue villa, designed by the French architect Paul Sinoir in the 1930,s. The gardens hold a lovely story because they were neglected for many years and became totally overgrown. The top French designer Yves St Laurent  learnt about their demise and he and his partner, Pierre Berge, paid to have the gardens restored to their former glory. St Laurent loved the gardens as he found them 'inspirational and restful' and after his death, his ashes were scattered there.
Majorelle Gardens, Rue Yves St Laurent. Open daily. October-May 08.00-17.00 and June-September 08.00-18.00
Dar Si Said Design Museum
There are several museums to explore in Marrakesh. The most fascinating is Dar Si Said which was once a palace and is situated on the southern edge of the Medina. This building is light and airy and it is fun wandering around appreciating the colorful floor mosaics, intricate carvings and many fine examples of different handicrafts. There is a pretty courtyard with water fountains and at the entrance, is the oldest exhibit- an old water basin that was made in Cordoba, Spain, in the 11th century and brought to Marrakech 
Dar Si Said, 8 Rue de la Bahia, is open every day except Tuesday 10.00-18.00
Al Fassia Marrakesh
Part of the fun of visiting a different country is to enjoy the local cuisine and in Marrakesh there are a number of really excellent restaurants to enjoy. Al Fassia means 'women from Fez' and it is run by three sisters – from Fez! The food is traditional and delicious and includes a variety of tagines and couscous.
Al Fassia 55 Boulevard Mohamad Zerktouni, Gueliz
La Maison Arabe Marrakesh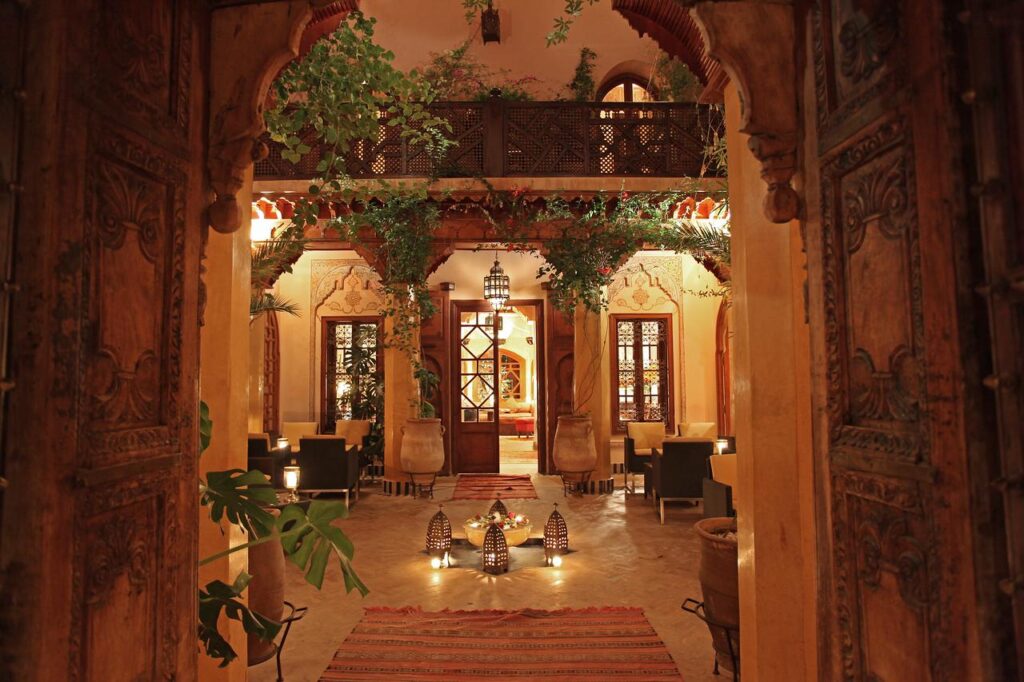 La Maison Arabe is a very romantic option for a memorable dinner as the restaurant is bathed in the soft light of numerous lanterns – no wonder it has been popular with many famous people over the years, including the royal family. There is soft Andalusian lute and guitar music playing in the background and the menu features many traditional dishes including an excellent Berber vegetable terrine. The fantastic interior is what puts it in our design guide to Marrakesh.
La Maison Arabe, Derb Assehbi
Nomad Marrakesh
If you would love to dine with a great view of the city, Nomad is the perfect choice. This smart restaurant is run by a young Moroccan entrepreneur and has a first floor restaurant and roof terrace that overlooks the spice corner and has views of the Koutouba Mosque and the Atlas Mountains in the distance. The menu is fun as it is a variety of traditional dishes that have been given a modern twist.