Ho Chi Minh City, formerly known as Saigon, is a fascinating metropolis where impressive French colonial architecture sits side by side with modern skyscrapers. There are abundant architectural gems in Ho Chi Minh City ranging from the historic Jade Emperor Pagoda and Reunification Palace to the contemporary Bitexco Financial Tower and eclectic 42 Nguyen Hue shopping complex. Our Ho Chi Minh City Design Guide highlights the most impressive sites and aesthetic experiences you won't want to miss while in Vietnam!
See
Siagon Central Post Office
No Ho Chi Minh City Design Guide would be complete without this national treasure! To see Neoclassical architecture at its best, head for the Gustave Eiffel designed Saigon Central Post Office. Constructed first in 1886, this building has both French and Gothic Renaissance influences in its design. A post office like no other, it features arched ceilings and rows of steel columns and is much more reminiscent of a European train station. Old maps of Vietnam line the walls, alongside world clocks and vermillion phone booths. You can purchase postcards, stamps, souvenirs, or make international phone calls here, but even if you don't need to do any of these things, it's worth spending time admiring the impressive architecture of this space.
Jade Emperor Pagoda
Built in 1909 by Chinese immigrants, the Taoist pagoda (also known as Tortoise Pagoda and Luck Sea Temple) is an important place of worship in the city. Painted in pink with ornamental dragon carvings and wooden pagoda-style entrances, it's one of Ho Chi Minh's finest structures. The main hall depicts heaven and hell in intricate carvings on the wall and couples who come seeking blessings can pray to the fertility goddess. Locals enter the pagoda with offerings of candles, incense, and flowers enveloping the temple in fragrant aromas which add to its serene atmosphere.
Saigon Notre-Dame Cathedral
Built in the late 1880s, around the same time as Saigon Central Post Office, this neo-Romanesque cathedral was named after its Parisian counterpart. With an eye-catching red brick exterior, stained glass windows, and twin bell towers which still chime frequently, it's a commanding structure overlooking Paris Square in Ho Chi Minh City. This popular holy structure is still used for Sunday mass every week, so if you do wish to view and photograph the interior of the cathedral, try to avoid this time unless you plan to join worshippers. Alternatively, admire the view from outdoors in the charming sculpted gardens opposite the cathedral.
Reunification Palace
It's almost as if time stood still at Reunification Palace in Ho Chi Minh City. In 1975, this building was instantly recognized around the world when a tank crashed through its gates, signaling the end of the Vietnam war. Constructed on the site of ancient Norodom Palace, the building we see today dates to 1966 and covers 4 floors and 120,000 square meters. The exterior still displays remnants of the palace's former existence with two original tanks guarding the building. Inside is even more impressive with secret rooms and underground tunnels, a command bunker, and a situation room, all of which provide insight into life in the city during this time.
Bitexco Financial Tower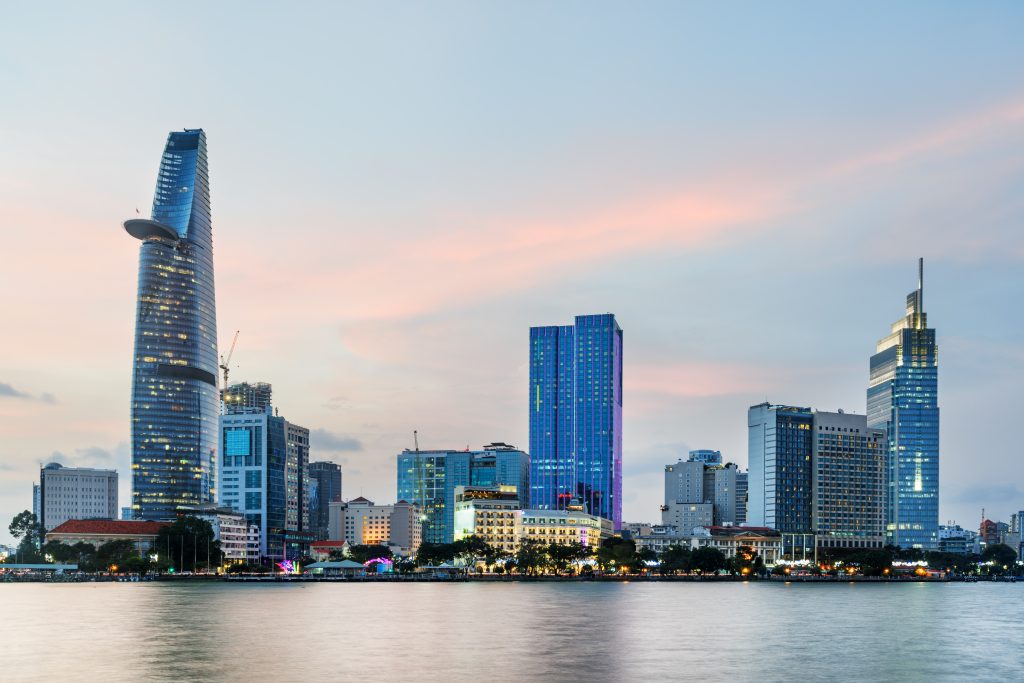 This futuristic 68-story glass tower in central Ho Chi Minh City exemplifies the city's constant growth. The innovatively designed skyscraper, constructed in 2010, stands 262 meters tall and boasts an impressive 49th-floor sky deck with breathtaking 360-degree views of the city. The tower, home to Bitexco Financial Group, was designed by renowned architect Carlos Zapata who drew his inspiration from the country's national emblem – the lotus flower. The tower contains retail and entertainment space, apartments, and offices. In 2015 the tower was named the 'second coolest skyscraper in the world' by Thrillist.
Shop
42 Nguyen Hue
This unusual cube-like, 9-story building housed high-ranking government officials during the Vietnam war, but today the old apartment complex has been transformed into a neon-lit paradise of cafes, bars, shops and tea rooms! Each apartment houses a different retail outlet and this hip complex is now the go-to place for locals and tourists to eat, drink, and shop. It's certainly the trendiest address in Nguyen Hue Walking Street and a must for all visitors who enjoy aesthetically pleasing, quirky structures. Don't forget to check out the traditional English tearoom, Partea, before you leave!
Dine
Quan An Ngon
Envelop yourself in the sights and sounds of South East Asia at Quan An Ngon Restaurant in Ho Chi Minh City. This romantic, pagoda-style restaurant leads you into a fairytale, as wait staff dressed in silk robes and wooden shoes accommodate your every need. As you sit amongst teak furnishings, ornamental plants and intricate Chinese latticework, cooking stations fire up their grills and accomplished chefs prepare delicious regional dishes such as Bun cha (grilled pork, noodles and herbs), Hoi An noodles and Banh tom ho hay (fried pastries with minced shrimp).
The Temple Club
Named for the Hindu Temple across the street, the atmospheric Temple Club is set in an old colonial building and decorated with exposed brick walls, wooden tables, and hanging lanterns. It's a popular haunt for visiting celebrities! Aside from a wide selection of drinks, the club also serves a delectable range of Vietnamese and vegetarian dishes.
Stay
The Reverie Saigon
Representing modern-day luxury, The Reverie Saigon sits as part of the Times Square Building in District 1, Ho Chi Minh City. The hotel is exquisite in its design, showcasing a combination of Asian opulence and Italian artistry and craftsmanship. Guest suites feature unique one-off furniture pieces, ornate chandeliers, and silk padded headboards in warming shades. Meanwhile, lobby and reception areas are sprinkled with expensive ornamental clocks, gold-gilded chaise longues, and dazzling glass lanterns with ceiling flowers. The Reverie Saigon has a world-class spa and several sophisticated dining options too, making this the ultimate hotel for design aficionados in Ho Chi Minh City.