In the evening, the air in Marrakesh is filled with the tantalizing aroma of different spices. There are many delicious Moroccan foods to try while you are in Marrakesh, and a number of different ways to do so, ranging from elegant and romantic restaurants and roof terrace restaurants with a birds-eye view of the city to the numerous food stalls in Djemaa el Fna square- which is the perfect place to buy Msemen, a pancake-like flatbread that is fantastic with jam. Some traditional foods are listed below, and our favorite is harira soup – a soup made with lentils, chickpeas, and tomatoes and flavored with lamb or chicken. There are different flavored couscous dishes to sample and succulent tagine casseroles. Chebakia are delicious tasting flowered buches of dough that are deep fried and smothered in honey and sesame seeds – irresistible!
Chez Chegrouni
This restaurant is a 'must do' as it is situated on the fringes of the UNESCO listed Djemaa el Fna square so is perfect if you enjoy soaking up the atmosphere and 'people watching'. There are tables on the ground floor which are just a stone's throw from musicians, entertainers, snake charmers and street traders – talk about a 'ringside seat'! The only trouble is that many street vendors approach diners. A table on the first floor could be the better option! The food at Chez Chegrouni is simple, traditional, popular with locals, and remarkably good value. The choices include a number of different tagines – the lamb and prune is particularly good.
Chez Chegrouni 46 Djemaa el Fna is open late afternoon till late
Al Fassia
This is another restaurant that has a large local clientele and those in the know order the mechoui – portions of roast leg of lamb- well in advance. Al Fassia is run exclusively by women – three sisters- and its name means 'women from Fez' and the food includes all the regional classics from their home city of Fez! There is a variety of tagines and couscous dishes to choose. Bestilla is a unique Moroccan dish that is shredded meat that has been slow cooked with spices, that has been cooked in a flaky pastry case topped with cinnamon and toasted almonds- delicious!
Al Fassia, 55 Boulevard Mohamad Zerktouni, Gueliz www.alfassia.com Al Fassia is open daily, 12.30-14.30 and 19.30-23.00 Telephone +212 5244 34060 for table reservations.
La Maison Arabe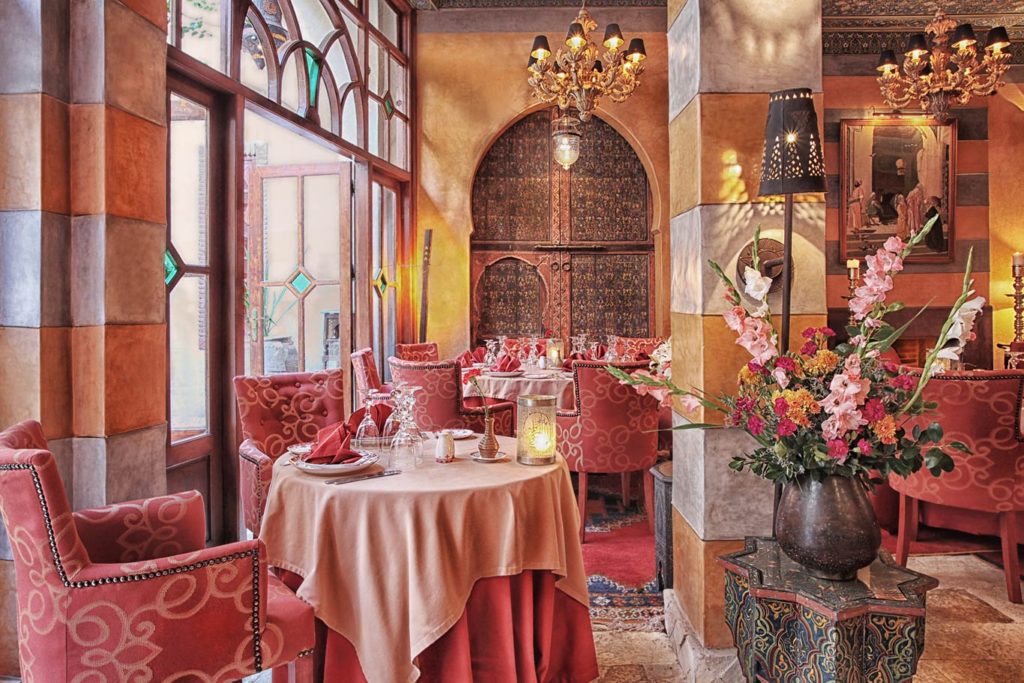 This is the perfect setting for a special and memorable meal and has welcomed important people to its tables ever since it opened in 1946. It has a lovely ambience created by the golden light from numerous lanterns and soft background music of Andalusian lute and guitar music. The menu features many traditional dishes including an excellent Berber vegetable terrine served with Berbe style couscous. The restaurant has vegetarian options and serves a vareity of foods that are ideal for various diets.
La Maison Arabe, Derb Assehbi, La Maison Arabe is open every evening. For table reservations telephone +212 5243 87010
Nomad
Dining on a roof terrace on a balmy evening in Marrakesh is certainly what dreams are made of, and Nomad is a good choice as it is smart and modern. Nomad is a relatively new restaurant run by a young Moroccan entrepreneur. You can dine inside in the elegant first floor restaurant, but if you want to enjoy good food in wonderful surroundings, opt for a table on the roof terrace, which overlooks the spice corner and enjoys views of Koutouba Mosque and the Atlas Mountains. The menu features all the traditional dishes, but they have been given a very modern twist – and it works!
Nomad, Derb Aarjan, Rahba. www.nomadmarrakech. Com Nomad is open ever day from 12.00-23.00. For table reservations telephone +212 5243 81609
Le Comptoir Darna
This popular restaurant is situated in a large art deco villa and is popular with the young and trendy of Marrakesh. Upstairs there is a bar where you can enjoy aperos before dinner and downstairs is a stylish restaurant which is deep red in color, with dark wood furniture and brass drinks tables and lanterns. The menu is Franco-Moroccan with classics from both countries. The temp changes at about 9.30 p.m when the bevy of belly dancers come down the stairs. The entertainment continues until late evening when those with enough energy adjourn to the nearby Palais Jad Mahal to dance the night away.
Le Comptoir Avenue Echouhada, Hivernager www.comptoirdarna.com Le Comptoir Darne is open every evening from 20.00-01.00. Telephone +212 524 437702 for table reservations
The Amal Center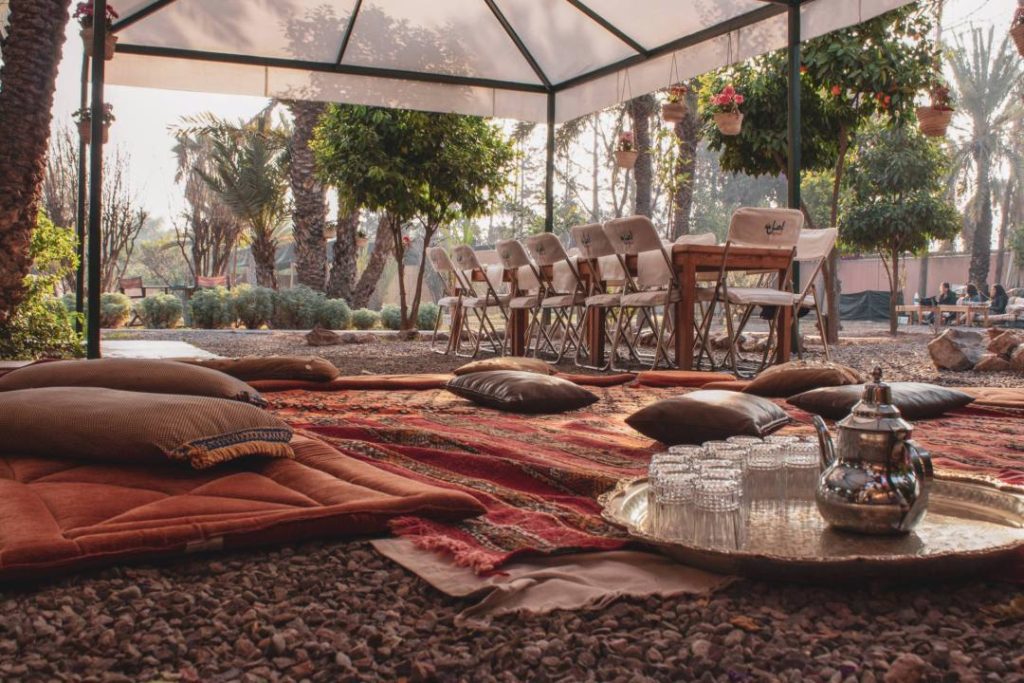 This is a very different type of restaurant as it is a non-profit association that helps women from disadvantaged backgrounds and empowers them through teaching them cookery skills. The food is some of the best cooked home made food in the city and the huge support the restaurant gets from local people is testament to that. There is a good menu with a variety of salads and some tasty tagines – including a really good fish one. On Fridays there is a good array of couscous dishes.
Amal Centre, Rue Allal Ben Ahmed, Gueliz is open every day for lunch 12.00-15.30. Tables reservations can be made by telephone +212 524 46896