Sometimes there's nothing better than sitting down with a cool cocktail after a long day of sightseeing, and that's why we're presenting you with our list of the best bars in Marrakesh. There are no wine bars or pubs in Medina, though some restaurants will sneak you a glass of rose, and none of the cafes or restaurants that overlook Jemaa el Fna serve alcohol as a sign of respect. You're free to partake in any other areas of the city, and many hotels and restaurants have their own bars to add to the list of stylish watering holes in Marrakesh. Be aware that alcohol is heavily taxed here, and that glass of wine might cost a bit more than you're expecting. It's also important to note that smoking is allowed in some bars and restaurants, though they're usually separated into smoking and non-smoking areas. If you enjoy relaxing with a drink in the evening it is well worth knowing that there are no wine bars or pubs in the Medina and that alcohol is not served in any of the cafes overlooking Jemaa el Fna. Many of the hotels and restaurants in the area do have public bars and there are some stylish bars in other parts of the city.
Best Bars to Dance
555 Famous Club
This super club is one of the most well-known in the city, consistently booking international DJs and performers to draw even more visitors to this club for the rich and famous. While the price tag can be hefty, it's one of the best places to see and be seen, with celebrities known to frequent their dance floor. Be sure to arrive later if you're looking for a more lively experience. VIP table service is available, and shisha can be ordered to any of the tables.
Theatro
As the name suggests, this club is more than just a club: offering live entertainment from DJs and local singers to traditional belly-dancers and astonishing acrobats, the talent always comes ready to impress. The atmosphere is wild and a blend of locals and visitors. It's always busy, thanks in part to the nearby casino, and the dance floor is a surging mass of people loving life. The impressive light display adds an ambiance that shouldn't be missed!
Best Bars for Upscale Vibes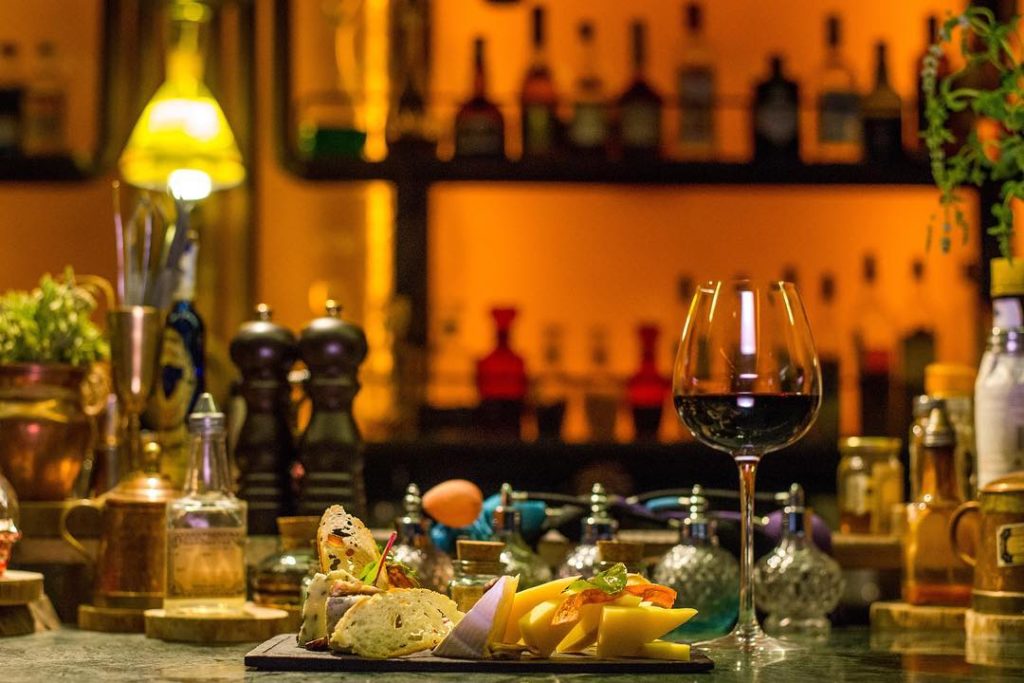 Baromètre
A bar and restaurant that proclaims to be dedicated to mixology, you can't miss with Baromètre. From decadent small plates to artisan crafted cocktails, your palate will thank you. With an underground, speakeasy style, this intimate bar is infused with the passion of the two brothers that own it from the decor to each individual drink. They also offer an extensive wine collection, and this is the perfect place to spend a romantic evening.
L'Epicurien
This cozy bar that also features live entertainment sacrifices nothing when it comes to the quality of their drinks and the experience of their patrons. A festive atmosphere infused with energy combined with the timeless decor only adds to the spectacular drinks menu they offer, ensuring that every visit is one to remember. This is housed at the same casino as Theatro, and gives you the chance to amp up your night or wind down after some dancing.
Best Casual Lounges
Kosy Bar
This wine bar nestled in the heart of the Medina is a popular venue with both locals and visitors, and offers the choice between a ground-floor cellar that showcases the best of Moroccan wines or a succession of small rooms around the upstairs terrace with views of the Place des Ferblantiers. Located inside a riad, this bar and restaurant is decorated beautifully and offers a selection of traditional Moroccan and Mediterranean dishes to complement your sumptuous wine.
Le 68 Bar à Vin
Offering a delicate blend of fine French cuisine and traditional Moroccan dishes, this modern wine bar in the heart of the city is sure to delight. The extensive wine list, carefully curated by the owner Benoit, offers a range of selections from across the world at very reasonable prices. Whether you're looking for an easy night out with friends or to savor a luscious glass of Bordeaux alone, this intimate bar is one of the best bars in Marrakesh, without a doubt.
Best Views of Marrakesh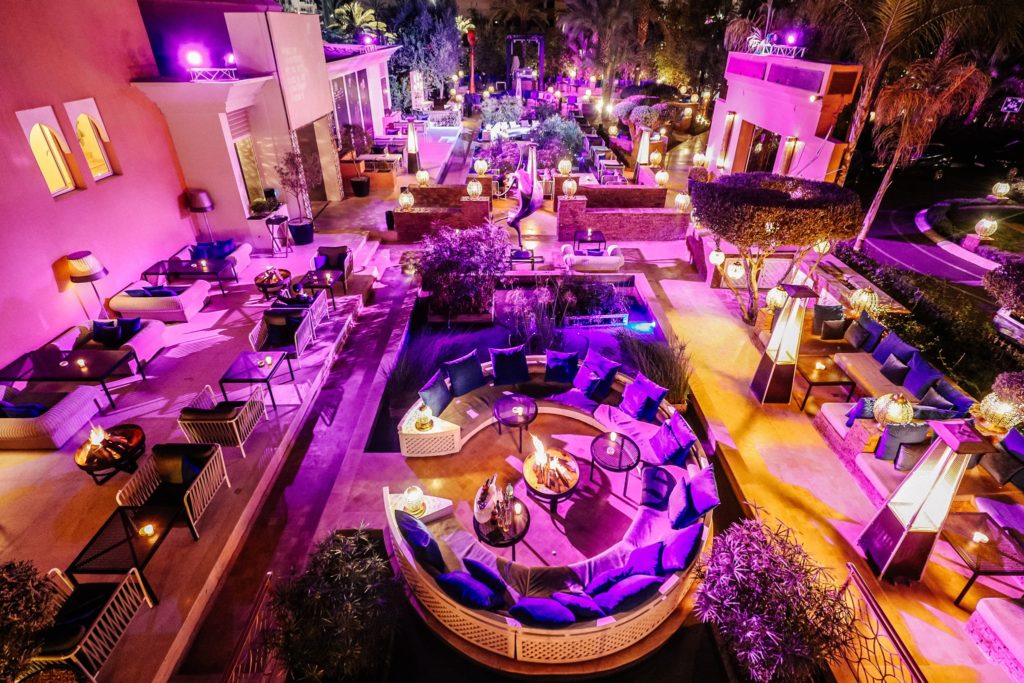 Dar Anika
This terrace restaurant and bar, located in an upscale riad in the heart of the city, offers diners and drinkers an expansive view of the bustling city below. With delicious dishes, live Moroccan music, lush greenery on all sides, and a full bar on offer, there's a reason this is such a local favorite. Their use of seasonal ingredients and their evident passion for service only enhance dinners or drinks at this beautiful locale.
So Lounge Marrakesh
This sleek and stylish avante-garde lounge in the Sofitel Marrakesh offers an elegant and upscale escape from the city. This ground-level bar, with both terrace and indoor seating, offers service that exceeds international expectations. The incredible decor, accentuated by traditional Moroccan details, is well worth a second look, and the people-watching from the terrace gives you a better sense of the real Marrakesh.