Situated in Western Morocco, Marrakesh was once an imperial city. Today it is a colorful mixture of mosques, palaces and gardens. Its Medina (old walled city) is a labyrinth of narrow, winding streets and bustling souks. It is a UNESCO World Heritage Site and is where you can get a feel for the city's true character as you sip a cup of Moroccan mint tea. The city is silently watched over by the iconic minaret of the 12th century Koutoubia Mosque. The minaret is visible from most parts of the city and is the emblem of Marrakesh. As the sun sinks in the sky, Djemaa el Fna (the main square) is the place to be to see street musicians playing ginbris (three string banjos), food stalls, snake charmers and henna artists. Marrakesh is a city where you will make memories that will last a lifetime.
How and When to Visit Marrakesh
There are many flights to Morocco, and Marrakesh is the perfect destination for a long weekend break as its airport is situated just 4.4 kilometres away. To make the most of the city, you will need about three days, but if you would like to enjoy a couple of excursions outside the city to the mountains or desert, you will need to add extra time. Many visitors take a week to explore Marrakesh along with other cities, like Fez.
The perfect time to visit Marrakesh is during the springtime, March – May, when the average temperature is a very pleasant 25º C. The autumn months of September and October are equally lovely too. Morocco does experience extremes of weather during the other parts of the year, as in the summer there are searing temperatures, and in the winter the temperatures are surprisingly cool. There is very little rainfall throughout the year, so you don't have to worry about soggy shoes.
Guide to Getting Around Marrakesh
The best way to explore Marrakesh is on foot, so make sure you pack flat comfortable walking shoes! Many of the old streets are so narrow and winding that only bikes and scooters can get through. The local buses are really old and always packed with people, so if you don't want to walk, the best alternative is to hire a taxi. There are two types of taxi in the city; 'le petit taxi' and 'le grand taxi'. As the names suggest, there are small ones – for running around the city and larger taxis, which are ideal for longer excursions. All taxis have meters, but the drivers often 'forget' to switch them on, so when you jump in, ensure that your diver does start the meter. For most hops around the city, it should cost between 15-25 dirham.
Neighborhoods of Marrakesh
Marrakesh, often called The Red City for its rose-hued stones, has several different districts ranging from the historic and winding Medina to Agdal, a new suburb to the south of the city. Each neighborhood has its own character and is fun to explore.
Medina & The Souks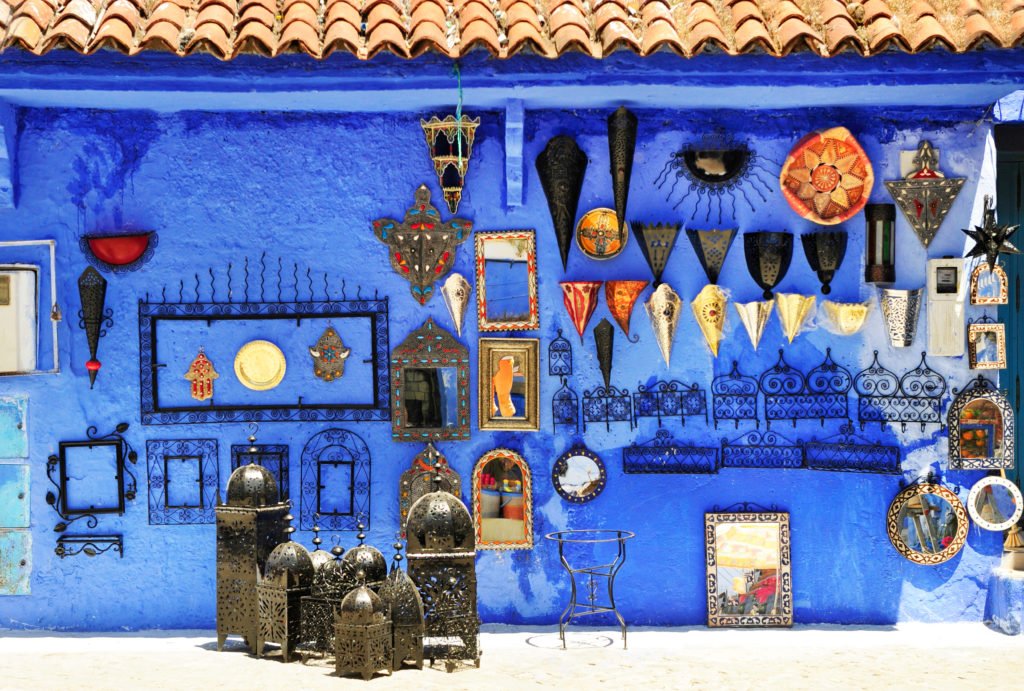 The Medina is the old walled city of Marrakesh that is steeped in a history that spans many centuries and is the perfect place to wander in the narrow lanes and soak up the atmosphere. The main meeting place is Djemaa el Fna, the large open square right in the middle of this historic area, which is popular all day and becomes vibrant at night with street entertainers, food stalls, musicians, and snake charmers. There are a number of different souks; each one sells their own specific items such as leather goods, copper handcrafts, and traditional pottery.
Gueliz
Gueliz was once one of the French neighborhoods of the city and today is its modern face. Gueliz is often referred to as the 'European Quarter' and is where you will find the best restaurants, modern bars, and European style shopping malls. There are smart boutiques and crafts shops and these are not the places to try out your bargaining skills! The nightlife is best in this neighborhood too.
Mellah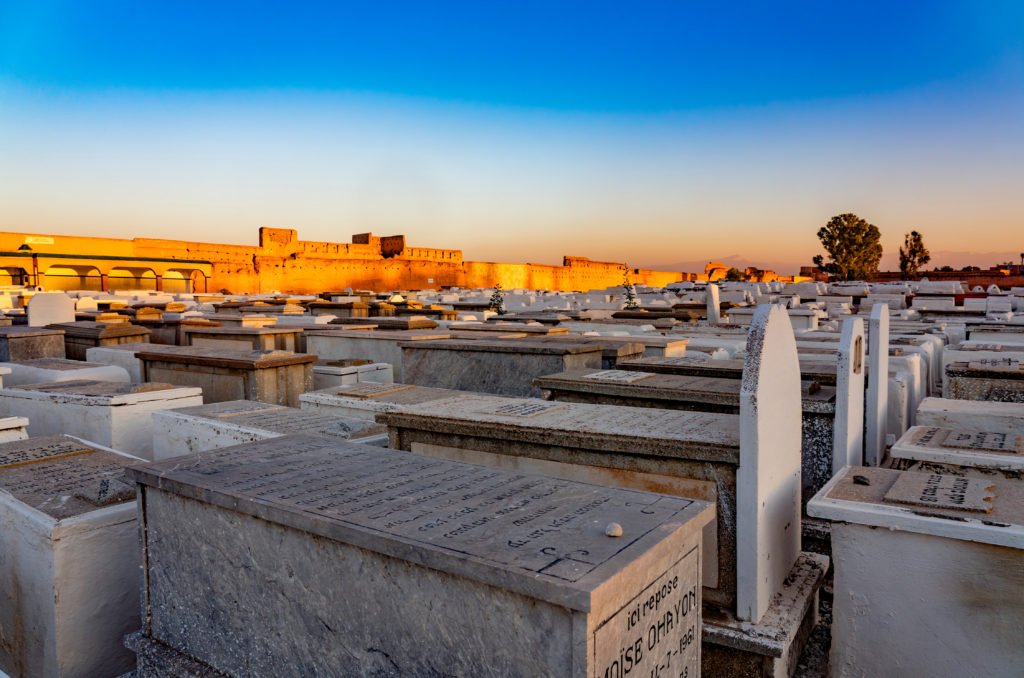 This was the old Jewish Quarter and the long history of the Jews in Marrakesh can be traced by visiting the Lazana Synagogue. There is a real good spice market in this locality, and the Jewish Cemetery is worth exploring if you have time.
Hivernage
This is a young, stylish neighborhood with upscale bars and restaurants and some of the most luxurious accommodation in the city. It also hosts The Royal Theater, green gardens that contrast the baked brick walls, and its pulsating nightlife.
Palmerie
This is a fascinating part of the city as it is situated a little further out and has sand dunes and numerous palm groves since it is a major area for cultivating palm trees. This is where you can enjoy some more adventurous action, like dirt biking and camel rides and if you are a golfer, there is a great double golf course with 27 holes! The hotels in Palmerie are excellent, and while some provide transport into the center, it only takes a few minutes by taxi.
Sip and Snack
There are restaurants to suit everyone, with some small traditional restaurants in the Medina serving traditional dishes including tagines and couscous. There are others that offer elegant French cuisine and you will find the best upscale and international restaurants in the Gueliz and Hivernage districts. If you want to taste fun and authentic food, the numerous stalls that spring up in Djemaa el Fna as night falls are perfect.
There are numerous little cafes to sit and enjoy the local mint tea and watch the world go by. If you would rather, you can order some freshly squeezed fruit juice which tastes excellent. Many places in Marrakesh do not serve alcohol, though the more European the style, the more likely they are to boast a full bar.
If you are looking for some good roof terrace bars, there are several on the Mellah Plaza and also overlooking Djemaa el Fna. Nightlife includes dance clubs and cocktail bars in Gueliz and some have live music. The biggest night club – Theatro is also in this part of town.
Shopping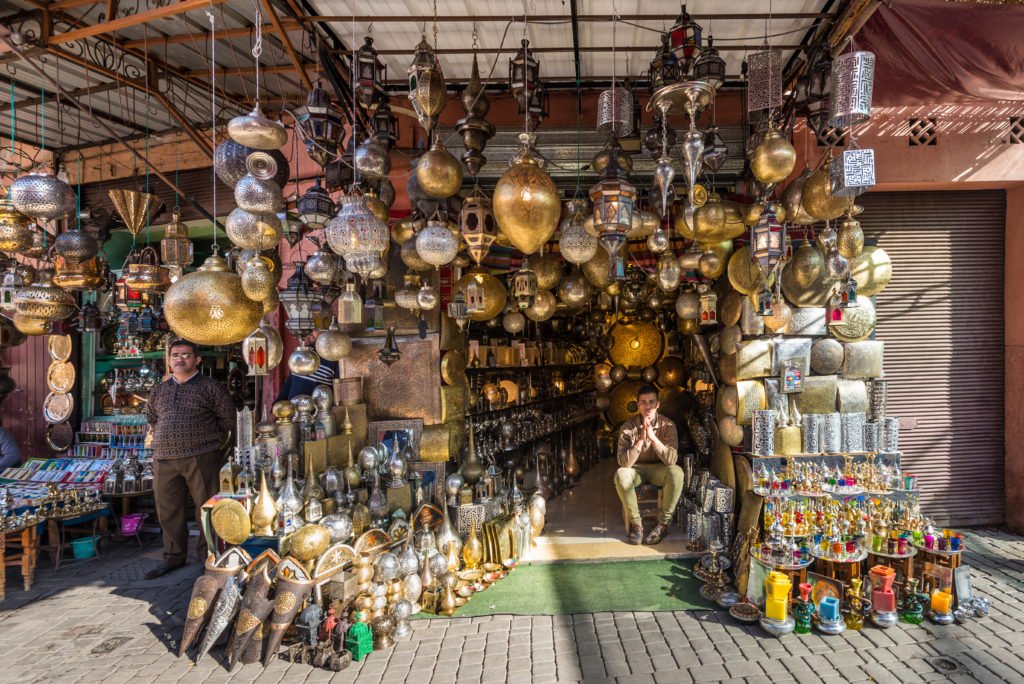 For the perfect blend of culture and shopping, the numerous souks are well worth exploring. Souk Semmaine is the largest, but wandering through the maze of tiny stalls and shops, it is as though time has stood still. It provides the perfect opportunity to develop your skill at bargaining too.
Gueliz lies west of the Medina and is full of boutiques and galleries that are perfect for browsing. The European style shopping malls have many international brands, but scattered in between are small shops with upscale local products that cannot be found in the souks.
For a very special experience, visit Ateliers d'Ailleurs in the Medina, where there is a series of craft workshops where maalems (master craftsmen) can be watched as they work making leather babouche slippers, pottery, marquetry and baskets – and they run workshops including Moroccan cookery (Ateliers d'Ailleurs is open daily 09.00-19.30 Telephone +212 662 166026).
Culture
For a unique cultural experience after you have seen all the sights, why not promise yourself a visit to a hammam? These are the traditional bath houses where families go to enjoy their weekly gommage(body scrub) which is often done using olive pits and sponge. You can opt for an everyday hammam or you can visit Hammam de la Rose, which offers all the traditional treatments in truly luxurious surroundings.
If you would like to explore some areas out of the city, there are some great places to visit as Marrakesh is situated in the foothills of the Atlas Mountains so there are deserts, waterfalls and Berber villages. The Ouzoud Falls are spectacular as they are multi-layered falls that drop 110 metres. The Agafay Desert lies quite close to the city, but is rocky and barren rather than sandy with dunes like the Sahara. The Sahara is the largest hot desert and it is possible to visit it, but this involves a long journey and overnight stay.
Staying in Marrakesh
Accommodation in Marrakesh is very special because as well as beautiful hotels, there are numerous riads; check out our favorite places to stay. These are traditional Moroccan mansion houses that have been built around a central courtyard and successfully adapted into accommodation. The riads usually have two floors and whilst all have good amenities, some are exotically furnished and have stylish plunge pools in the central courtyard. All the riads are full of character and certainly offer a very different type of holiday accommodation.
A number of the newer hotels are situated a little further from town on a new road, but most offer complimentary transfers into the center. Some of these have the advantage of enjoying views of the Atlas Mountains, or in Palmerie, being surrounded by palm groves. There are familiar international hotels and smaller boutique hotels that suit all tastes and budgets.