The souks of Marrakesh are the largest and most colorful in Morocco, with a worldwide reputation for being fantastic markets to explore, bargain, and marvel at the goods. With their numerous winding alleyways and stalls piled high with rugs, brass-ware, jewel-colored silks, leather goods, and mounds spices, the souks can be daunting the first time you visit them, which is why we have this guide to the markets and souks of Marrakesh. Take your time, relax, and enjoy some good-natured bargaining to secure some wonderful mementos.
The souks and markets have stood for centuries and were traditionally open air markets visited by traveling merchants selling all types of exotic wares. Marrakesh has a strategic location and its souks have always been important. The souks are situated in 'Medina' which is the old, walled part of the city.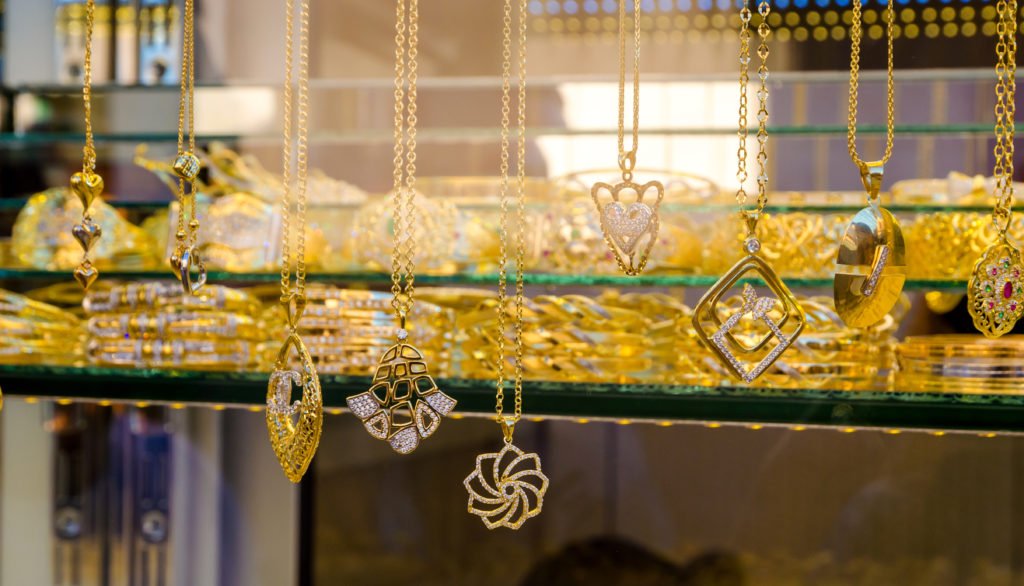 The various souks are divided into sections based on the goods offered. The most valuable items, such as gold and jewelry, were always displayed in the center of the main souk area, with all the other products piled high on stalls moving outward from the center. Even today, the names of the souks in Marrakesh give an indication to what is being sold there. In some places you will see some modern items on sale, but most of the products have changed very little over the centuries.
The souks are located north of Jemaa el Fna square – the main square- and have 3 entrances accessible from the square. Interestingly, the prices are noticeably lower further into the souk, perhaps testing the courage of tourists! They are a colorful and fragrant labyrinth as far as the Musée de Marrakesh. They are open from 09:00 am until 9:00 pm and the best time to visit them is in the morning or even when the weather is cooler – and always armed with a detailed map!
Tips For Effective Bargaining!
It is best not to ask the price of something unless you are interested in buying it. The first price you are told will be roughly double the 'real' price. If you would like the item, offer one third of the price you were told and take it from there, with some good-natured bargaining (haggling). If you are happy with the price you have negotiated, then you have secured a good price! Make sure that you have plenty of small denomination notes to pay for products, otherwise you could find that the trader forgets how to count and you are given the 'wrong' change.
Don't allow yourself to be hassled. You may be stop to look at some items and then wish you hadn't! A friendly smile and a shake of the head usually stops you being hassled by most stall holders. Be careful of your purse, wallet, watch, and other valuables when you are in the souks as there are pickpockets about.
Souk Semmarine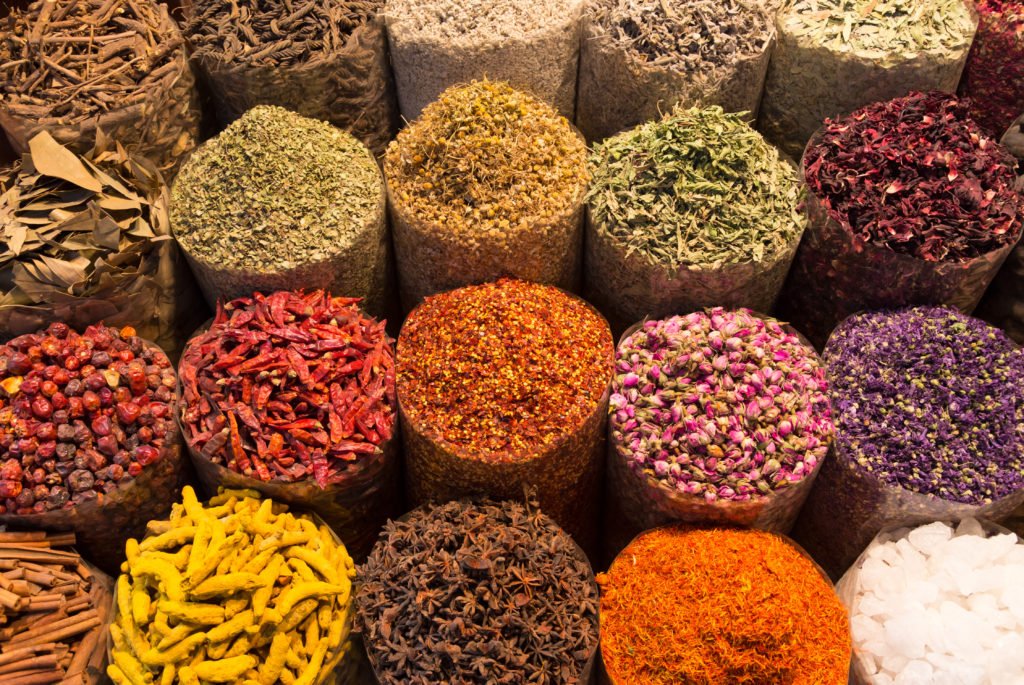 The main focus of the souks is Souk Semmarine. This souk is situated in a broad, covered alleyway. At the entrance there are pottery stalls. In this section you will find pretty tagines which are the traditional clay cooking pots that make a great souvenir. Further along, there are gorgeous pashminas, caftans, and carpets and it is at this halfway point that there is a fork in the alleyway. The right hand path leads to Souk Ableuh, the spice corner, where you can buy beautiful fresh spices by weight and the left fork leads into Souk el Attarine, which is the place to go if you are looking for copper and brass. You will find a full range of items there including lamps, candlesticks, and all types of vases.
Souk Smata
If you would like to be tempted by some lovely shoes, Souk Smata is the shoe souk, with a huge array of brightly colored, babouches (Moroccan slippers made in soft leather) Some are plain in every color imaginable, whilst others are beautifully decorated with intricate embroidery and sequins. There are babouches available with strong soles for outdoor wear and plain gold-colored ones for men.
Souk el Kebir and Souk Cherratin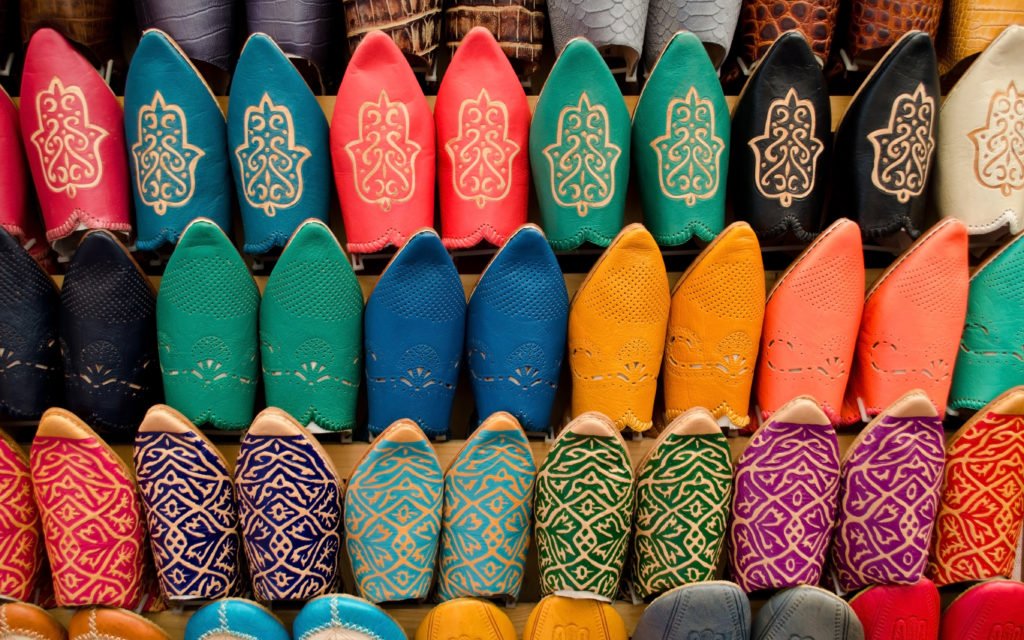 These two souks are located just off Attarine and are where all the leather artisans can be found at work and is referred to as Ta'ala by locals. The leather is lovely and soft and available in many different colors. As well as stylish shoes, there are bags, belts, wallets, and purses in a myriad of sizes and designs.
The Kissorias
These are a series of covered souks, situated just next to Souk el Kebir. It is here that you will find all types of beautiful fabrics including some fabulous silks – both plain and patterned. There are numerous tiny shops here too, which are well worth exploring.
Souk des Bijoutiers
Just to the right of Souk el Kebir is the jewelry souk, you can find gold and silver for great prices. Pieces of jewelry made in either should have accompanying certification. If you are looking for colorful and cheaper jewelry, Souk Siyyaghin, on the edge of the market area, is where you will find some interesting Berber designs and tribal adornments that are made of more affordable materials.
Souk Chouari and Souk Haddadine
These two souks are well worth visiting as you will be able to see carpenters and blacksmiths at work which is fascinating. These souks can be found on the northern edge of the souks and are just wonderful as they remain completely unspoiled.
Souk Sebbaghine or Souk des Teinturiers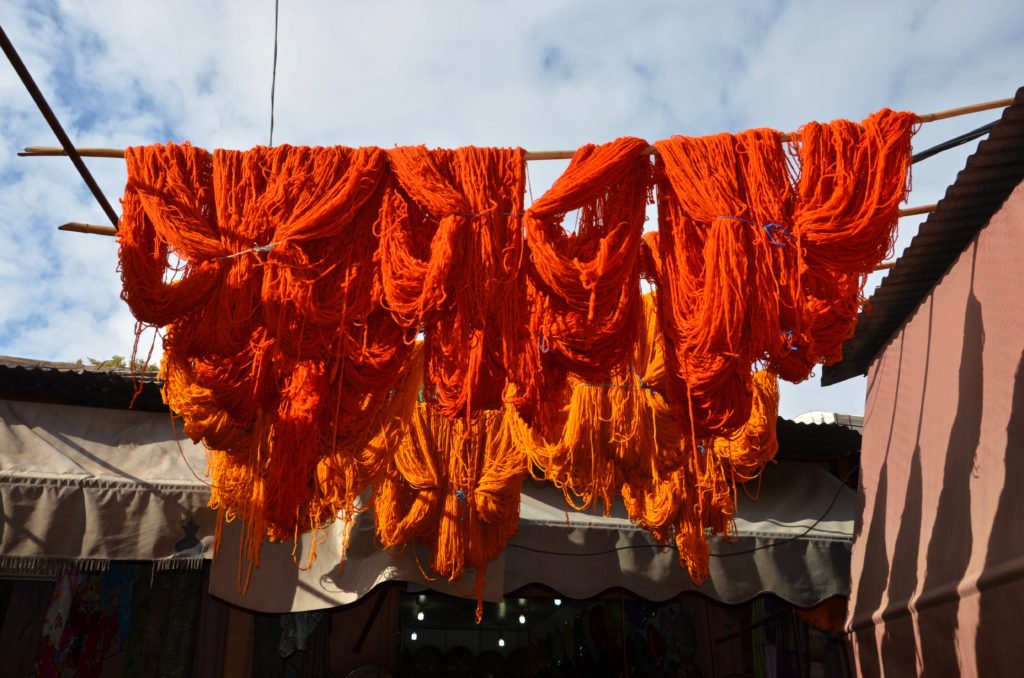 These are the dyers' souks and can be easily recognized by the numerous skeins of wool and silk threads hanging high above your head in every color imaginable. If you want to visit them, you will find these souks just south-west of the main souk area.
Souk Kchacha
There is always plenty of activity in this particular souk as it is where you can buy all types of delicious dried fruit and nuts including figs, dates, olives, walnuts, and almonds.
Criee Berbiere: The Carpet Souk
Carpets are definitely a popular purchase in Marrakesh as they are really beautifully made and there are some lovely colors and designs. There are the traditional Arab carpets in all different sizes and in colorful and bold designs. There are boucherouite too. These are the Berber carpets that are intricately decorated with various talisman symbols.
Souk Kimakhine
This is the souk for music lovers as it is where the traditional Moroccan and Gnaoua musical instruments are sold