Vietnam is a fascinating country, sprinkled with ancient temples, picture-postcard bays, charming villages, and bustling cities. Whether you're staying in the country for a short time or plan to spend weeks exploring every corner from north to south, our Top Experiences in Vietnam guide highlights the destinations that you don't want to miss!
Step Back in Time at Imperial City
Kick-off your Top Experiences in Vietnam itinerary with a visit to one of Vietnam's top destinations – Imperial City! Set within natural landscapes, the Perfume River, and scenic mountains, the city's location was chosen for its ability to protect the city from invaders. The ancient wonder sits 2 hours north of Da Nang and was once home to the Nguyen Dynasty. The complex was a political hotspot, abundant with palaces, temples, and residences surrounded by a moat. In the center, the Purple Forbidden City housed the emperor and his associates. You can still see the majesty and splendor of the era as you wander through well-preserved temples, gardens, and palaces today. Although much of the site has been ravaged by the hands of time and the Vietnam war, it's still a wonderful place to gain some insight into life in ancient Vietnam and learn of its history. Visiting early morning or mid-late afternoon will ensure you avoid tourist crowds and have the magnificent site to yourself. Head to Bunker Hill, just outside the city. Once a vantage point for the military, it offers incredible views and photo opportunities of Imperial City Hue!
Kayak in Halong Bay
No Top Experiences of Vietnam Guide is complete without the iconic Halong Bay! The forested limestone islands of Halong Bay, punctuated with jade waters and floating junk boats, are a picture-perfect location. Nature lovers and photographers flock to Halong Bay from all over the world to appreciate its natural beauty. This remarkable zone was declared a UNESCO World Heritage Site in the 1990s and it's not surprising as to why – the scenery is straight out of a fantasy movie. Most tourists take a boat out into the bay, but you can see this magical wonderland from a different perspective – by kayak. This gentle mode of transport doesn't just mean you will do your bit to help the environment, it also allows you to reach hidden fishing villages, caves and secluded beaches which aren't accessible by boat. The emerald waters and limestone cliffs seem more imposing as you glide along, and you can fully appreciate the ethereal quality of this incredible place.
Explore Phong Nha Ke Bang National Park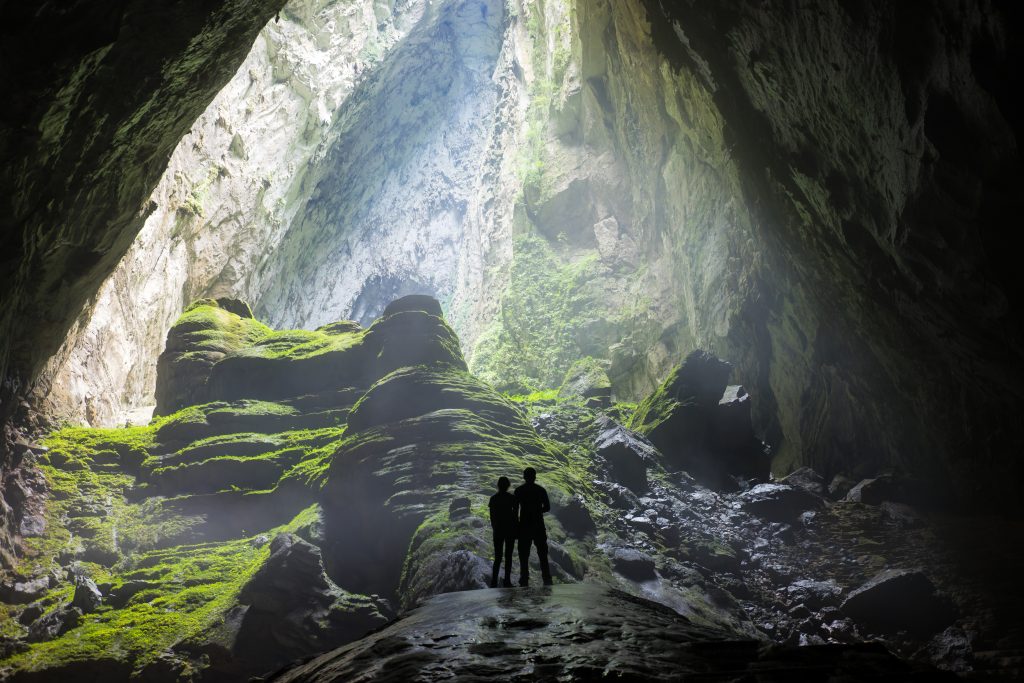 Phong Nha-Ke Bang National Park sits in the heart of the Annamite Mountains, in central Vietnam, near the Laos border. The region is blanketed by tropical dense forests, rivers, rice fields and has over 500 labyrinth cave networks ripe for exploration. The best way to reach the park is via motorcycle, even if you have to hire a driver. As you cruise along hillside roads and through tranquil riverside villages you'll gain a real glimpse into Vietnamese life. The 400-million-year-old cave network can be accessed by the public, and you can choose whether to zip-line, spelunk, or simply stroll along their illuminated pathways. It's also possible to explore subterranean wonders by boat so you can admire other-worldly stalagmites dating back centuries. Avoid visiting between September to November – the area and caves are prone to flooding and tours tend to cease during these times.
Enjoy a Cooking Class in Hoi An
Hoi An is a magical ancient city and a highlight for travellers in Vietnam. The town boasts temples, bridges, colonial architecture and narrow alleyways adorned with red lanterns. However, one of the best ways to experience Hoi An is with an authentic cooking class. Several tutors hold classes in their homes or on farms where you can pick your own herbs and fresh vegetables from the gardens. Some offer boat rides along the picturesque river, shopping trips to the colorful market in Hoi An, and even water buffalo rides in rice fields. Afterwards, you'll prepare your own traditional Vietnamese dishes and dine with locals while getting to know their unique way of life in this beautiful region of Vietnam.
Trek the Country's Highest Peak in Sapa
Sapa is nestled amongst the lush northern mountains of Vietnam – home to rice paddies and charming villages set beneath towering misty mountain ranges. Morning is the best time to explore Sapa, when the air is cool and everything is silent. Begin your day early, hiking along rolling emerald mountain pathways while discovering cascading waterfalls and hidden caves. The highest peak in Indochina, Fan Si Pan is nearby. If you're fit and healthy it offers incredible treks where you can view monkeys, antelopes, flora, and fauna. Afterward, head back to the villages for a traditional lunch, browse local markets for handicrafts, or even rent a boat and explore Sapa from the water.
Visit the Floating Markets of the Mekong Delta
No Top Experiences in Vietnam list would be complete without taking a boat ride along the Mekong Delta. Speedboat and sanpan boat trips are available along the river, flanked by coconut trees, mangroves, and ancient villages. Visiting the vibrant floating markets are an absolute must! Cai Rang, near Can Tho, is the most popular wholesale market along the Mekong Delta – with vendors selling everything from exotic fruit to delicious noodles and farm produce. It offers a wonderful opportunity for keen photographers to capture daily life in the region. The waterway becomes a veritable maze of boats stacked with papayas, bananas, mangos, and much more. Stock up on produce and enjoy a lunchtime picnic before heading to a coconut candy making factory in for some sweet treat souvenirs to bring home with you.