Croatia is a breathtakingly beautiful country. Zagreb is its largest city and capital, a vibrant metropolis bursting with museums, parks and galleries but most visitors venture to the stunning Adriatic shores to sample fresh seafood, swim in crystalline waters and island hop to some of Croatia's most idyllic hideaways. Whether you want to explore centuries of history and architecture, discover a more traditional way of life in charming mountain villages, or swim beneath waterfalls in picturesque national parks, Croatia has a place for you. Our guide of places to visit in Croatia is sure to fill you with inspiration – now, how quickly can you pack your bags?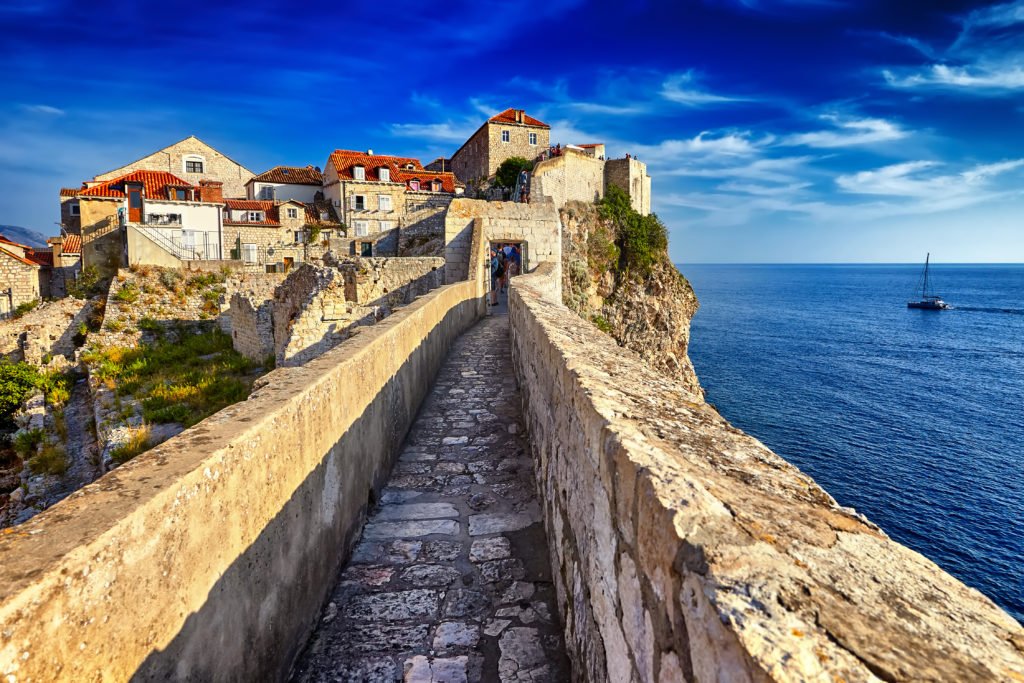 Dubrovnik and Beyond
Of all the places to visit in Croatia, Dubrovnik is probably at the top of your list. The city is a history and culture lover's dream, with UNESCO World Heritage Sites, Game of Thrones filming locations, cable car rides, ancient city walls, and fine foods and wines. Many travelers stay inside the city, but a few miles away, there are unspoiled local spots ripe for exploration along the Dubrovnik Riviera.
Just 20 kilometres south of Dubrovnik, Cavtat is a quaint fishing town with a pretty harbor flanked by lush vegetation. Once a favorite for wealthy Croatians, its charm lies in the old part of town, home to The House of Vlaho Bukovac – a famous Croatian painter and the Baltazar Bogisic Collection in Rector's Palace. A few miles from Cavtat, Cilipi village is the place to be on Sunday mornings. Locals gather together in the main village square to sing traditional songs and dance in their regional costumes. Northwest of Dubrovnik, the ancient village of Orašac is sprinkled with old chapels and churches. The main route through the village leads to traditional Croatian villages including Ljubač with its impressive amphitheater and Kliševo, famous for its goat's cheese and locally produced wine.
Istria
If you plan to spend your holiday in the Istrian region of Croatia, you're in for a treat. This idyllic corner of northwest Croatia is home to Roman amphitheaters, historic national parks, charming hilltop villages, unspoiled islands and incredible cuisine. Beach lovers will enjoy a trip to Medulin on the southern coast of Istria. It's a popular destination for locals, with beautiful sandy beaches, independent restaurants, bars, and shops. The city of Pula is a history and culture lover's dream. A well-preserved Roman Arena dominates the seafront, and leading to the old Forum square, ancient city gates display centuries of rich history waiting to be explored. A few miles away, Brijuni National Park offers a slightly different walk into history with archaeological ruins by the sea, an intriguing dinosaur walk, and a safari park. Alternatively, if you're a food and wine connoisseur, this is one of the best places to visit in Croatia! You can enjoy hunting for prized black and white truffles in Motovun Forest or sampling fine Croatian seafood dishes in Rovinj's upscale restaurants.
Split
Split on Croatia's Dalmatian Coast has stood still in time. Diocletian's Palace in the ancient center can easily transport you back to days of the Roman Empire. The incredible 4th century complex still has its original paving stones and towering columns, therefore, it's not surprising that Game of Thrones scouts chose it as one of their main filming locations. The perfect spot for a morning coffee or afternoon glass of Croatian wine is in Peristil Square. This was the city's original Roman Forum, and surrounding the square, epic monuments and two Egyptian sphinxes create an Instagram-worthy surreal movie backdrop. If your time in Split is limited to a few days and you want to make your base there, you can also take day tours to Kliss Fortress or Plitvice Lakes National Park a few hours away.
Sibenik
Where the River Krka meets the Adriatic Sea, you'll find Šibenik, a magnificent jewel in Dalmatia's crown. Unlike many of the cities along Croatia's coastline, Šibenik was founded by the Croats and for a limited time it was the seat of Croatian King Petar Kresimir IV. Throughout the centuries, "ownership" of the city went back and forth between Venetians, the Byzantines, and Hungarians. Today, remnants of all of these events can be seen in the city's architecture, fortresses, and religious structures. Highlights of Šibenik include St. John Fortress and St. James Cathedral which portrayed the Iron Bank in the Game of Thrones TV show. Wander around the old town square, admiring honey-colored buildings or visit the Count's Palace, home to the city's Civic Museum which houses artifacts dating back to Neolithic and Roman times. If you're traveling with children, the Dalmatian Ethno Village offers a great day out, with interactive workshops, craft fairs, and food stalls. Alternatively, visit Šibenik Falconry Center and get to know birds of prey or take a cooling dip in the numerous pools of Aquapark Solaris.
Krka National Park
Just a 20-minute drive from Šibenik is beautiful Krka National Park. Established in 1985, this ecological park is located around the lower and mid sections of the River Krka. It contains incredible cascading waterfalls which you can swim beneath and is a popular destination for bird watchers, with over 200 different species in the park alone. You can enjoy a fun boat ride to cultural attractions and take guided tours of the flora and fauna in the emerald forests surrounding the lakes.
Dalmatian Islands
The rugged Dalmatian Coast is one of Europe's most popular holiday spots, and its offshore islands are often frequented by jet setters and those seeking a tranquil retreat. Some of the most popular islands are Hvar and Brac, both easily accessible with beautiful beaches, glamorous bars, and fine dining restaurants. However, if you prefer a peaceful hideaway, head for Korčula or Vis Islands. Korčula is only 30 miles long and 5 miles wide and often nicknamed "little Dubrovnik" due to its stunning architecture, Venetian buildings, narrow cobbled streets, and palm-fringed harbor front. It is said to be the birthplace of famous explorer Marco Polo and showcases secluded beaches, chic wineries, and countryside hiking trails. Vis is a sleepy island, bursting with natural beauty and untouched by tourism for the most part. It was the filming location for "Mamma Mia 2", and with crystal-clear waters, waterfront restaurants serving delicious seafood, an archaeological museum, and a whole host of cycling trails, be sure to add this island to your list of places to visit in Croatia!