Nicknamed the Jewel of the Adriatic Sea, Dubrovnik has enchanted travelers for many decades now. It's not hard to see why this is a postcard-perfect city. Dubrovnik blends ancient whitewashed walls with a backdrop of dazzling blue waters and towering verdant cliffs. It's a combination that is sure to leave any traveler in awe. If you're daydreaming about experiencing this captivating city for yourself, we have just the thing for you. Our Dubrovnik City Guide has everything you need to know about what to see and do inside its ancient walls.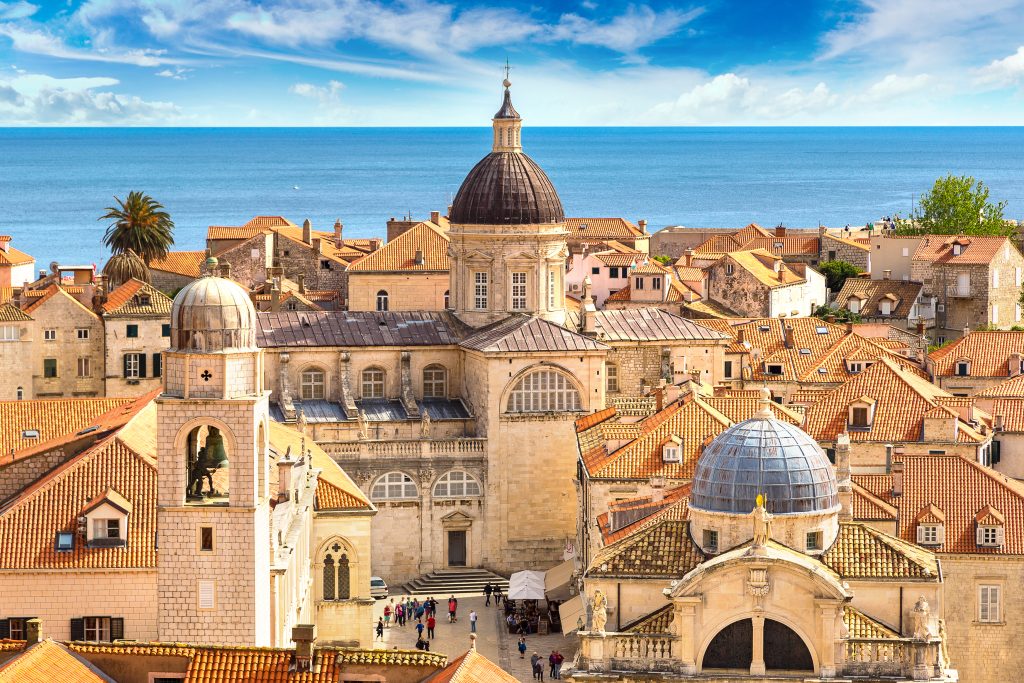 When to Visit Dubrovnik
Dubrovnik is a great destination year-round, but the ideal time to visit is in the late Spring and early Fall months (May-June, September-October). Temperatures are pleasant and the sites are less crowded during this time. The summertime is the peak season. The hot summer days are the perfect excuse to soak up the sun at one of Dubrovnik's many beaches.
What to See in Dubrovnik
There's plenty to see and experience, but with our Dubrovnik City Guide, you won't miss a thing. The city's pedestrian-only city center is where you'll find most of the attractions, within easy walking distance of each other. Make the most of your explorations with a guided Dubrovnik Day Tour!
Museums and Cultural Sites
Begin your exploration with a walk along Dubrovnik's Ancient City Walls. Then head into one of the many museums for a closer look into the city's history. Rector's Palace is a relic of 15th-century architecture – housing the city's Cultural History Museum. The War Photo Limited features a striking and sobering look at the conflicts in the region and around the world through the art of photography. Dubrovnik is also home to a number of unique religious buildings such as the baroque-style Cathedral of the Assumption, the Franciscan Monastery and Museum, and St. Blaise's Church. You can also witness the cities unique Jewish heritage that traces back to the 14th century, beautifully captured in the Synagogue and Jewish Museum.
Dubrovnik Beaches
Croatia's dreamy Dalmatian Coast is lined with white pebbled beaches and sandy shores, and Dubrovnik is no exception. Just around the city walls, you'll find plenty of spots to delight in the balmy waters of the Adriatic Sea. Bellevue Beach is a perfect pebbled cove backed by high verdant cliffs. Banje Beach is the go-to spot for locals and travelers alike to enjoy an iconic view of Dubrovnik and partake in a variety of water sports. Lapad Bay, just outside of Dubrovnik, is a tranquil escape with pebble beaches and coastal-view hotels. If you don't have time to go to the beach, don't worry. Porporela "beach" is a local swimming spot just outside the city walls where locals head frequently to cool off in the summer months.
Game of Thrones Filming Locations
No Dubrovnik City Guide would be complete without mentioning Game of Thrones! The town is home to some of the most iconic landscapes featured on the HBO series. Fanatics won't want to miss the Dubrovnik City Walls, Fort Lawrence, Fort Minceta, and Rector's Palace. Avid fans can take part in a Game of Thrones Walking Tour to soak up the scenes in person.
What to Eat in Dubrovnik
With its stunning seaside location, you can naturally expect plenty of seafood treats to be the stars of Dubrovnik's culinary scene. You can get the fresh catch of the day all throughout the city. You'll find an abundance of mussels, tuna, and squid ink risotto on most menus around town. To pair with the fresh seafood, there is nothing better than a glass of wine – and Dubrovnik's regional grapes serve up some delicious reds and whites. If you prefer your wine as the main course, head over to the popular wine bar D'vino for a glass (or two)!
Where to Stay in Dubrovnik
Dubrovnik's unique magic is embedded within its ancient city walls, this is where you'll want to stay to truly experience the city. Your hotel options are quite limited though – so book in advance. The boutique Hotel Stari Grad has a splendid rooftop terrace, houses only eight rooms, and is one of the city's most sought-after accommodations. For a truly local experience, you can easily find apartments and other short-term rentals within the city walls. If you prefer a quieter escape, head a little outside the city. The Lapad Bay Suburb is an excellent alternative to Dubrovnik's bustling old town – here you'll find the sleek Hotel Kompas Dubrovnik – a minimalist designer's dream located right on the beach! For a more in-depth exploration, l read our guide on Where To Stay In Dubrovnik.
Got all the inspiration you need and now you are ready to make your daydreams a reality? Let us help you with our guide on Getting To And From Dubrovnik Airport. We even have a 2 Day Dubrovnik Itinerary for you. Make sure you have the most beautiful experience in the city with our Dubrovnik Design Guide. Looking to explore the rest of the wonders Croatia has to offer? Check out our guide on Getting From Dubrovnik To Zagreb.