Istria in northwest Croatia is a delightful region with medieval hilltop villages, historic coastal towns, delicious food, and beautiful beaches. The region is within an easy drive of Trieste and Ljubljana and offers access to the scenic islands of Croatia. There's much to love about this charming region of Croatia. With cosmopolitan cities like Rovinj and Pula to explore, UNESCO World Heritage Sites to see, and rolling hills to hike. Follow our Istria travel guide to make the most out of your Croatian vacation.
How to Visit Istria
There are many ways to reach Istria – especially with an Istria travel guide. You can reach the islands by car, air, bus, train, and even ferry if you're beginning your journey in Italy! If you plan to drive, there are several routes passing through the city of Rijeka to Pula and Rovinj. You can also drive easily from Trieste, Italy in just over an hour. And from Ljubljana, Slovenia in just under 2 hours. The only airport in Istria is near Pula. If you are traveling from other regions in the country, Croatia Airlines offers flights from most major cities all year long.
There are also summer flights from a multitude of European countries. Buses operate throughout the region and beyond from Pula to Zagreb, Zadar, Dubrovnik, Rijeka and Plitvice Lakes National Park. There are also international bus routes to Italy, Slovenia, and Bosnia-Herzegovina. Trains are also a popular and inexpensive way to travel especially if traveling from Zagreb or Split to Rijeka. If you're pressed for time but want to experience Istria consider joining our one-day Istria tour which leaves from Zagreb. You'll get to follow in the footsteps of the Romans in Pula, explore the arena, visit the vibrant coastal cities of Rovinj and Porec, and more!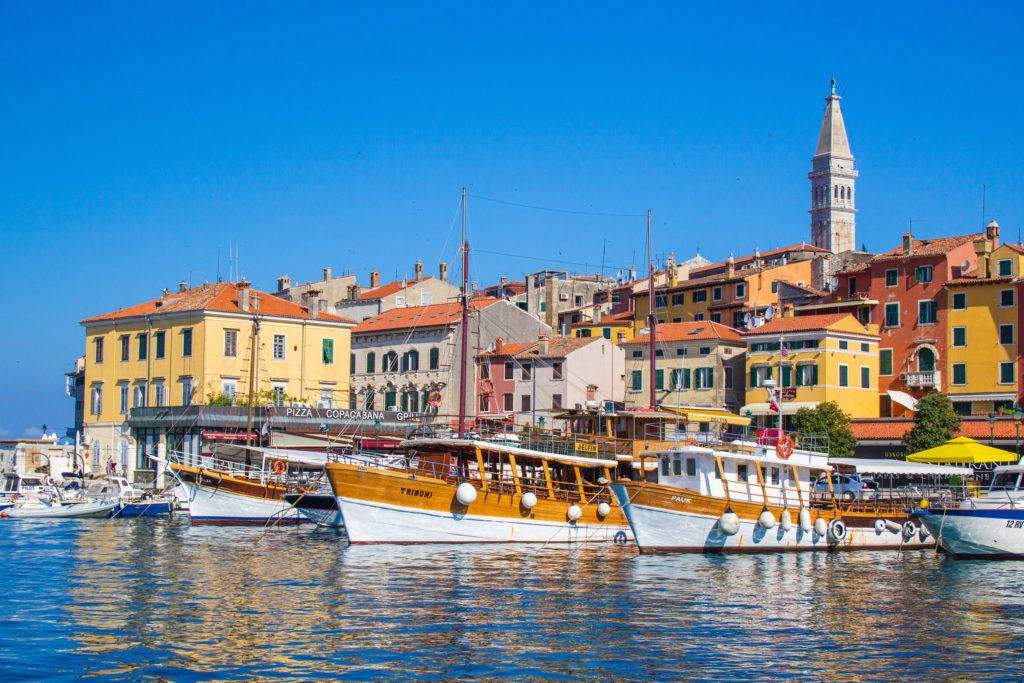 How to get around Istria
Buses and taxis are easy ways to get around Istria. Several bus lines connect hundreds of destinations throughout the country. These buses are comfortable, whether you wish to travel 5 miles or 500, and they're cost-effective too. Rijeka is the main transport hub. If you are traveling from elsewhere in Croatia with regular services linking to Istria from Zagreb, Split, and Dubrovnik.
If your holiday base is in Pula, the bus station is within a short walk of the Roman amphitheater. It's possible to travel to Rovinj, Porec, and Umag and other major cities in Croatia, on the national bus service. Pula is a well-connected city, however, if you plan to stay in other Istrian locations, it's advisable to rent a car.
Neighborhoods of Istria
Pula
Tucked away on the southern Istrian peninsula, Pula is a seaside delight. Its rich history dates back to Roman times. The city is has a magnificent Roman Arena reminiscent of the Colosseum, a triumphal arch, Roman forum, temples, and mosaics. Set atop the hillside, the Venetian fortress Kastel is the ideal place for viewing harbor life and the shimmering Adriatic. Along the western cape, sun-kissed beaches and crystal-clear waters are flanked by verdant landscapes. Making this a perfect place to relax, picnic, hike, and swim. When it comes to dining, Pula specializes in freshly caught seafood. With chefs creating delectable Istrian dishes complemented by regional wines.
Porec
Istria's most popular holiday resort, Porec is a delightful blend of colorful harborside buildings and a historic center with charming narrow streets. Its 6th century Euphrasian Basilica is a highlight – a collection of unique buildings including a Bishop's Palace and baptistery. The heart of the town is Marafor Square. It is the site of the ancient Roman Forum where remnants of two temples still stand, representing Neptune and Mars. Two beautiful bays lie south of the town, ideal for sunbathing, shopping, and dining. Porec's dining scene has flourished over the past few years. With bistros serving seasonal fresh food and multiple waterfront fine dining establishments, you won't go hungry here.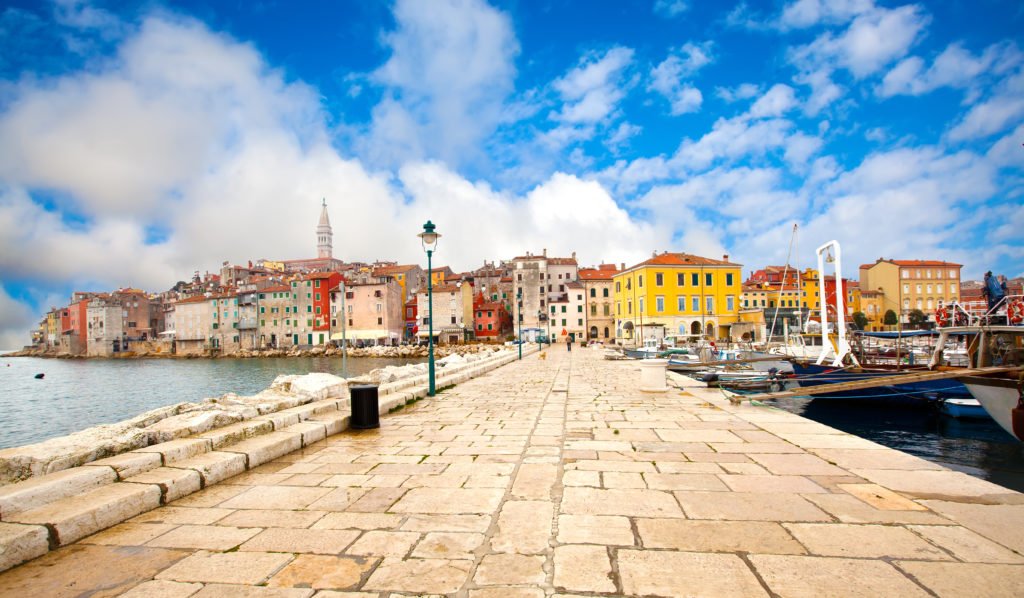 Rovinj
Set on a small peninsula, Rovinj is a breathtaking seaside town filled with open-art galleries, craft shops, and cobbled labyrinth streets. The 17th-century church of St. Euphemia dominates the skyline, a baroque masterpiece that resembles the campanile of St. Mark's Square, Venice. The town has a small historic center sprinkled with cafes, bars, and traditional restaurants. But the best views are from the port. Terracotta, ochre, pastel pink, and white houses line the promenade. Boats bob up and down on the water, as parasols shade tourists and locals feasting on delicious Istrian dishes and seafood.
Motovun
This attractive hilltop town is located in the Mirna River Valley with lush landscapes and a small, yet beautiful center. The region is known for its prized black and white truffles, incredible gastronomical feats, and regional wines. A stay in this medieval fairytale town where time has stood still. It is a superb way to capture the very essence of Istria. With its natural beauty, warm hospitality, and mouthwatering cuisine.
Novigrad
Novigrad was once ruled by the Venetians who gave it the name of Cittanova; remnants of this era can be seen in Venetian Gothic-style loggia and houses which line the streets. The center is walled, surrounded by stone fortifications, and inside, narrow winding streets hide small shops and tavernas. The town is primarily frequented by locals who come to dine on seafood and sip wine by the water's edge, whilst admiring glorious sunsets.
Food, Drink & Nightlife
An Istria travel guide would not be complete without a section on food, drink, and nightlife. The Istrian peninsula offers a bounty of culinary delights. During your travels, you'll find everything from seafood waterside dining establishments to haute-cuisine restaurants. And even quaint village tavernas brimming with locals. Dishes to sample include regional Istrian meats, kobasice (succulent sausages), oysters, and truffles. With Istria so close to the Italian border, culinary influences have spilled over into this region of Croatia. Pasta and gnocchi are featured as local staples on almost every menu. Don't leave without sampling Istrian olive oil, local wines, and some of the most famous truffles in the world.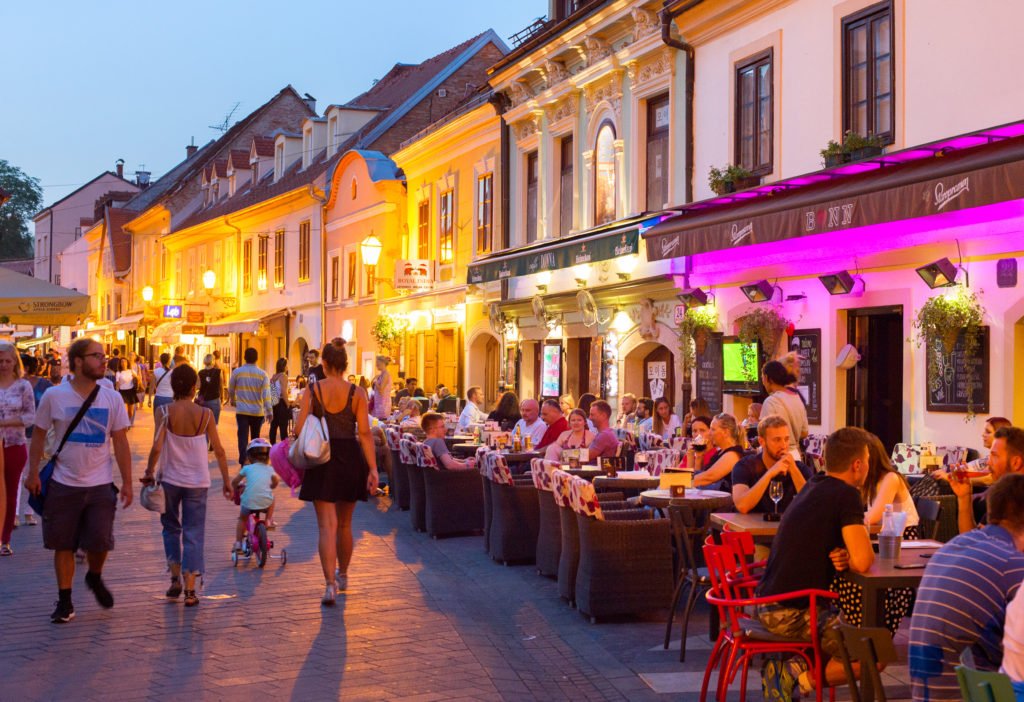 When it comes to nightlife, Istria can be as laid-back or lively as you choose. In seafront cafes and nightclubs, DJs spin their latest tracks. While cocktail bars serve wines from vineyards in Istria. And hole-in-the-wall cafes are tucked away in old town centers waiting to be discovered by tourists. Time your visit and you can also participate in one of Istria's fabulous festivals. Throughout the year the region offers live jazz performances, summer salsa festivals, and celebrations of film and street art.
Shopping
Shopping in Istria is a treat, you can stock up on fresh produce at the early morning Pula Green Market, enjoy a wine tasting, or visit perfumeries and handicraft shops which sell souvenirs based on the region's fishing heritage. You'll find incredible art galleries showcasing local talent in Rovinj and in the interior village of Labin, handmade ceramics ateliers and wine and oil purveyors can be found in houses nestled along cobbled streets. If it's Istrian truffles you seek, there are delicatessens and gourmet food shops in Motovun, Umag, Groznjan, Novigrad, and more locations along the peninsula.
Culture
Explore Pula's Roman Arena
There are many highlights to any Istria travel guide, however, if you are limited for time, Pula is one city not to miss. Its Roman Arena in particular is a magnificent landmark, with underground tunnels and a well-preserved amphitheater. Constructed from 27BC to 68AD, it is one of the last surviving Roman arenas in the world. Take a guided tour and explore the place where ancient games took place, people would travel from near and far to see gladiators dual.
Brijuni National Park
One of Croatia's lesser-known National Parks is Brijuni in Istria. Here, nature is untouched with 1600-year-old olive trees, a safari, and more than 200 dinosaur footprints preserved in the rock and dating back over 100 million years. The richest site in the region is the Byzantine castrum, the ruins of a stone village mapped out with perfect precision. Archaeological findings span multiple eras ranging from the Carolingian period to Byzantium, Eastern Goths, and the Roman Republic. Ancient ruins blend harmoniously with the landscape of Verige Bay, surrounded by dense woodland, white sand coves, and azure waters. The diverse flora of the Mediterranean Garden makes this a superb place to relax and connect with nature.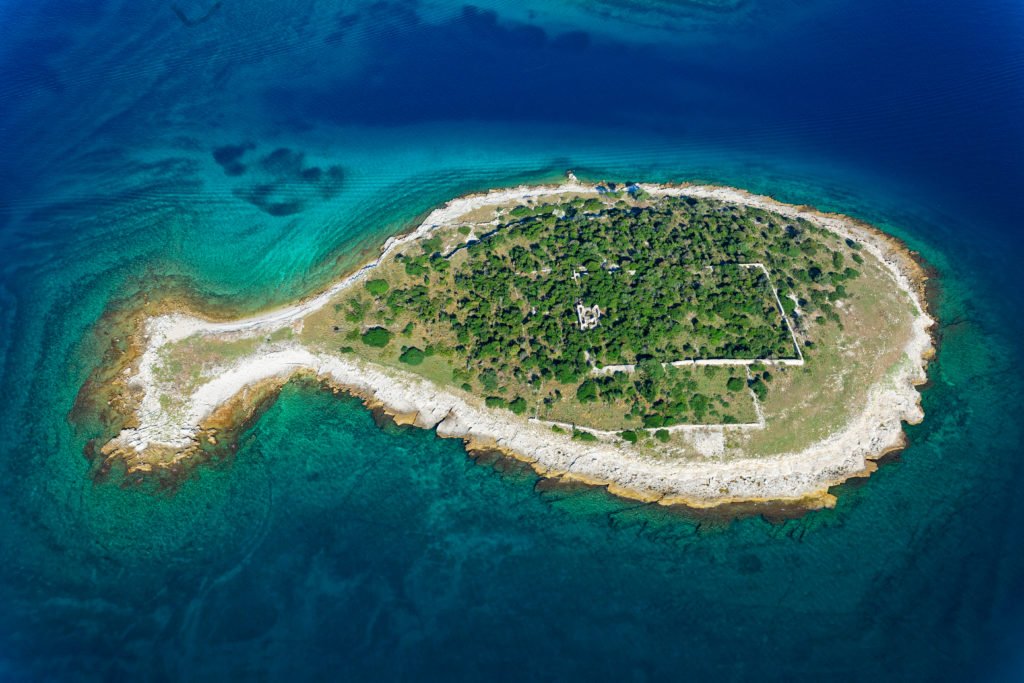 Visit the Historic Fisherman's Village of Vrsar
Vrsar, located between Pula and Rovinj has over 2,000 years of history to explore and is home to several scenic cycling and hiking trails. It is said that Casanova visited the town twice and each year the city celebrates his life and works with Casanovafest – a festival of love. Head for the romantic viewpoints over the old town for the best photographs at sunset.
Medieval Rovinj
Jutting out into the sparkling blue Adriatic Sea, Rovinj is a medieval city that delights visitors from all backgrounds. The highest point in the town is the Cathedral of St. Euphemia which offers spectacular vistas of the countryside, harbor and rooftops of Rovinj. The main town square is home to incredible Baroque, Gothic, Renaissance, and Neoclassical architecture. Quaint piazzas provide the perfect spot for casual dining on fresh seafood and local dishes.
Accommodation
Istria is a unique blend of verdant countryside, spectacular coastline, and medieval splendor, and there are hotels in all areas to suit every taste and budget. Whether you wish to stay in a 5-star island retreat with fine dining and infinity pool, a chic boutique hotel within a short walk of the medieval town centers, or a design-driven guest house in a medieval hilltop village, Istria has a hotel for you.
For a luxurious yet intimate hotel, we suggest the Boutique Hotel Chevalier, which you can guess from the name provides top-notch service. The staff at this hotel is particularly friendly and truly makes you feel at home. If you're looking for some more out-of-the-box lodging the Meneghetti Wine Hotel and Winery is the place for you. Nestled in the countryside, these rooms are rustic and inviting, plus the wine is divine.
What to See Near Istria
In addition to the incredible towns, villages, and coastal resorts of Istria, there are even more places to see within a short drive, bus, or boat ride that didn't make it into this Istria travel guide. Wild and untouched, Cres Island is perfect for nature lovers and bird watchers. The town is laid-back, with a sleepy charm, Venetian architecture, and promenades where you can enjoy a leisurely stroll. You could enjoy a day trip to the green city of Ljubljana in Slovenia.
The city boasts riverside dining, stylish hotels, bustling outdoor food markets, and city parks dotted with sculptures and artwork. For the best vistas head for Ljubljana Castle, accessed on foot or via funicular train. If you prefer not to travel too far, Rijeka is a port city where ancient meets modern. There is no shortage of great shopping spots, symbolic landmarks, Habsburg-era buildings, a castle, and several interesting museums.
Istria may be a collection of small islands, but there is so much to see and experience. Follow our Istria travel guide to make the most of your visit and discover some of Croatia's hidden gems. Can't get enough of Croatia? Plan your dream vacation in the Croatian capital Zagreb, with our Zagreb City Guide. Or learn how a hotel can be more than just place to rest your head at night with an article on the Most Beautifully Designed Hotels In Croatia.