Portugal has one of the most pleasant climates in Europe meaning the best time to visit is anytime you like, depending on what you like to do. Summer is the perfect time to kick back and relax in the hot temperatures, whereas Spring and Autumn are wonderful for city sightseeing. And if you love Christmas and virtually tourist-free towns, Winter in Portugal will suit you perfectly. Here's our guide to the best time to visit Portugal to ensure you make the most out of whatever kind of vacation you're after.
Spring in Lisbon
Lisbon temperatures in March – May range from 66 – 71 degrees (19-22 Celsius) making it a perfect time to visit this glorious city. Lisbon is set upon 7 hills, so it's best to hit the city before temperatures soar in the Summer. Easter – or Semana Santa – is a big deal in Lisbon and the whole of Portugal. There are street parties, processions and flowers lining many of the streets.
Lisbon is full of brilliant things to see and do. It also has a wealth of spectacular hotels, some of which are thought of as the best designed in the country. And if you have a little longer to stay, a tour to Sintra would be wonderful in the Springtime. This is a popular town less than an hour from Lisbon. It has some stunning sights including historical mansions, castles and gardens. Spring is a great time to visit thanks to the lower levels of tourists that roam Sintra's streets. Or if the seaside is more your thing, head out to Cascais. This town is just an hour from Lisbon and is packed full of historical sights and beautiful beach vistas.
Summer on the Azores
Summer temperatures can soar in Portugal. So the stunning islands of the Azores make a perfect place to escape. Temperatures here are a much more pleasant 77 degrees (24 Celsius). The islands are a nature and sports lover's paradise. One of the best things to do on the Azores islands is a tour to Salto do Prego & Sanguinho where you can hike through abandoned villages and cool off in the waters below stunning waterfalls. And of course, for a once in a lifetime experience, don't forget to book a whale and dolphin watching tour. However you decide to spend your time, the Azores is a beautiful place to spend a few weeks in the summer. It can truly make you relax and forget about everything.
Fall in Porto
As temperatures drop, why not take a trip to Porto. This is the heartland of Portugal's fortified wine production. Temperatures September – November can rise as high as 65- 71 degrees (18-21 Celsius). Which is perfect for lounging on terraces drinking wine, eating sardines along the river. Or even wandering through Porto's crumbling old streets. If you're visiting in September, there are two festivals of note. The first is the Vinho Verde wine fest, which celebrates Portugal's most famous white wine. The other is the Porto blues and jazz festival which hosts some of the biggest names from all over the world. Our Porto city guide has some fantastic ideas on what to do whilst visiting this beautiful city.
Winter in the Algarve
Temperatures in the Algarve in southern Portugal can still reach around 65 degrees (18 degrees Celsius). Which makes it the perfect place to soak up some winter sun. The towns of Faro, Lagos or Albufeira would make a great base for an Algarve adventure. And they all have access to some incredible beaches. Or, if you're looking for total relaxation, our 4 day south of Portugal package tour is a wonderful way to see this stunning region, taking in all the sights and experiences. This package will take you through the old streets of Evora, the small villages of the Algarve, lively Lagos and beautiful Setubal.
And Christmas in the Algarve is an experience in itself. The warm temperatures mean it's not uncommon to eat Christmas dinner outside, taking a walk along the beach, or for the brave, even a dip in the sea!
Portugal – the Perfect all-Year-Round Country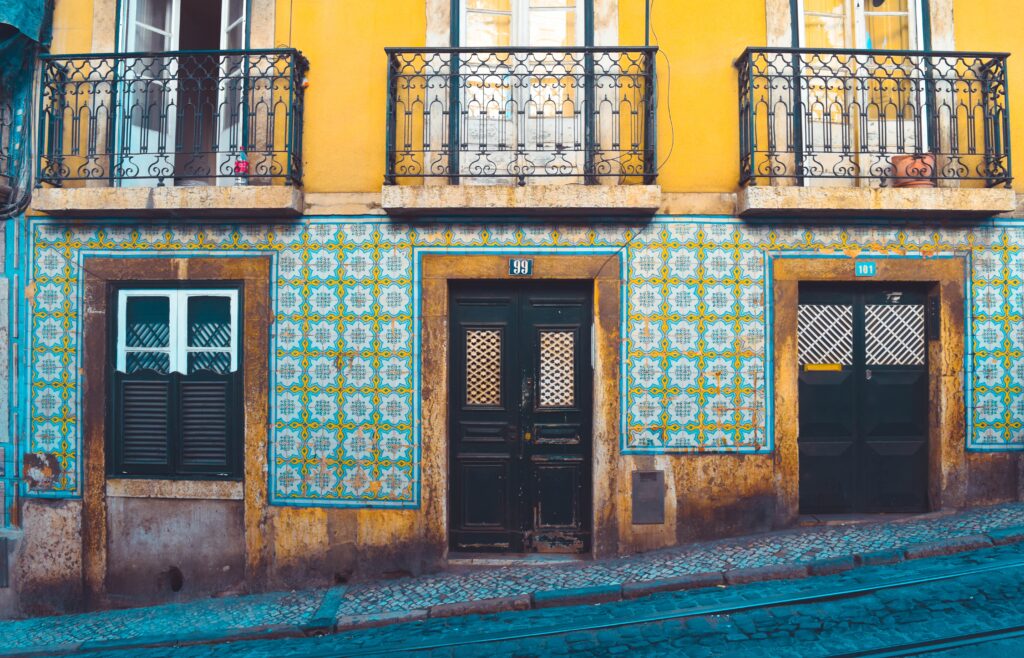 When it comes to the coastal cities such as Lisbon and Porto, or the southern coast, the best time to visit Portugal is all year round. Temperatures are always mild, there are beaches galore and so much see. If you like history, Portugal is perfect. If you're into food and wine you'll not need to go anywhere else. And wherever you end up, our itineraries and tours will ensure you make the most of your time in this wonderful country. So book a hotel, grab a cup of coffee and start to plan your perfect Portuguese adventure.