Lisbon is warm not just in climate, boasting some of Europe's highest year-round temperatures, but also in the welcome it affords visitors. Exuding southern charm, the Portuguese capital has a laid-back vibe. Sunny skies mix with impressive historic relics and a fantastic culture to form a city few can avoid falling in love with. We offer both a guide on where to stay in Lisbon, and hotels in Lisbon. Discover it all with our Lisbon travel guide. Explore the stunning beauty and design of the city and this region with our Lisbon design guide.
How to Visit Lisbon
Lisbon fits firmly in traditional city break territory, with our Lisbon travel guide covering enough for a few days. A long weekend is more than enough time to enjoy all the sights without wearing yourself out. That said, if you also intend to fully explore the vineyards around the city, you could easily double this.
The most obvious route for international travelers heading to Lisbon is by air. Major airlines connect the city with airports right around the world. Direct flights exist between North America and Europe, while Lisbon is just a single connection away for those elsewhere in the world.
Coming from the Iberian Peninsula, the train is almost certainly the best mode of transport to opt for. Portugal's relatively small size means you can travel between Porto and Lisbon in around three hours. Direct trains also connect the capital to popular destinations including Cascais and Sintra. Madrid, in neighboring Spain, is ten hours away by rail.
If you're driving, Portugal's highways are in excellent condition, and rarely crowded. However, the same cannot be said for driving within Lisbon. Parking is often an issue if you're accommodation isn't reserving a spot for you.
How to Get Around Lisbon
Although Lisbon is a very walkable city, it also has its fair share of hills. That doesn't mean you have to rely on a rental car or taxis however. The public transport system in the city is extensive, and used by just about everyone from early morning until late at night.
Lisbon's trams are the most evocative way of exploring the city. Its historic remodelados trams are a must-see attraction in themselves, and run alongside more modern articulados trams. Being popular, they do get crowded, so avoid peak times if you can.
The metro system will whisk you from the airport and into Baixa in very little time. Meanwhile, the nineteenth century funicular hill railways – now declared national monuments – connect higher and lower neighborhoods.
Many also choose to walk through the city's charming streets. If you aren't in a hurry, it's the best way to experience the ambiance in an authentic way. If you're pressed for time, our insider Lisbon tour shows you the highlights of the city in less than a day!
Neighborhoods of Lisbon
Alfama
Unraveling from the Castle of São Jorge down to the River Tagus, Alfama is noticeable for its whitewashed houses and narrow alleys. Once a district of fishermen and their families, it was here that Portugal's famed Fado musical genre developed. It remains the best place to hear it at its most soulful.
Belém
Stretching along the Tagus west of Alfama, Belém is a pleasant suburb of attractive public green spaces and buildings decorated with traditional colored tiles. The Portuguese custard tart called Pastéis de Belém was born here, and the neighborhood tower has UNESCO World Heritage status. This Fado by night tour is perfect for discovering this unique neighborhood.
Bairro Alto
Trendy Bairro Alto is thriving, with independent galleries, design stores and cool cafes opening their doors by day. By night the area is, if anything, even busier. This is the neighborhood to head to thanks to its huge number of bars and restaurants.
Baixa
This downtown district dates to after the Lisbon earthquake of 1755, making it one of the city's newer neighborhoods. Home to sites including the regal Arco da Rua Augusta archway, it is a mix of wide boulevards and pedestrian thoroughfares. There's also an impressive array of shopfronts and high-end hotels.
Parque das Nações
In Lisbon's east, Parque das Nações was completely regenerated in the late 1990s. Its drab industrial landscape became a neighborhood of attractive pathways and modern architectural gems. Some of Portugal and Spain's foremost architects had a hand in its rebirth, so expect excellent photographic lines wherever you look.
Food, Drink, and Nightlife in Lisbon
With the Atlantic Ocean a stone's throw away, seafood is a major part of the cuisine in Lisbon. Grilled sardines and deep-fried cuttlefish challenge its famed bacalao salted cod for supremacy. Its café and bar terraces are also the place to try petiscos (Portuguese tapas). They comprise olives, hams, and cheeses as well as smaller versions of larger plates.
The region's wines are well accounted for on menus in both restaurants and bars dotting Bairro Alto and the riverside. To taste some of them for yourself, this Évora wine tour takes you right to the source. The high student population means there's also a good amount of live music and late-night clubbing throughout the week.
Shopping in Lisbon
Portugal's foremost shopping destination, Lisbon's streets offer everything from luxury clothing brands to traditional indoor vegetable markets. The former you'll find lining Avenida da Liberdade, while for quirky vintage pieces check out the Feira da Ladra flea market. The oldest stores, some entering their third and fourth centuries, lie in Baixa. Many of the street names give a hint of what you might find there, including jewelry and authentic ceramics.
Culture in Lisbon
Mosteiro dos Jerónimos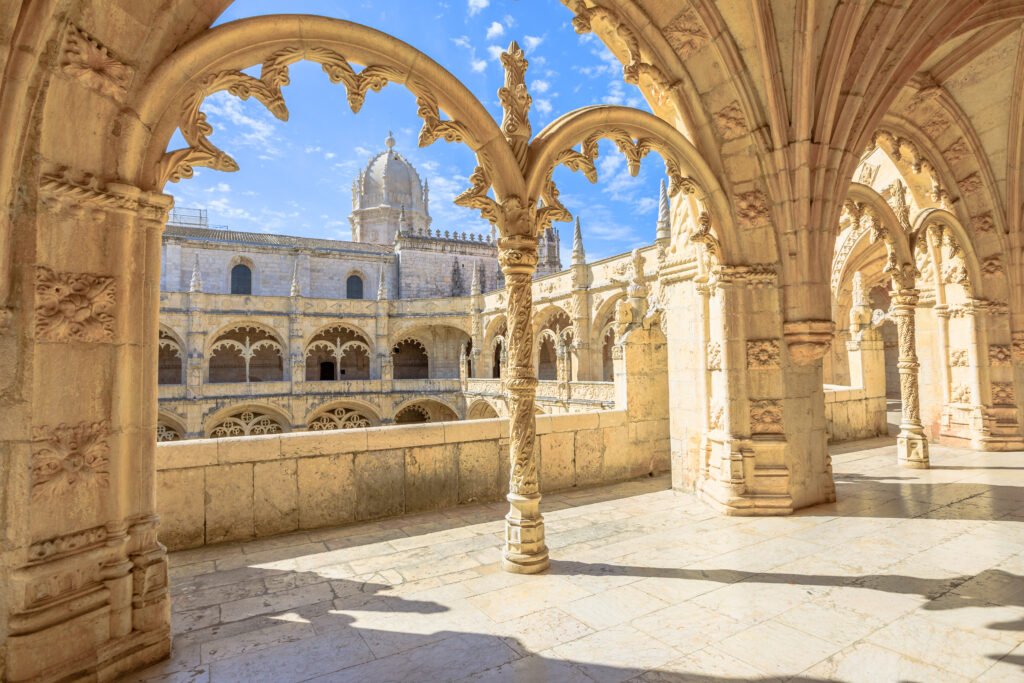 The Jerónimos Monastery World Heritage Site is an extraordinary example of regional sixteenth-century architecture on the River Tagus. Here, vaulted ceilings spanning almost 20 meters continue where ornate entrances lead off. The monastery also became a place for memorializing famous Portuguese, housing the tomb of Vasco da Gama who reached India via southern Africa. The poet Luís de Camões is also honored at the monastery while its wings house maritime and archaeology museums. For more fascinating architecture, this tour of Sintra is the perfect blend of opulence and natural splendor.
Calouste Gulbenkian Museum
If the name of this philanthropist who founded this museum doesn't mean anything to do, the names hanging from its walls certainly will. As bohemian in variety as it is large, his collection spans the globe in no less than 6,000 artworks. Rembrandt, Rubens and Degas are each featured, rubbing shoulders with important local artists including Vieira da Silva and Almada Negreiros. This is one of our favorite stops in this Lisbon travel guide.
Castle of São Jorge
Perched on a hilltop in Alfama, the history of Saint George's Castle reaches right back to the beginnings of Lisbon. A settlement long before it was a fortification, it played an important part in the reconquest of the city from the Moors. Its broad walls and turreted towers make for a fantastic day of discovery. If you're still looking for more to do, we offer a number of interesting things to do near Lisbon.
Accommodation in Lisbon
In addition to the standard international chains you might expect, Lisbon's accommodation options are varied. Taking their example from their respective locations in the city's diverse neighborhoods, it's possible to lay your head everywhere from grand historic buildings such as 1908 Lisboa Hotel to stylish design hotels including Memmo Alfama Hotel Lisboa.
Traveling to Lisbon
Our Lisbon travel guide is here to help you plan your next vacation to this vibrant city. From historic monuments to avant-garde restaurants, Lisbon offers it all. We've been charmed by this city, and we're sure you will be too.