Croatia's capital is the main gateway to the country if you're arriving by air. And whether you're heading to Zagreb for work or pleasure, the city deserves a place on your itinerary. Dating back to Roman times, it has some impressive historic sites, perhaps best explored on our Insider Zagreb City Tour. So why not take your time and absorb the capital's friendly nature and book one of the many great hotels in Zagreb? We've scoured the city to bring you the very best of Where to Stay in Zagreb below.
Central Zagreb
Central Zagreb also goes by the name of the Lower Town. It stretches from the river Sava north towards verdant hills. Its heart is Josip Jelačić Square at its northern end, from where streets filled with humming cafes and designer stores drift back towards the river banks. At the same time, its plethora of parks makes it one of the region's most pleasant capitals. Needless to say, many consider this the place to stay in Zagreb. It's also where you can join our Zagreb Food Tour to explore the city's cuisine.
Canopy by Hilton Zagreb City Centre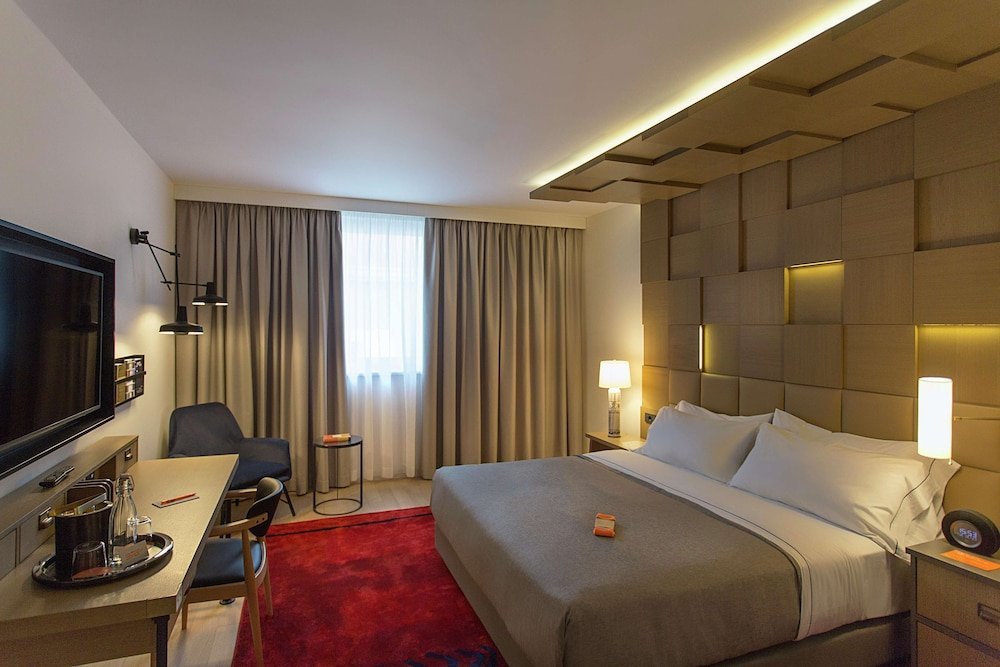 Located just a couple of blocks from the train station in Zagreb's Lower Town, Canopy by Hilton Zagreb City Center is a central as they come. International in feel, each of the rooms contains refrigerators and espresso makers. Facilities include a 24-hour fitness center and even an in-house casino. A complimentary breakfast is served each morning, providing the nourishment you might need to take advantage of the Canopy's bikes. Guests also receive a small keepsake as a souvenir of their stay.
Ulica Kneza Branimira, 29
Esplanade Zagreb Hotel
Tucked in behind the railway station within sight of the Botanic Gardens you'll find the Esplanade Zagreb Hotel. This five-star stay has some history behind it, having first opened its doors to guests in 1925. Its stunning neoclassical façade has a touch of London's Buckingham the Elysée in Paris. The drama continues inside, where communal spaces are evocative of the era, while rooms have been thoughtfully modernized. Elsewhere, guests are able to take full advantage of health club facilities which include a sauna and treatment rooms.
Mihanoviceva Ulica, 1
Amadria Park Hotel Capital
This hotel lies on the northern edges of the Lower Town. Occupying a stone building dating back to the early twentieth century, Amadria Park Hotel Capital continues to celebrate the grandeur of the period today. Its art deco exterior and richly decorated interior remain almost exactly how they were when first constructed in the 1920s by esteemed architects Gotthilf and Neumann. Meanwhile, its rooms are cozy and almost homely for an amazing night's sleep.
Jurisiceva Ulica 22
Hotel 9
The 20 rooms at Hotel 9 were the brainchild of architect Ante Vrban, who has created a sophisticated and even glamorous stay within reach of all Zagreb's most important attractions. Its spaces are divided by innovative glass walls, which together with polished stone floors ensure the hotel is bright on even the darkest days. Each of the three floors has its own predominant color, be that white, silver, or gold. In addition, rooms have smart televisions. Guests can enjoy a complimentary breakfast on the roof terrace every morning.
Avenija Marina Drzica 9
Suburban Zagreb
Zagreb's suburbs are as diverse as the city they represent. Medieval structures fill Kaptol, many linked to the catholic church. Compare this with Novi Zagreb's residential tower blocks or the cobbled streets of the Upper Town. Head out into the suburbs and you'll find life slows down but tours of Zagreb and beyond are still never far away. Who'd want to miss the chance to explore Istria from Zagreb for instance?
Hotel President Pantovcak
This hotel sits among attractive hills to the north of central Zagreb. This means the first feature that grabs the eye at Hotel President Pantovcak is its large picture windows. They link the internal spaces with the cherry trees of the garden beyond, creating a feeling of being immersed in nature. Inside its mid-century design is rich in natural woods, while communal spaces are dotted with original artworks. With just seven rooms – each individually finished – you'll want to book in plenty of time to guarantee your stay.
Pantovcak, 52
International Business Hotel
Lying to the south of the Upper Town, this hotel is just a short distance from the international airport. One of the newer hotels on our guide to where to stay in Zagreb, International Business Hotel is equipped with the latest technologies. Consisting of two separate buildings, one is made up of single rooms designed for overnight stays on route to the airport. The other is a blend of double, superior, and deluxe rooms. But whichever you choose, you have access to the fitness center, Viceroy Lounge bar, and restaurant. As a result, you shouldn't discount this option from consideration if you're on vacation rather than on business.
Oreskoviceva Ulica 6h/2
Exquisite Zagreb Stays
Once you've sorted out where to stay in Zagreb don't forget to head to our Zagreb city guide. It's just one of several dedicated guides we have to the goings-on in this captivating destination. Our Dubrovnik design guide and Split city guide are well-worth exploring if your time in Croatia extends beyond the capital.