Where to Stay in New Delhi is an important question to ask when planning any visit to India's sprawling capital. It was only built in 1911 as the imperial capital, so was intended to be a new part to an old city. Its city center district is a delight of Anglo-Indian design and grand avenues created by architects Lutyens and Baker. Our New Delhi Design Guide reveals more. However, the history of the city dates back to Mughal times. There's a huge number of New Delhi tours as a result. These are the best of our hotels in New Delhi.
Where to Stay in the Central Business District (Lutyens)
The Central Business District is also named Lutyens and the City Center District. It encompasses much of the British-built city, and is therefore visually impressive at almost every turn. Its very center is Connaught Place, a circle of government buildings. This area is the start point for many tours of the Indian capital. These include our thought-provoking Delhi Slum Tour, Old Delhi's Belly food tour, and our Night Food Walk. The district also has some of the city's best dining and shopping opportunities.
The Lodhi
This hotel has a stylish modern exterior clad in stone, as well as bright cheerful interiors. Its luxurious rooms each come with a private balcony and seating area. The Lodhi's large range of facilities include an outdoor pool, tennis courts, and squash courts. There is also a spa with sauna and steam room, gym, and onsite salon.
Lodhi Road, 110003 New Delhi
Le Meridien New Delhi
Le Meridien lies in the heart of the city center district, a short distance south of Connaught Place. Its well-equipped rooms are in a modern tower block, and provide excellent views across the city. They are decorated in contemporary style, and come with wooden floors. Facilities include a gym, outdoor swimming pool, in addition to a spa offering massage treatments, steam room and hot tub.
Windsor Place, 110001 New Delhi
The Imperial, New Delhi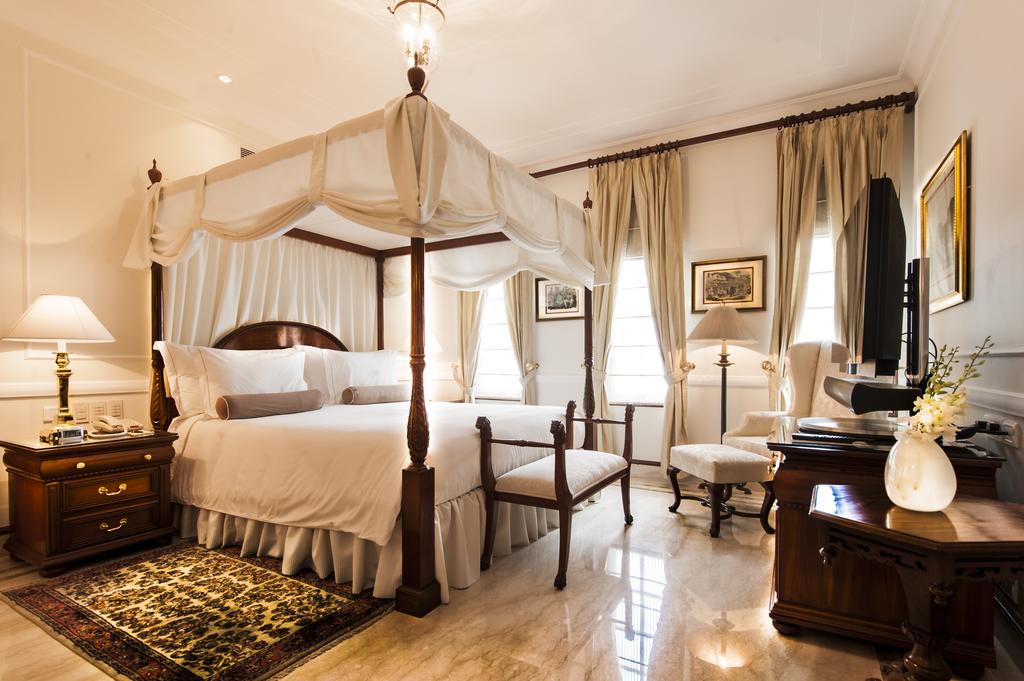 The Imperial is located on one of the capital's most important roads. Its whitewashed exterior and interior walls provide an immediate sense of tranquility. This is matched by the outdoor pool and attractive landscaped gardens. Its airy rooms are finished with antique furnishings from heyday of the British Raj. Alongside are modern en suite bathrooms. Uniformed staff are on hand at all times of day.
Janpath, Connaught Place, 110001 New Delhi
The Taj Mahal Hotel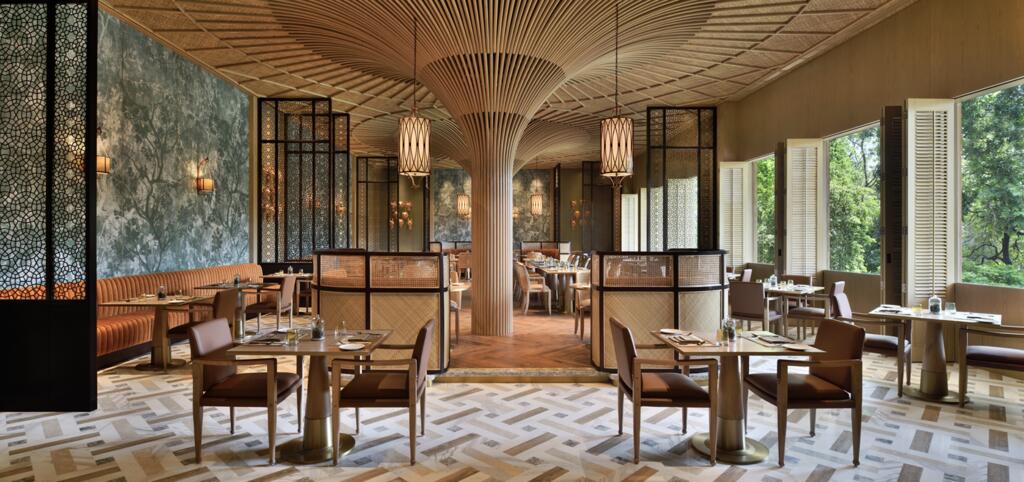 Architecturally distinct, The Taj Mahal Hotel has interiors a Moghul emperor or British Viceroy would be proud of. Grand staircases direct guests towards bedrooms rich in polished woods. Their muted Indian style include a comfortable seating area, and continues into bathrooms finished in marble. Terraced gardens span almost 2.5 hectares, and include an outdoor pool. There is also a spa and a fitness center.
No 1 Mansingh Road, 110011 New Delhi
The Connaught, New Delhi – IHCL SeleQtion
There's a fine blend of personality and professionalism at The Connaught, New Delhi – IHCL SeleQtion. Its rooms are clean and crisp, while its public areas are more whimsically decorated. Guests are able to take advantage of a state of the art fitness center and a heated indoor swimming pool.
37, Shaheed Bhagat Singh Marg, Connaught Place, 110001 New Delhi
Where to Stay in Chanakyapuri
Chanakyapuri was created in the 1950s as an extension to the central business district. It rapidly became home to the capital's foreign embassies, ensuring an affluent, multi-cultural atmosphere. Well spaced-out buildings are interspersed with a multitude of parks, all just a short distance from Connaught Place.
Taj Palace, New Delhi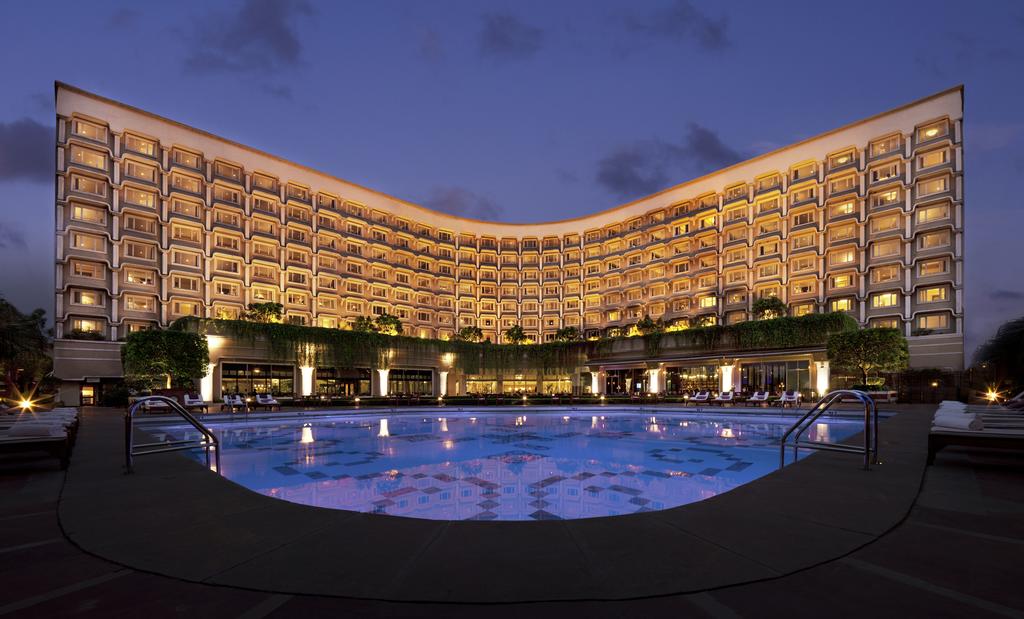 The Taj Palace is centrally located at the southern edge of Buddha Jayanti Park. Its long structure curves around a large outdoor pool. Its modern rooms provide views across the city, and offer classically-styled furnishing with local accents. This multi-award-winning hotel includes almost 2.5 hectares of garden. A 24-hour butler service is on standby, while guests also have access to the Taj Club Lounge.
Sardar Patel Marg, Chanakyapuri, 110021 New Delhi
ITC Maurya New Delhi A Luxury Collection Hotel
The embassies of Chanakyapuri are the ITC Maurya New Delhi A Luxury Collection Hotel's immediate neighbors. Its stepped, palatial exterior leads to interiors with an old-world charm of dark hardwoods and comfortable armchairs. Guest amenities include an outdoor pool and terrace, spa, gym, and library. Here, guests will also find the Bukhara Restaurant. Rated as one of the top 50 restaurants in the world, it serves traditional cuisine from North India.
Diplomatic Enclave, Sardar Patel Marg, Chanakyapuri, 110021 New Delhi
The Leela Palace New Delhi
Few could deny the drama of The Leela Palace as it rises monumentally above the surrounding greenery. Its rooms create traditionally-style spaces, with plaster moldings on the walls, elegant floor coverings, and beautiful pieces of wooden furniture. The grandeur continues through to the public spaces. There's plenty of natural light thanks to floor-to-ceiling windows, which are also a feature of the rooms. There is a rooftop infinity pool, and a neighboring sundeck offers panoramic city views, as well as a gym.
Diplomatic Enclave, Chanakyapuri, 110023 New Delhi
Where to Stay in Aerocity
Deliberately built beside the international airport, Aerocity has become one of the city's most luxurious neighborhoods. High-end hotels combine with day spas, well-regarded restaurants and a plethora of boutique stores. If you're short of time or on a layover, this is a great alternative to more central neighborhoods.
Andaz Delhi – A Concept By Hyatt
A short distance from Indira Gandhi International Airport you will find Andaz Delhi – A Concept By Hyatt. It boasts a contemporary look making use of wood, polished chrome, and gleaming stone. Its rooms are delightfully neutral, with high ceilings and large windows. These look out towards the open-air pool, lawn and terrace space. Rooms come complete with a coffee machine, while other facilities include a fitness center.
Aerocity, New Delhi, 110037 New Delhi
Roseate House New Delhi
The ultra-contemporary Roseate House New Delhi boasts a stunning area of both public and private spaces. Its chic rooms act as a perfect place to relax in a sometimes-busy city, and come with double-height windows. The hotel has a rooftop infinity pool, and its very own cinema. In addition, there is a spa with multiple therapy rooms, steam room and sauna. There is also a salon.
Plot number 10, GMR Hospitality District, Indira Gandhi International Airport, Aerocity, 110037 New Delhi
Deciding Where to Stay in New Delhi
Whatever your reason for visiting the Indian capital, it's important to think carefully about where to stay in New Delhi. The Central Business District is perhaps the most obvious location for tourists, followed closely by Chanakyapuri and Paharganj. Aerocity makes a good alternative for anyone looking to remain close to the airport. Whichever district you choose make sure you check out our India Culture Guide. Don't miss the best things to do in New Delhi either.