A designated megacity, it's hugely important to know Where to Stay in Mumbai. Choose the wrong district and you could spend most of your day in traffic gridlock. The birthplace of Bollywood movies, Mumbai is the capital of India's Maharashtra state and boasts three UNESCO World Heritage Sites. As an important city in the British Raj, as Bombay it became a cultural hub. Sights include the Gateway of India, important art collections, and fine Arabian Sea beaches. Let's check out the best hotels in Mumbai to take advantage of all this city's wonders.
Where to Stay in Colaba
Colaba is a peninsula district of Mumbai with some of the city's oldest structures and most important Mumbai tourist sights. Many can be explored as part of our Gothic and Art Deco Story tour. In addition to its excellent hotels and sights, Colaba is the location for many of Mumbai's high-end restaurants and nightspots. It is also recognized as an excellent place for shopping, and contains many luxury boutiques.
Abode Bombay
Just 100 meters from the Gateway of India you'll find Abode Bombay. It offers simply-decorated rooms with a modern style rich in natural materials, polished concrete and painted brickwork. What's more, many of the walls hang with unique and individual artworks. Guests can make use of a library and shared guest lounge. Other facilities at Abode Bombay include a spa and wellness center.
18, Lansdowne House, M.B. Marg, Apollo Bunder, Colaba, 400001 Mumbai
President – IHCL SeleQtions
Although the President has a relatively plain exterior, its interior is very different. Its shared spaces have a rich eastern style, while bedrooms are thoroughly modern. They have lots of natural light thanks to large windows, parquet flooring, and traditional carvings decorating the walls. This award-winning hotel features a rooftop outdoor pool and terrace, as well as a spa and 24-hour gym.
90 Cuffe Parade, Maharashtra, 400005 Mumbai
Taj Mahal Palace Hotel
The Taj Mahal Palace Hotel is one of the icons of Mumbai. Its distinctive Saracenic Revival architectural style has welcomed everyone from author Somerset Maugham to US President Bill Clinton over 120 years. Situated on the waterfront opposite the Gateway of India, it has been fully-renovated to offer its guests a modern stay. Rooms have views of the sea, city or the pool, which is located in the hotel's internal courtyard. A variety of amenities includes a 24-hour butler service.
Apollo Bunder, Colaba, 400001 Mumbai
Taj Mahal Tower, Mumbai
Taj Mahal Tower is part of the same complex as the Taj Mahal Palace Hotel. It makes use of many of the same facilities, including the spa and outdoor swimming pool. Built in 1973, it blends classic interiors in the shared spaces with more modern interiors in the rooms. Decorative screens and other ornamental touches add Indian accents, while large windows provide a range of fantastic panoramic views.
Apollo Bunder, Colaba, 400001 Mumbai
The Oberoi
Another famous Mumbai name, The Oberoi has a first-rate waterfront location. Its stunning interiors are filled with crisp clean lines to create a classic look. This is enhanced by the use of original artworks. Rooms boast wooden floors and double-height windows. When it comes to services, there is a spa, outdoor heated pool, and 24-hour on-call butler. The Oberoi also contains a Champagne Lounge.
Nariman Point, 400021 Mumbai
Where to Stay in Santacruz
North of Colaba, Santacruz is considered a prime location to base yourself while in Mumbai. Tours that can be easily begun from here include our Ancient Buddhist University of Kanheri tour. Close to both the domestic and international airports, Santacruz is primarily residential. This means it cannot match Colaba when it comes to sights or dining options. That said, there are still a good number of restaurants in and out of its hotels.
Grand Hyatt Mumbai Hotel and Residences
This option is located close to the airport and city center and located within four hectares of landscaped gardens. The Grand Hyatt Mumbai Hotel and Residences boast two outdoor pools with terraces of sun loungers and palms. The rooms are spacious and decorated with neutral colors. They have large double-height windows with views of the hotel courtyard or the city. Some also have a balcony. Commissioned works of art in the hotel's public spaces brings the work of Indian artists to a wider audience.
Off Western Express Highway Santacruz (E), Santacruz, 400055 Mumbai
Trident Bandra Kurla Mumbai
A stylish modern interior awaits anyone choosing Trident Bandra Kurla Mumbai. It has an expansive atrium, complete with a grand piano. This leads to rooms with invigorating red accents and floor-to-ceiling windows. As well as an outdoor pool, this hotel offers a full-service spa and fitness center.
C-56, G Block, Bandra Kurla Complex, Bandra, 400051 Mumbai
Sofitel Mumbai BKC
Sofitel Mumbai BKC is part of the centrally-located Bandra Kurla Complex. It has a multistorey lobby with a chic design that continues throughout the hotel's public and private spaces. The modern guest rooms are decorated with a blend of the traditional and the modern. They contain plush soft furnishings, hardwood floors, and beautifully-chosen pieces of furniture. Its amenities include an outdoor pool, spa, and gym.
C-57, Bandra Kurla Complex, Bandra, 400051 Mumbai
The Leela Mumbai
The mid-century structure of The Leela Mumbai lies just a short distance from the international airport. However, thanks to soundproofing there's no risk of being disturbed by airport noise. The hotel's style can be exemplified by its whitewashed walls and use of natural wood. Rooms offer views of the landscaped gardens or the outdoor freeform pool. Other facilities include a spa, gym, and a salon.
Sahar Road, 400059 Mumbai
Where to Stay in Bandra West
A favorite with Mumbai's celebrities, Bandra West occupies a fine stretch of Arabian Sea coastline. The district is also known for its street art, particularly around historic Chapel Road and Victoria Street, attracting international names. However, its most important sight is undoubtedly Bandra Fort, built by the Portuguese in the 1500s.
Taj Lands End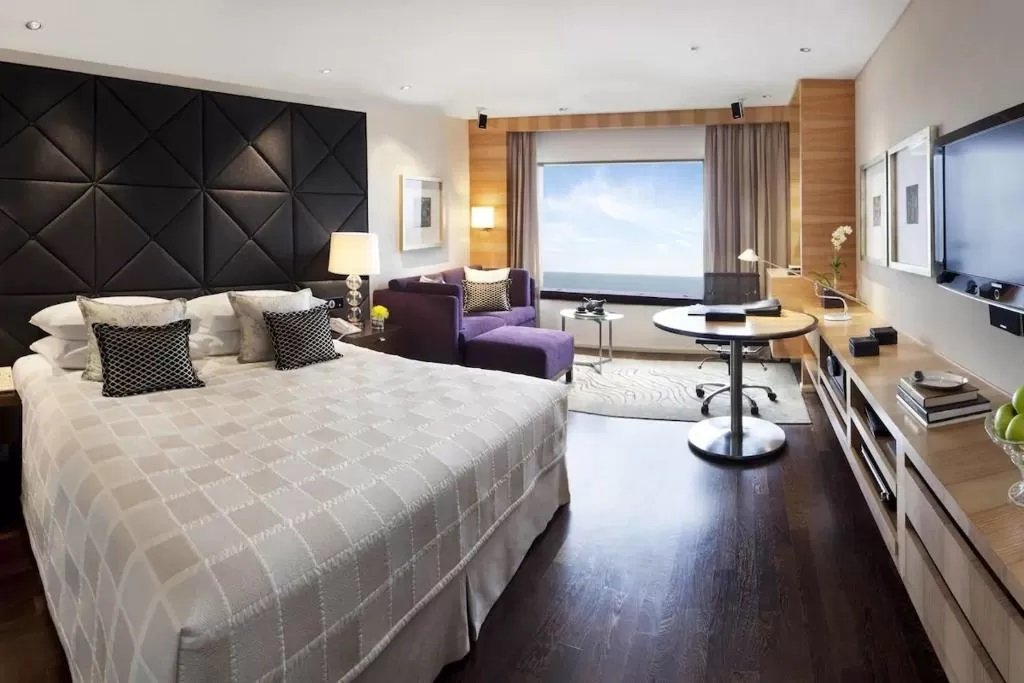 In contrast to the centuries-old Bandra Fort, the Taj Lands End is a sophisticated modern stay. Its rooms have classically-styled furniture, and large windows with views over the Arabian Sea. The landscaped grounds contain mature palms and a freeform outdoor pool. Other facilities include a spa with sauna and traditional Indian treatments, a fitness center and salon.
Bandstand, Bandra West, Maharashtra, Bandra, 400050 Mumbai
Marvelous Mumbai's Charm
You'll no longer struggle with where to stay in Mumbai thanks to this guide. There are a number of well-placed districts, including bustling Colaba, residential Santacruz, and beachside Bandra West. For more on what to do in the city check out our Mumbai City Guide. And don't forget about visiting this city as part of a longer trip to India, such as our Ajanta, Ellora & Lonar Meteor Myster Tour. Our full list of Mumbai tours is also worth a look, while our India Culture Guide has the lowdown on what to expect.