One of the world's most exciting city-states, it's important to know Where to Stay in Dubai. The luxurious choice of hotels in Dubai ranges from historic Bur to the new world wonder of the Palm Jumeirah by way of downtown. Let's check out the pick of the bunch.
Bur
Bur is a luxurious historic district that sits on the banks of the saltwater Dubai Creek. Here striking mosques, multi-faceted museums, and contemporary art galleries scatter the streets. If you're passing through as part of our 10 day Jordan, Dubai, and Abu Dhabi package or 13 Day regional tour starting in Tel Aviv you're sure to stop by. Visit the oldest building in the city when you walk through the picturesque monuments in the Bastakia Quarter. Or visit the Dubai Cultural Village to learn about this new city's traditional roots.
XVA Art Hotel
This hotel sits in the city's oldest community, the Al Fahidi neighborhood. What's more, it occupied a former residence of the Seddiqi family. Combining historical heritage with modern luxury, XVA Art Hotel is a quiet respite in the busy city. It boasts an extensive gallery of local art, an upscale boutique, and a thriving program to promote community culture. Enjoy a restful stay in one of the fifteen bespoke rooms, each individually designed. Alternatively, take time to visit the courtyard gardens or cafe for some peace and quiet.
Al Fahidi Bastakiya, Bur
Raffles Dubai
This elegant luxury hotel offers a high-end butler service, a large spa, and an outdoor pool. Private balconies complete the Raffles Dubai's iconic pyramid shape. Meanwhile, its rooms are finished individually with handcrafted items and plush fabrics. Well-proportioned, they offer superb views and plenty of space from which to enjoy them. The addition of lush gardens and a good cluster of restaurants means you might never want to leave.
Sheikh Rashid Road, Wafi Mall, Bur
Form Hotel
This chic design hotel is located near many of the city's biggest draws and offers guests a contemporary cultural experience in the historic Al Juddaf neighborhood. Traditional regional design decorates rooms at Form Hotel, and many walls display the work of local artists. If you're looking to refresh yourself, take a dip in the rooftop pool that looks over the glittering city below. You could also stop by one of the hotel's three acclaimed restaurants for a cool drink or decadent dinner.
Al Jadaf, Bur
Downtown Dubai
See an image of Dubai, and its probably the downtown district you're gazing over. Located between the creek and the beaches of Jumeirah, downtown is home to the Burj Khalifa and dancing Dubai Fountain. When it comes to where to stay in Dubai, the downtown district has no shortage of excellent options.
Address Downtown
Overlooking Dubai Mall, there's arguably no better location downtown than that occupied by Address Downtown. Its 220 guest rooms span 63 floors, meaning many offer spectacular views across the city. But that's not the only reason to opt for this central hotel. Each room has its own L-shaped sofa area, while the on-site spa has nine treatment rooms.
Sheikh Mohamed Bin Rashid Boulevard, Downtown, PO Box 123234, Downtown
Armani Hotel Dubai
Equally impressive is the location of Armani Hotel Dubai, since it is contained across 11 stories of the Burj Khalifa itself. Oozing Armani's trademark style, guests will also find a deluxe spa. With direct access to Dubai Mall, shopping trips are never far away, while rooms are fully up-to-date. Japanese tatami matting and the softest fabrics finish the rooms, which also come with TV-DVD players and iPod docking stations.
Burj Khalifa, Sheikh Mohamed Bin Rashid Boulevard, Downtown
Sofitel Dubai Downtown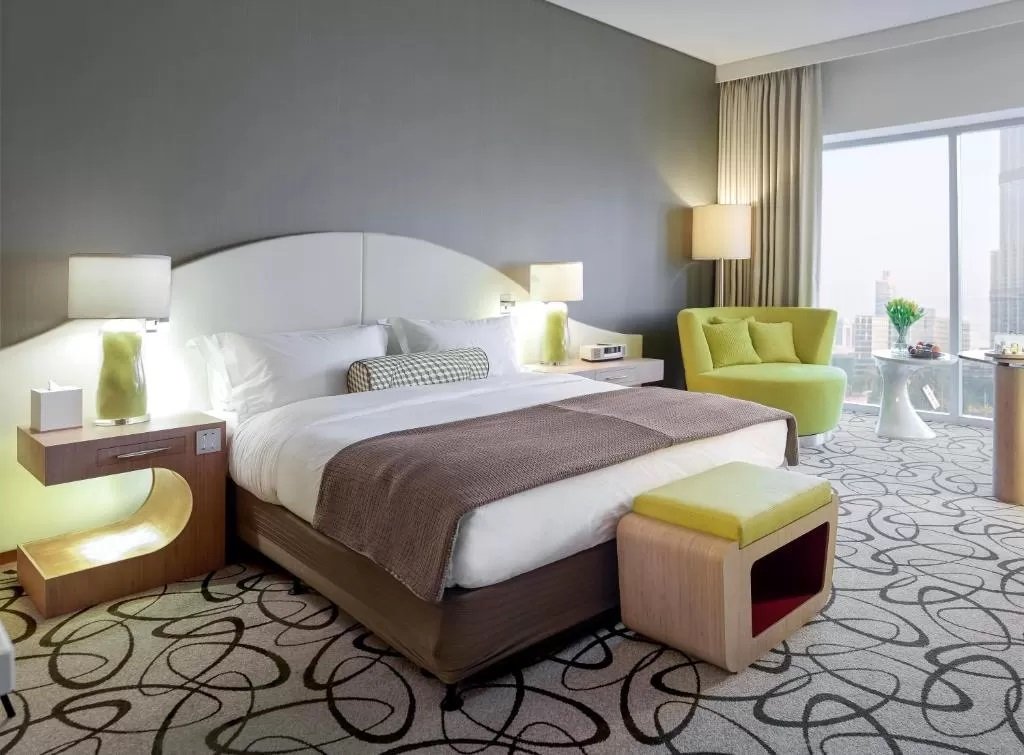 The rooms at Sofitel Dubai Downtown are almost playful in their color choices. Swirling carpets appear to lead around the beds and stylish modern furnishing to the floor-to-ceiling windows. Further views can be enjoyed on the fifth-floor pool terrace, while a courtesy shuttle connects the hotel with Kite Beach. If you come with your own vehicle you can take advantage of free parking. A fitness center is located on the second floor, and food-lovers are also sure to love the French restaurant and patisserie.
Sheikh Zayed Road, beside Burj Khalifa Metro Station, Downtown
Taj Dubai
Rooms at Taj Dubai offer views directly to the Burj Khalifa. The nearby Dubai Mall can also be reached by complimentary shuttle service, should guests tire of the subtle Indian accents of this top hotel. Similar to our other downtown hotel offerings, Taj Dubai's facilities include an outdoor pool, spa, and wellness center. Each room also contains a dedicated seating area in addition to access to the rooftop Treehouse Lounge.
Burj Khalifa Street, Downtown
Palm Jumeirah
This man-made cluster of sand islands in the shape of a palm astonished the world when it was first created. In the intervening years, it has lost none of its shine. First choice for celebrity homes, the Palm hosts glitzy restaurants and some of Dubai's top night spots. When it comes to attractions, it has its fair share of family-friendly things to do, while the hotels here rival royal palaces when it comes to the standard they maintain.
Anantara, the Palm Dubai Resort
Guests who choose Anantara, the Palm Dubai Resort are never far from the water. That may be the turquoise waters of the Persian Gulf, lapping the resort's private white sand beach, or one of its three large swimming pools. A Thai-inspired spa gives a sense of the orient, which is echoed by the resort's gastronomic offerings. If you're spoiling yourself opt for one of Dubai's only over-water villas, though even the standard rooms are both airy and filled with natural light.
Crescent Road (East), Palm Jumeirah
Jumeirah Zabeel Saray
Just three minutes from the beach, Jumeirah Zabeel Saray's Arabian Gulf vistas are easy to admire thanks to rooms with private balconies. Its rooms have been inspired by Ottoman opulence, with parquet wood flooring and high ceilings as standard. Elsewhere within the hotel guests can relax in the Talise Ottoman Spa or enjoy a romantic movie in the private cinema. Other facilities include an outdoor pool and several guest lounges.
The Crescent (West), Palm Jumeirah
One&Only The Palm
This hotel takes its decorative touches from the Moorish architecture of southern Spain. As a result, One&Only The Palm is awash with finely carved pieces of wood and elegant curves. Sitting at the end of one of the Palm Jumeirah's fronds, the hotel luxuriates in soft pale sands. In addition to warm seas and a secluded location, it is also able to boast several pools and a restaurant run by Michelin-starred chef Yannick Alléno. Its Guerlain Spa is set within the tropical gardens, while elsewhere guests can enjoy water sports and a round of golf.
West Cresent Road, Palm Jumeirah
Delightful Dubai Stays
If you had no idea where to stay in Dubai, we're here to help. One of the easiest cities in the world to get a good night's sleep, visitors can choose between Bur, the Downtown district, and famed Palm Jumeirah as top places to stay. For something a little different, why not check out where to stay in Abu Dhabi, Dubai's neighboring Emirate, or check out our tours including Dubai?