The huge range of accommodation options makes deciding Where to Stay in Barcelona a difficult task for visitors. One of the world's most popular city escapes, you want to avoid the crowds while staying close to major attractions. And what attractions they are, with a hole host of tours in and around Barcelona available! The cultural hub for Spain's Catalan community, it boasts 8 UNESCO World Heritage Sites including the Sagrada Familia church. But its Mediterranean location and great weather also make it a much-loved beach resort. At the same time, shoppers will find it hard to tear themselves away from La Rambla.
Where to Stay in Ciutat Vella
Barcelona's Old Town, or Gothic Quarter, the Ciutat Vella is very much the heart of the city. Incorporating the rejuvenated port area and city beaches, it contains many of the city's most famous sites and museums. It is also home to La Rambla, which connects Plaça de Catalunya on its northern edge with the port, making it the location of many great hotels in Barcelona. Good transport links make the area a great location is you're thinking of heading further afield too. If you are, check out our Unknown Gaudi, Tapas and Cava Winery Tour, or our Monserrat Tour with Cogwheel Train excursion.
Hotel 1898
Perfectly-positioned on the famous La Rambla is Hotel 1898. Although located within a fully-restored late nineteenth century structure, there's nothing dated or old hat here. Not only does the hotel has serious curb appeal, but its interiors are wondrously light and airy. Boasting 'Speciality Monument' status, Hotel 1898 combines some fantastic original architectural features with modern day comforts. And what's more, as well as a spa and wellness center, there's not one but two pools. While one sits beneath a dramatic barrel-vaulted ceiling, the other on the roof with sublime views across Ciutat Vella.
La Rambla, 109, Ciutat Vella, 08002 Barcelona
Eco Boutique Hostal Grau
A block away from Plaça de Catalunya is the family-run Eco Boutique Hostal Grau. It has a happily eclectic décor, that sits comfortably between farmhouse and city center apartment. The hotel makes use of natural organic or recycled materials wherever possible, with hardwood floors and lots of natural light. At the same time, a number of ecologically-minded systems reduce its impact on the environment. Thankfully, this doesn't mean a stay here feels restrictive in any way.
Ramelleres, 27, Ciutat Vella, 08001 Barcelona
Grand Hotel Central Barcelona
Centrally-located within Ciutat Vella is the Grand Hotel Central Barcelona. Its public spaces are filled with fittingly grand classical detail from the Catalan school of the early twentieth century. At the same time, its rooms have crisp, modern interiors, as well as complimentary minibars refilled daily. On the roof, you'll find an infinity pool, bar, and sun terrace offering excellent views across the Gothic Quarter. There is also a fitness center and massage service.
Via Laietana, 30, Ciutat Vella, 08003 Barcelona
Where to Stay in Eixample
Meaning expansion, Eixample was created as the city grew in the late nineteenth and early twentieth centuries. It lies immediately inland of Ciutat Vella, with a grid pattern of streets. The neighborhood is a hotspot for the architecture of Gaudi, not least the Sagrada Familia. Visitors who stay here will still find themselves close to all Barcelona's main attractions. Tours that take in this area include our Barcelona Walking Tour and Wine Tasting Experience. Plaça de Catalunya is no more than 15 minutes away on foot.
The One Barcelona GL
Guests opting for The One Barcelona GL will find its spaces classically furnished but with a modern touch. Rooms have large windows, while adjoining bathrooms are finished in marble. Beyond the rooms, this hotel offers guests access to a spa with indoor experience pool, traditional sauna, and treatment rooms. On the roof, guests will also find an open-air infinity pool and bar area.
277, Carrer de Provença, Eixample, 08037 Barcelona
Sir Victor Hotel
When it comes to rooftop bars and infinity pools Sir Victor Hotel is not to be outdone. In addition, this hotel offers chic modern interiors with wood flooring and contemporary furnishings. It has a cool Gaudi-like exterior of 'peeling' cladding. From inside, there are views of Passeig de Gràcia, and the hotel's interior garden. A spa boasts steam baths and a menu of treatments, while frequent live music is also a hotel feature.
Rosselló, 265, Eixample, 08008 Barcelona
Monument Hotel
Rather more traditional in appearance is the brick and stone exterior of Monument Hotel. As a result, most rooms have delightful ironwork balconies. Its décor makes heavy use of natural materials, not least wood. This can be found on walls and floors alongside the thin bricks typical of the region. Soundproofing means you won't hear any noise from the rooftop pool or Lasarte, a restaurant boasting a maximum three Michelin stars.
Paseo de Gracia, 75, Eixample, 08008 Barcelona
Where to Stay in Gracia
Further north still is the Gracia neighborhood. While now firmly part of the city, Gracia was for several centuries an independent town. One hundred years later, it manages to maintain a distinct identity. While lacking the obvious tourist attractions of Ciutat Vella and Eixample, it is considered one of Barcelona's trendiest neighborhoods.
Casagrand Luxury Suites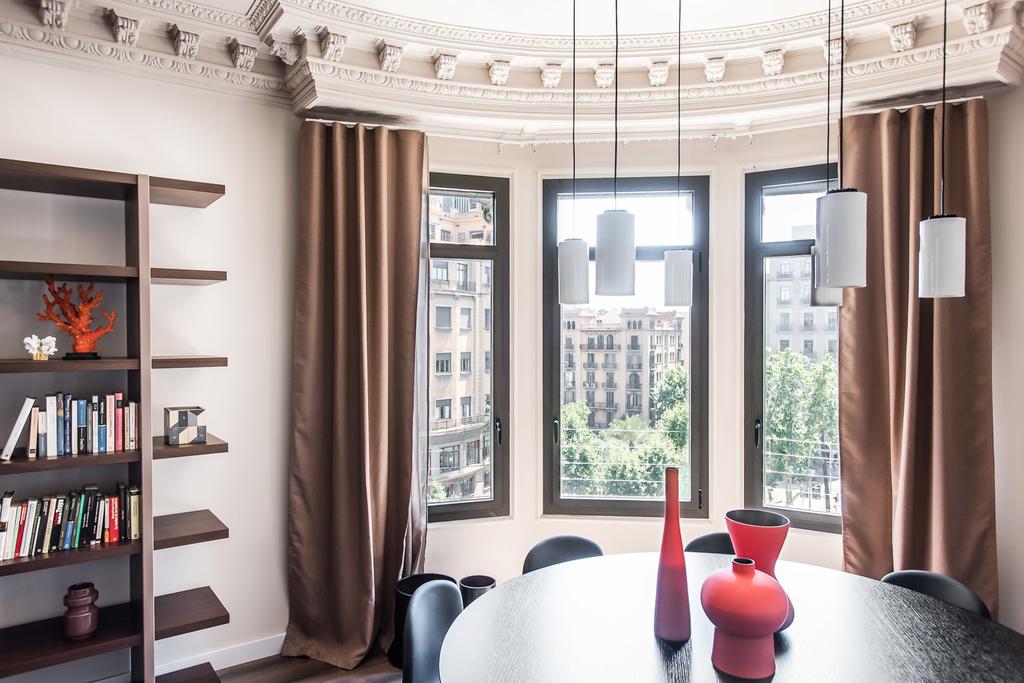 Casagrand Luxury Suites occupy a modernist building a short distance from Paseo de Gracia. Its contemporary finish effortlessly blends with the building's original features, including plaster molding to the walls and ceilings. It has a sophisticated, but not boring, color scheme. There is a small gym, and plunge pool and sauna on its roof.
478 Avinguda Diagonal, Gràcia, 08006 Barcelona
El Palauet Living Barcelona
This hotel is richly decorated in a monochrome palette of natural stone. The modernist building's original features enhance the look, including stained glass windows. Tranquil and relaxing, all its guest spaces at El Palauet Living Barcelona are either suites or full apartments. It has spectacular views from its rooftop spa with sauna, and the added luxury of in-room breakfasts.
Passeig de Gràcia, 113, Gràcia, 08008 Barcelona
Where to Stay in Sants-Montjuïc
Immediately south of Ciutat Vella, Sants-Montjuïc is dominated by Montjuïc hill and its views of the Mediterranean. Gardens dot the neighborhood, which also provides a home to the Joan Miró Foundation and Museu Nacional d'Art de Catalunya. A cable car system connects it to the rest of the city.
Hotel Brummell
Hotel Brummell is a boutique hotel with just 20 rooms and suites. Despite this, it offers unlimited yoga classes, as well as boxing sessions and a running club. However, there's no need to get a sweat on to enjoy the exterior spaces, with includes a small pool. Inside, rooms are contemporary in style, with original artworks from up-and-coming European designers hanging from the walls.
Nou de la Rambla, 174, Sants-Montjuïc, 08004 Barcelona
Hotel Miramar Barcelona GL
Hotel Miramar Barcelona GL is able to offer not one swimming pool but two. A seasonal outdoor pool lies within an area of lawn, while an indoor pool is located in the spa. The spa also contains a sauna, steam room, and hot tub. A former palace in the Catalan neucentisme style, this hotel has a dazzling interior atrium. Large floor-to-ceiling windows have excellent views over the Mediterranean.
Plaza Carlos Ibañez, 3, Sants-Montjuïc, 08038 Barcelona
Breathtaking Barcelona
There are several excellent neighborhoods to think about when considering where to stay in Barcelona. Ciutat Vella and Eixample are perhaps the traditional districts for visitors. However, Gracia and Sants-Montjuïcare also well worth considering. For more on this stylish city, don't miss our Barcelona Design Guide.