Zhangjiajie and Fenghuang 4 Day Private Package Tour from Guangzhou Highlights
01
See the mountain that inspired James Cameron when filming Avatar
02
Visit the natural wonder of Heaven's Gateway on Tianmen Mountain
03
Spend an evening in the romantic and fascinating Fenghuang
04
Trek through the incomparable Zhangjiajie National Park
Why we chose this tour
Our Zhangjiajie and Fenghuang 4 Day Package Tour from Guangzhou dives into the natural beauty and historic towns in this stunning part of China for a whirlwind tour you'll never forget. Visit sprawling national parks, see the otherworldly Gateway to Heaven, and explore more treasures throughout China. This tour is available every day and leaves with guaranteed departures.
Book With Tourist Journey
We hand-craft each tour package which we offer
Each tour and experience is led by a true local expert full of passion
Hassle-free experience promise. We take care of everything so you just have to enjoy
Choose the hotels you stay at from our curated selection
Great memories and the best stories guaranteed
Easy booking, easy cancelation and best price guaranteed
Zhangjiajie and Fenghuang 4 Day Private Package Tour from Guangzhou Itinerary
Day 1 - Guangzhou to Zhangjiajie by Air
Fly from Guangzhou to Zhangjiajie and meet your guide at the airport for a private transfer to your hotel.

The town is famous for its proximity to the National Park and several other beautiful sites, and you can spend the evening resting or exploring before your tour begins.


Overnight in Zhangjiajie.
Day 2 - Zhangjiajie: Yuanjiajie, Tianzi Mountain, 10-Mile-Gallery
Drive through the dramatic peaks and sloping valleys of this beautiful region on your way to the world-famous Zhangjiajie National Park.

Begin your visit with a ride up the super elevator, taking only 1.58 seconds to whisk you to the top of the viewing platform, and enjoy unreal panoramic views from this glassy spot high above it all.

Walk the Summit Sightseeing Platform and explore the Heaven and Earth Pillars and pieces from the Avatar film for a unique addition.

Continue to the equally breathtaking Tianzi Mountain Nature Reserve, home to a huge array of migratory birds and endemic wildlife, and snap some panoramic shots upon arrival.

Known locally as the Monarch of the Peak Forest, this park is home to the four wonders of the Sea of Clouds, the Radiance of Moonlight, the Rays of Sunshine, and the Winter Snow.

Continue your explorations with a visit to Shilihualang, the 10 Mile Gallery, a trek through a blooming and verdant valley with cinematic views of the nearby summits and mountain range.

You'll take a train one way and hike the other to end your morning of exploring the region's natural beauty and untouched splendor before returning to the city for a free evening.


Overnight in Zhangjiajie (Breakfast and lunch included)
Day 3 - Zhangjiajie to Fenghuang
Take another wondrous drive through this magical landscape on your way to Tianmen Mountain, walking the winding road that leads to the otherworldly Gateway of Heaven.

Admire the scenery above, around, and below you on this glass walkway to the cable car, and then ride up the longest cableway in the world, almost 25,000 feet long with an elevation change of 1,700 feet.

Once you've reached your destination, walk Tongtian Avenue, the road with 99 turns, and then reach the natural door in the mountain known as Heaven's Gateway, shrouded in myth and ethereal beauty.

You'll also trek the Ghost Valley Plank Road, a plank walkway hugging the cliffs above the magical valley below and lined with rails to keep you up.

Finish your explorations with a stop at the Yunmeng Fairy Summit, the highest point of the day, and topped with a stunning pagoda.

Make your way back down to drive to the old town of Fenghuang that sits on the banks of the Tuo River.

It's famous for its traditional wooden architecture and the lights at night create a romantic backdrop for your journey.


Overnight in Fenghuang (Breakfast and lunch included).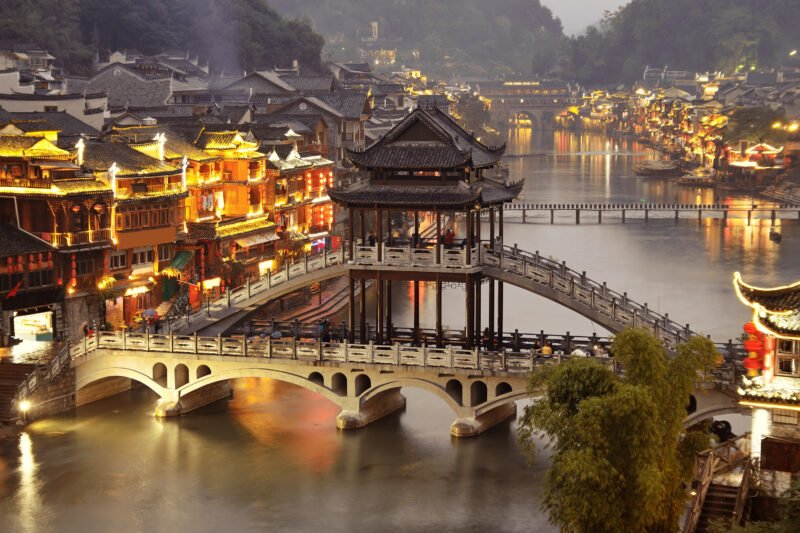 Day 4 - Fenghuang to Guangzhou by Bullet Train
Take the last morning to explore on your own, stopping anywhere you didn't get enough time and soaking up the atmosphere of this runner-up for the UNESCO World Heritage Sites list.

Enjoy lunch before driving through the countryside to Huaihua to catch a bullet train back to Guangzhou.

If there are no tickets available at a time convenient to you, you'll instead travel from Changsha to Guangzhou.

Once you've arrived in Guangzhou, you'll be taken to your hotel and your tour ends.

We wish you happy travels!


(Breakfast and lunch included.)
NB - all timings on Zhangjiajie and Fenghuang 4 Day Private Package Tour from Guangzhou are approximate
Have a question?
If you have any questions about our Zhangjiajie and Fenghuang 4 Day Private Package Tour from Guangzhou, please contact us. Our team is standing by and will be happy to help
Ask a Question
Important Details
Includes
Flight ticket from Guangzhou to Zhangjiajie
Bullet train ticket back to Guangzhou
Private transportation during all days
Fully guided tour with Certified English speaking guide
2 overnights at 5* hotel including breakfast
1 overnight at Fenghuang old town guesthouse
Excludes
International train/flight tickets
Personal travel insurance
What to Bring
Comfortable clothing according to the season
Essential Information
Your flight details from Guangzhou to Zhangjiajie will be sent to you before the tour start. Our guide will meet you at Zhangjiajie airport upon arrival
Visa to China is required
Zhangjiajie: Pullman Hotel or similar
Fenghuang: Phoenix City Boutique Hotel or similar