Meteora and Delphi 3 Day Tour From Athens by Train Highlights
01
Enjoy the beautiful views over Greece's scenic landscape on your train ride
02
Discover the UNESCO World Heritage site of Meteora with a local guide
03
Take your time to explore the archaeological site of Delphi at your own pace
04
Take your time to admire the astonishing views over Meteora during sunset
Why we chose this tour
Our Meteora and Delphi 3 Day Tour From Athens by Train takes away the pain of planning and gives you the opportunity to dive fully into the rich past of this storied region. Let our guide lead you along the paths of ancient mystics and holy men while you drink in the breathtaking vistas. Meteora is a monastic community that lived in the the natural and man-made caves in the hills, and was founded in the 10th century. Delphi was a sanctuary built around the oracle who practiced there, and the site is scattered with the remains of temples and sanctuaries. Both sites are recognized as UNESCO world heritage sites, and shouldn't be missed!
Our Meteora and Delphi 3 Day Tour from Athens by train is available every day, so what are you waiting for? This tour begins with a train that offers striking views of the landscape as you journey from Athens to Kalambaka. Your first evening will take you on a sunset tour of the caves of Meteora, a monastic community that lived and thrived in the rocks surrounding them, and ends with a stunning view of the surrounding land bathed in the soft light of the setting sun.
Your next two days are a whirlwind of ancient legends and stories figures, from the Oracle of Delphi to Saint George, as your guide walks you back through the past and into the present. Enjoy your free second evening, and take the time to marvel at the the craggy landscape from a new point of view before heading back up. After your jaunt to ancient Greece, return to Athens to rejoin modern civilization.
This tour has guaranteed departures.
Book With Tourist Journey
Small Group Size

We hand-craft each tour package which we offer
Each tour and experience is led by a true local expert full of passion
Hassle-free experience promise. We take care of everything so you just have to enjoy
Choose the hotels you stay at from our curated selection
Great memories and the best stories guaranteed
Easy booking, easy cancelation and best price guaranteed
Meteora and Delphi 3 Day Tour From Athens by Train Itinerary
Day 1 - Arrival in Meteora
Board the train at 7:56 am at Larissis Train Station in Athens. Please be at the station at least 30 minutes before the departure in order to have plenty of time to find your coach and seats.

Your tour leader will be waiting for you at Kalambaka train station at 11:30 am, holding a sign with your name and ready to escort you to your hotel.

You will be picked up in the afternoon to join the wonderful Meteora Sunset tour - Discover the UNESCO World Heritage site and the breathtaking views during the best time of the day!


Overnight in Kalampaka.
Day 2 - Meteora
Choose between two activities: 'Half-Day Morning Tour of Meteora' or 'Hiking Tour of Meteora'.

Discover the monasteries of Meteora with your local expert and learn about the history, the traditions, and the legends surrounding this magical place.

Both of the tours will end around 1:00 PM - you will be brought back to your hotel and can enjoy a free evening to explore the area on your own.


Overnight in Kalampaka (Breakfast included).
Day 3 - Delphi
After breakfast, you will be picked up and transferred to Kalampaka Train Station. Hop on the train departing at 9:28 AM to Delphi.

You will reach Delphi around 12:05 PM. Our English speaking driver will wait for you with a sign and bring you to the archaeological site.

Explore the beautiful UNESCO World Heritage site of Delphi. Visit the ruins of the Temple of Apollo and the famous location of the Oracle from Delphi - Audio guides are available.


Take the bus to Athens at 4 PM. You will reach Athens by 7 PM.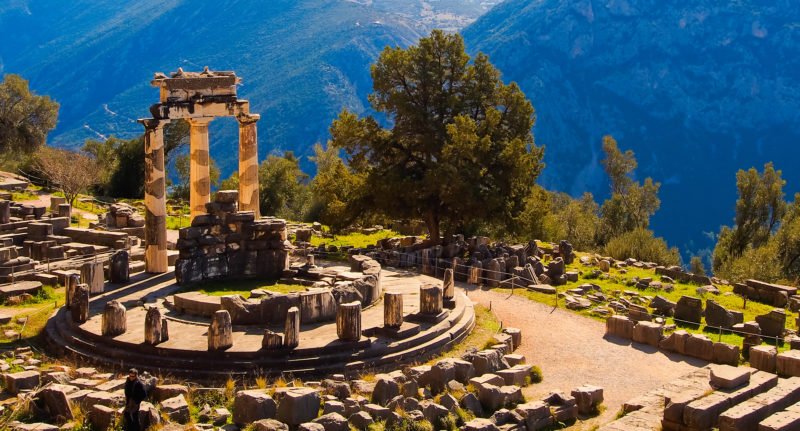 NB - all timings on Meteora and Delphi 3 Day Tour From Athens by Train are approximate
Have a question?
If you have any questions about our Meteora and Delphi 3 Day Tour From Athens by Train, please contact us. Our team is standing by and will be happy to help
Ask a Question
Important Details
Includes
2 nights accommodation at a 3-star or 4-star hotel with breakfast in Meteora 
Train tickets from Athens to Meteora 
Train tickets from Meteora to Livadia (Dephi)
Taxi transfer from Livadia to Delphi 
Bus tickets from Delphi to Athens 
Pick-up and drop off from Kalampaka train station 
Optional: Audio guide in Delphi 
Meteora Sunset Tour - Day 1 with a local guide
Meteora Hiking Tour or Meteora Half-Day Tour on the second day, with a local guide
Excludes
Entrance fees to the monasteries (3EUR per person per monastery) and the archeological site of Delphi
Transfer to and from Athens train station
Personal travel insurance
Essential Information
First class train tickets upon request
Dress code: Sleeveless clothing and shorts over the knee for men are prohibited. For women, skirts below the knee are required in order to enter the monasteries
Departure time from Athens: 07.20 - Arrival time in Kalabaka: 11.30 Departure time from Kalabaka: 09.28 - Arrival time in Delphi: 12.05 Departure time from Delphi: 16.00 - Arrival time in Athens: 19.00
The minimum age for the tour is 4 years old
The hotels used are: Hotel Dellas. Hotel Kaikis. Hotel Doupiani House
Some sites in this tour aren't wheelchair accessible, so please contact us if relevant and we will be happy to recommend some options!
NB: all hotels can be substituted with equivalent properties according to availability
Cancellation Policy
Cancellations and amendments received within 30 days of departure will incur a penalty ,which will be the price of train tickets. Cancellations and amendments received within 30 days of departure will incur a penalty which will be the price of train tickets. Cancelations up to 14 days before departure will be charged 50% of the tour. Cancellations less than 14 days before departure will be fully charged.