Jianshui and Yuanyang Hani Rice Terraces 3 Day Private Package Tour from Kunming Highlights
01
Discover the culture of the Yi and Hani minorities in Yuanyang
02
Admire ancient architecture in Tuanshan and Jianshui's Old Town
03
Learn more about Confucius and visit his historic temple
04
See the sun rise over the Yuanyang Hani River Rice Terraces
Why we chose this tour
Our Jianshui and Yuanyang Hani Rice Terraces 3 Day Package from Kunming is an immersive dive into the culture and natural beauty of this unique region in China, showing you all of its wonder with the help of an expert guide. You'll visit a number of UNESCO World Heritage Sites, historic temples, verdant gardens, and more unforgettable sites. This tour is available every day and leaves with guaranteed departures.
Book With Tourist Journey
We hand-craft each tour package which we offer
Each tour and experience is led by a true local expert full of passion
Hassle-free experience promise. We take care of everything so you just have to enjoy
Choose the hotels you stay at from our curated selection
Great memories and the best stories guaranteed
Easy booking, easy cancelation and best price guaranteed
Jianshui and Yuanyang Hani Rice Terraces 3 Day Private Package Tour from Kunming Itinerary
Day 1 - Kunming - Jianshui
Meet your guide and driver at the Longteng Hotel at 8:30 am to head to Jianshui, a fascinating town on the banks of the Red River.

On your way, stop at the Xingmeng Village, the largest Mongolian village in Yunnan with over a thousand years of history and cultural heritage unlike any other.

It's famous for its exhibitions of this ancient culture, showcasing the traditional architecture, arts, and foods of Mongolia.

Once you've arrived in Jianshui, you'll visit the former residence and Zhu Family Garden, a gorgeous corner of the city designed with pagodas, bridges, and ponds scattered across its grounds.

You'll also stop at the Jianshui Confucius Temple, a sweeping temple modeled after the one in his hometown and built in 1285, for a guided tour.

Check in to your hotel and take a short break before taking a walking tour through the Old Town and then spending the evening on your own.


Overnight in Jianshui.
Day 2 - Jianshui - Yuanyang
Begin your morning at the Double Dragon Bridge, a 17 arch bridge that spans the joint of the Nanpan and Tachong Rivers that zigzag beneath its ancient stones.

Built in the 1800's, its most well-known as an example of historic Chinese architecture and engineering.

Continue to Tuanshan Village to visit the Zhang Family Garden, a formal garden on the grounds of a traditional Bai residence, where you'll dive into the architecture and culture of this region.

The next stop is the UNESCO World Heritage Site of the Yuanyang Hani Rice Terraces, a vast expanse of emerald green terraces and sapphire waterways, and Qingkou Village.

This stone Hani village is lined by towering old trees and the Qinqkou Hani Rice terraces, giving you a glimpse into rural life in both modern and historic China.

After watching the sun sink below the horizon and bathe the nearby Bada rice terraces with glowing crimson and golden light, transfer back to your hotel.


Overnight in Yuanyang (Breakfast included).
Day 3 - Yuanyang - Kunming
Rise early to watch the sun climb above the UNESCO World Heritage Site of the Duoyishu Rice Terrace Fields as they mirror the glowing skies above them.

Enjoy breakfast at a hotel and visit the local ethnic market to pick up some last-minute souvenirs.

Make your last stop of the tour in Azheke Village to see the unique mushroom-shaped homes that line its ancient streets and then return to Kunming to end the tour.


(Breakfast included.)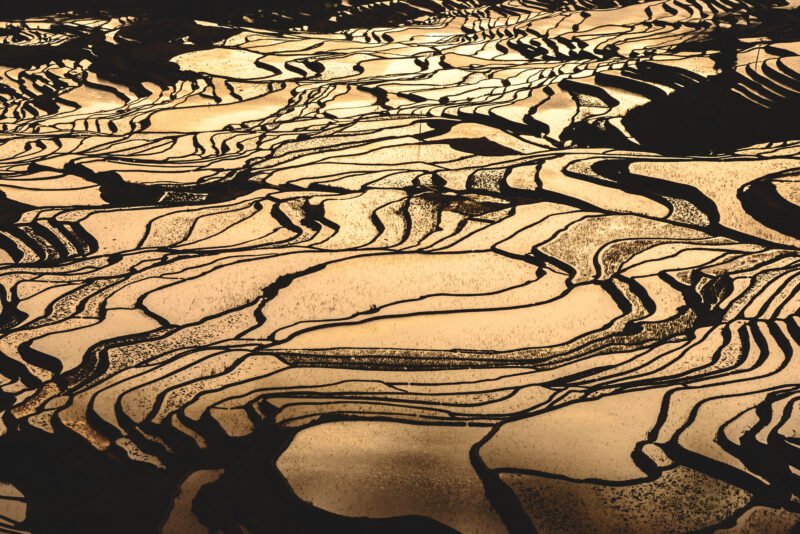 NB - all timings on Jianshui and Yuanyang Hani Rice Terraces 3 Day Private Package Tour from Kunming are approximate
Have a question?
If you have any questions about our Jianshui and Yuanyang Hani Rice Terraces 3 Day Private Package Tour from Kunming, please contact us. Our team is standing by and will be happy to help
Ask a Question
Important Details
Includes
Transportation to and from Kunming
Private transportation during all days
Fully guided tour with certified English speaking guide
2 overnights in 3* hotels including breakfasts
Two bottles of water each day per person
Excludes
International train tickets/flight tickets
Personal travel insurance
What to Bring
Comfortable clothing according to the season
Essential Information
Minimum group size: 2 travelers
The accommodation will be in 3* hotels
Jianshui Hotel: Red Sky Inn or similar
Yuanyang Hotel: Timeless Inn or similar