Cappadocia 3 Day Tour from Antalya Highlights
01
Marvel at the natural wonders collected and curated at the Goreme Open Air Museum
02
Travel deep into the earth to visit all 8 stories of the Underground City: an ancient refuge that still stands today
03
Take a trip to Avanos, a town famous for its unique pottery that has been created the same way since the Hittite Era
04
Relish the natural splendor in the popular and virtually untouched Rose and Red Valleys, both named for the unique stones that fill them
Why we chose this tour
Our Cappadocia 3 Day Tour from Antalya offers you an inside view of one of the most unique and stunning regions in the world: Cappadocia. With surreal lunar landscapes, unparalleled natural rock formations, and sweeping panoramic views across the rolling valleys and hills, this region is completely singular in its beauty. A local guide will be there to tell you all of the fascinating local lore, and take you to hidden gems scattered across the valleys. This tour is available every day and leaves with guaranteed departures.
Book With Tourist Journey
We hand-pick each tour and experience which we offer
Led by a true local expert full of passion
Hassle-free experience promise. We take care of everything so you just have to enjoy
Great memories and the best stories guaranteed
Easy booking, easy cancelation and best price guaranteed

Small Group Size
Cappadocia 3 Day Tour from Antalya Itinerary
Day 1 - Arrival to Cappadocia
Your first day will be spend flying from Antalya to Cappadocia, and you'll be transferred from the airport to your hotel for check in by company representatives.


Overnight in Cappadocia.
Optional Add-onsOPTIONAL TOUR: ATV (QUAD) BIKE SAFARI
If you love adventure and want to see Cappadocia from a different perspective, then our fully guided Quad Safari is perfect. Ride on a sturdy ATV (quad) bike and experience this landscape in a completely different way. Our Safari starts at approximately 17:00 and is a great opportunity to see an amazing view of this ancient valley.
Day 2 - North Cappadocia
Your full day tour through Northern Cappadocia begins with a short trek through the rust-tinted Rose Valley, dotted with churches carved into the cliffs, and a stop in the cave village of Cavusin, which houses St John's Church, one of the oldest, largest, and most well-preserved churches in the whole region.

Monks Valley, named for the monks who followed Saint Simon into this surreal landscape of fairy chimneys and carved homes into the mountains, is your next stop, followed by a jaunt to Avanos, a town that has been creating pottery the same way since the Hittite era from the clay of the Red River that winds its way past the town.

Uchisar is a town that is sure to fill you with awe: from the freestanding ancient citadel to the cliffside dwellings, this historic city never fails to take our breath away with the otherworldly structures that fill the town.

Your next stop is the Goreme Open Air Museum, which offers guests a sweeping overview of the region's history as well as a more intimate look at the formations that make this region so unique.

The last stop of the day is Devrent Valley, an isolated and untouched valley that offers you serene views of the nearby nature and lets you end your tour on a peaceful note. 


Overnight in Cappadocia (Breakfast and lunch included)
Optional Add-onsOPTIONAL TOUR: CAPPADOCIA HOT AIR BALLOON FLIGHT
Start your day before sunrise, taking off in the early hours, you can enjoy the amazing views as you float above this landscape. This will cost extra.
- Evening -
OPTIONAL TOUR: TURKISH NIGHT SHOW & DINNER
The Turkish Night Show is organized not only to let you experience Turkish culture and traditions but also to have an entertaining show to help you relax, after your day tours through Cappadocia. We will pick you up from your hotel in Goreme or other towns of Cappadocia at 20:00 in winter and 20:30 in summer and drive you to one of the cave restaurants of Cappadocia, where your night of performances and entertainment will begin.
Day 3 - South Cappadocia
Your final day is spent touring the breathtaking and fascinating sites of Southern Cappadocia, beginning at the Uchisar Castle with panoramic views over the valleys and mountains below, and the opportunity to explore this fortress that seamlessly appears from the hills beyond.

The next stop is the Underground City that descends 8 stories underground to protect the ancient citizens from warring tribes nearby, and boasts everything from cavernous dining areas to full stables.

Meskendir Valley is one of the most arresting valleys in the region, and looks just like the surface of the moon, with unusual formations created by time and the wind.

You'll finish your day at the cave village in Cavusin Valley, one of the oldest settlements around with the largest and most well-preserved churches around, St John's Church. 


Following your tour, you will be taken back to the airport where you will continue to Antalya (Breakfast and lunch included).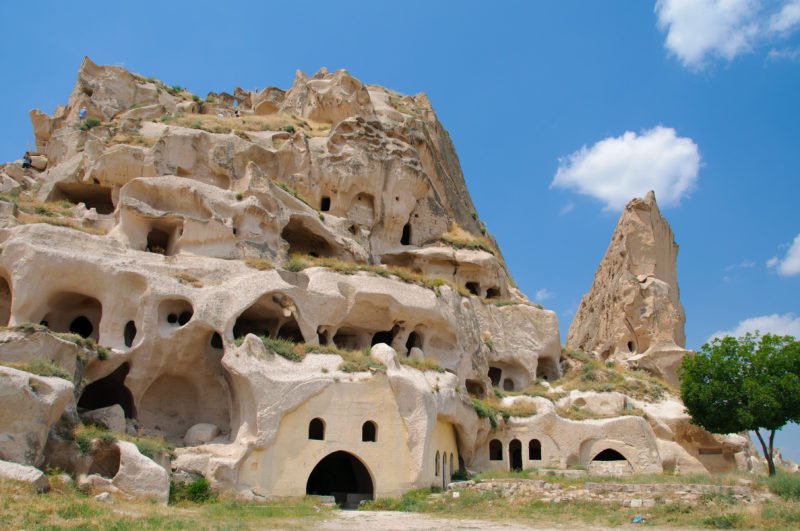 NB - all timings on Cappadocia 3 Day Tour from Antalya are approximate
Have a question?
If you have any questions about our Cappadocia 3 Day Tour from Antalya, please contact us. Our team is standing by and will be happy to help
Ask a Question
Important Details
Includes
Transportation in Cappadocia
Overnights in Cappadocia (double or triple rooms)
Lunch on day 2 and 3 - Vegetarian options are available
Excludes
Transportation in Antalya or Istanbul
Personal travel insurance
Essential Information
3* Hotel - Holiday Cave or similar ; 4* Hotel - Burcu Kaya or similar ; 5* Hotel - DoubleTree by Hilton Avanos or similar
NB: All hotels are subject to availability and can change to a hotel with the same standards
A single supplement is applied for single rooms