Bewitching Ruins of Hampi & Badami 7 Days Private Tour from Bangalore Highlights
01
Visit 3 world heritage monuments, each a capital of the Chola empire, a major controlling maritime power in the 10th through the 12th centuries
02
See a Shiva Temple at Darasuram, a UNESCO World Heritage Site that's home to an array of art, carvings, and architecture
03
Explore the 1,000 year old Brihadeswar temple in Tanjore, home to an extensive fresco collection, and the Thanjavur Big Temple, a fascinating site full of history, beautiful sculptures, and fascinating stories
04
Rediscover the lost Chola city of Gangaikondacholapuram, home to a Royal Palace, a gigantic Nandi, and a statuesque lion that guards an ancient well
Why we chose this tour
Our Bewitching Ruins of Hampi & Badami 7 Days Tour from Bangalore takes you from the city into the countryside, introducing you to sacred ruins, helping you discover historic forts, and showing you a more authentic side of pastoral life in India. You'll get out and about with an expert local guide, learning the secrets and legends that make this region so intriguing. This tour is available every day and leaves with guaranteed departures.
Book With Tourist Journey
We hand-craft each tour package which we offer
Each tour and experience is led by a true local expert full of passion
Hassle-free experience promise. We take care of everything so you just have to enjoy
Choose the hotels you stay at from our curated selection
Great memories and the best stories guaranteed
Easy booking, easy cancelation and best price guaranteed
Bewitching Ruins of Hampi & Badami 7 Days Private Tour from Bangalore Itinerary
Day 1-The Ancient Town of Chitradurga
The first day of your tour starts with a scenic drive to Chitradugra, an ancient town that was part of the Mauryan empire in the 3rd century BCE under Ashoka the Great with a historic for that covers 1,500 acres and is surrounded by 8 kilometers of defensive walls.

This fort is unique because it was built in stages by a number of different dynasties between the 14th and 18th centuries, including the Hoysalas, Nayaks, Rashtrakutas, and Chalukyas, and you'll get to appreciated the eclectic building styles that comprise it today.

You'll see the fort's 7 concentric fortifications, 19 different gateways, 38 entrances, 35 secret pathways, 4 hidden passages, numerous water tanks, and over 2,000 watch towers for a fascinating day before you head to Hampi.


Overnight in Hampi (Breakfast included).
Day 2-Royal Structures of Hampi
The day begins with an exploration of the royal structures of Hampi, ruins that are all that remains from the 14th century palace that once stood here, and you'll uncover courts and military outposts of the once mighty Vijayanagar Empire.

After lunch on your own, head to the 5,500 hectare Daroji Bear Sanctuary, built in 1994 and the first of its kind in Asia that homes 150 Sloth Bears as well as leopards, jackals, wild boars, hyenas, and porcupines.

You'll also have the chance to see quails, painted spur hens, peacocks, monitor lizards, pangolins, star tortoises, and maybe even a mongoose!


Overnight in Hampi (Breakfast included).
Day 3-Sacred & Royal Trails in Hampi
Trek your way through the sacred area that perches on the banks of the winding Tungabhadra River, a region long religiously and culturally significant.

You'll also see all the monuments build by the Vijayanagara kings that still stand on the southern banks of the river after they established the area by building intricate temples, expansive markets, and a vibrant center for trade.


Overnight in Hampi (Breakfast included).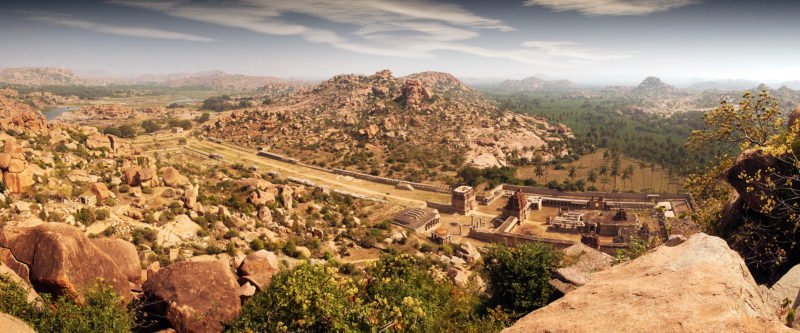 Day 4-Kishkinda Trail
Get an early start with a sunrise trip to Anjanadri Hill, the birthplace of the Ramayana epic's Lord Hanuman, where you'll watch the sun splendidly rise over the beautiful landscape below before you head to another important scene from this influential work of art, Kishkinda.

Your guide will tell you all about the monkey kingdom and the legends and stories that surround this famous region, including how Lord Rama met Lord Hanuman while searching for his tragically kidnapped bride, Sita.


Overnight in Hampi (Breakfast included).
Day 5-Rural Experience Around Hampi
Today you'll learn more about the area surrounding Hampi, which has been populated for over 5,000 years and is a magnificent example of how a typical Indian village runs and lives in the modern world.

Have an authentic look at the culture and life of the people that call this area home, and learn how not much has changed since the area became an important agricultural area.

You'll visit Anegundi village, and explore the numerous lakes and canals that surround the area, as well as viewing some ancient cave paintings.


Overnght in Hampi (Breakfast included).
Day 6-Badami, Aihole & Pattadakal
Enjoy a breakfast before heading to Badami, the erstwhile capital of the Chalukya Kings that's located in a rugged ravine and the foot of gloriously glowing red sanstone hills and surrounded by the glittering Agastya Lake.

Explore the cave temples and their vast hall with numerous pillars and a square sanctum, with magnificent paintings covering the ceiling: keep an eye out for Lord Shiva and his consort Parvathi wrapped in a coiled serpent and the 18 armed Lord Nataraja posed in over 80 dances.

Also famous for its inscriptions, Badami hosts the first Sanskrit inscription in old Kannada script that dates from 543 CE, and your guide will tell you all about its importance.

Your next stop is Aihole and its more than 100 stone temples and Pattadakal, a UNESCO World Heritage Site that wonderfully displays Visara architecture and the temple of Virupaksha, built in the 8th century by Queen Lokamahadevi to commemorate her victory over the Pallavas of Kanchi.


Overnight in Badami (Breakfast included).
Day 7-Return to Bangalore
After breakfast at the hotel, you'll journey back to Bangalore to end this incredible experience in rural and ancient India.


You will be dropped off at the same location you were picked up from (Breakfast included).
NB - all timings on Bewitching Ruins of Hampi & Badami 7 Days Private Tour from Bangalore are approximate
Have a question?
If you have any questions about our Bewitching Ruins of Hampi & Badami 7 Days Private Tour from Bangalore, please contact us. Our team is standing by and will be happy to help
Ask a Question
Important Details
Includes
6 night accommodation including breakfasts
Excludes
Personal travel insurance
Essential Information
Hotels: Clarks Inn in Hampi or similar/ Heritage Resort in Badami or similar
NB: All hotels are subject to availability and can change to a hotel with the same standards