Paphos, or Pafos, is a city with a mystical aura, believed to be the birthplace of Aphrodite, the Greek Goddess of love. A haven to learn about Greek mythology and ancient Byzantine rule, Paphos will enchant you to stay longer in its embrace. Relax along sandy beaches, explore ancient archaeological sites, and tour wineries carrying on the thousand-year-old tradition of wine-making. Our Paphos Travel Guide has everything you need – except a good reason to leave!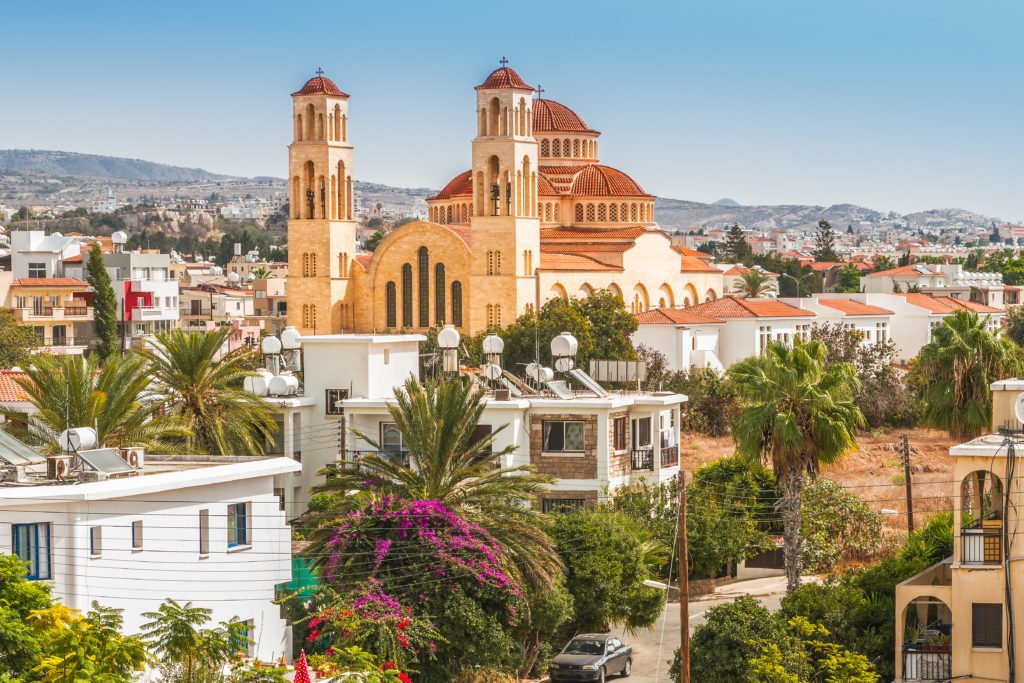 How to Visit Paphos
If Paphos is your first destination in Cyprus, you can fly there directly – Paphos has the second largest international airport in Cyprus! Alternatively, if you're arriving from Larnaca or elsewhere, take the bus or book a taxi according to your preference. Spending 2-3 days in Paphos will allow you to explore at leisure, venturing off-the-beaten-path to discover hidden treasures.
Getting Around Paphos
Navigating around the city is fairly simple, with several options for transportation. Choose from the bus or shared taxi as budget options, and private taxis for the ultimate convenience. Or, consider renting a car or bicycle if you want to explore in-depth and at your own pace.
Paphos Neighborhoods
A visit to Old Town Paphos is an ideal way to spend a breezy afternoon, strolling through narrow streets while admiring ancient architecture. Old Town is best known for its produce market and souvenir shops, but don't forget to admire its unique street art as you explore! Kato Paphos, near the harbor, is bursting with hotels. For this reason, it's a popular spot for tourists to stay. In addition, Kato Paphos is home to Paphos's Archeological Park and Museum. If you want a better sense of the local life, pay a visit to nearby villages, like Karamoullides and Philousa Kelokedharon.

Culture
The pride of Paphos is evident in its vibrant culture – woven together by ancestors of different backgrounds. The city hosts many festivals to celebrate its long-held traditions, including the Flower Festival, Paphos Aphrodite Festival, and Paradise Jazz Festival. Get a glimpse of the city's heritage through its archaeological sites – including St. Paul's Pillar, Tombs of the Kings, Medieval Baths, and Paphos Mosaics. In addition, the Byzantine Museum features an extensive collection of artifacts and relics preserved as a tribute to a bygone era of great significance. Next, indulge in the art of wine-making as you visit local wineries; an integral element of Paphos culture. If you're an art lover, Paphos is brimming with galleries and exhibitions as well.
Swim
No Paphos Travel Guide would be complete without honoring its glorious beaches! Spend your holiday hopping from Coral Bay and Vrisoudia to Vardas and Latchi. Travelers flock to Paphos to spend their vacation sunbathing and swimming in crystal clear waters. If you're an adrenaline-junkie, no need to stop there! Paphos is an excellent destination for scuba diving, jet-skiing, and a variety of water-sports.
Dine
Cypriot food is a sumptuous fusion of Mediterranean and Middle Eastern, bursting with aromatic spices and flavors. When in Paphos, be sure to sample traditional mezze, halloumi, sheftalia, and loukoumades. Of course, don't forget to sample the island's world-class wine along with your meal! After, explore the assortment of bars and nightclubs serving signature cocktails and enticing you to party until the wee hours of the morning.
Shop

Paphos Town Market is a feast for the eyes, featuring a potpourri of local handmade products. Shop for handmade lace, candles, hand-carved wooden figures, soap, ceramics, and local delicacies to bring home. For a modern shopping experience, head to Kings Avenue Mall. Poseidonos Avenue attracts an upscale clientele in search of designer digs. Meanwhile, Apostolou Pavlou Street is the place to find bargain treasures.
Stay
As a top tourist destination, Paphos offers something for every kind of traveler. Luxury-seekers will find 5-star hotels, resorts, and villas boasting world-class amenities and panoramic views. But, in Paphos, you don't have to splurge for serenity. A self-service apartment or small lodge provides a different kind of haven for a fraction of the cost.