Morocco is a destination like no other. A bridge between the Mediterranean and Africa, here you'll find cities with medinas dating back hundreds of years. Unique cultures walk their streets, while tasty cuisine appears genie-like from tiny kitchens. Leave the cities, and dramatic landscapes range from the highest mountains in North Africa to Sahara Desert dunes. Among them all lie some of the Most Beautifully Designed Hotels in Morocco. So why not explore them for yourself? Together with some well-chosen tours in Morocco, they will take your vacation to the next level.
Amanjena
Inspired by the pink-stoned buildings of ancient Marrakesh, Amanjena is a five-star resort formed out of a series of individual pavilions and connecting courtyards. The sound of trickling water combines with columned gallerias rich in arches to form a magical series of spaces. Overall, it offers guests supreme privacy and seclusion, while views extend towards the High Atlas Mountains. Traditional tiled floors and Moorish furniture fill the elegant interiors.
Route De Ouarzazate, Km 12, Marrakesh
La Mamounia
Just a short stroll from the winding streets of central Marrakesh, La Mamounia has been welcoming guests for 100 years. Evocative Moroccan craftsmanship is evident from its medina-like corridors and heavy wooden doors. Providing all the amenities the modern traveler expects, La Mamounia boasts a large outdoor pool and pool terrace. A spa, and series of restaurants and bars, also provides plenty of space to relax among the tall palms. If you want to try your hand at crafts yourself, check out our Moroccan Pottery Class with a Local Artist.
Avenue Bab Jdid, 40000., Medina – Kasba, Marrakesh
Riad Idra
To be right at the heart of the action, Riad Idra is another great Marrakesh choice. For one thing, it stands on the northern extreme of the medina. For another, this authentic Moroccan riad, or mansion, has just seven rooms. Rooms and suites come with a private patio space, as well as access to a traditional hammam. Rooms are a blend of Moorish style and pared-back sophistication, suggestive of the time Morocco was under French rule.
105 Derb Tizougarine Dar El Bacha, Marrakesh
Mandarin Oriental Marrakesh
One of the many design wonders of the Mandarin Oriental Marrakesh is its location in 20 hectares of lush gardens. Not only that, but the hotel is a thoroughly contemporary stay. Rooms are filled with natural light thanks to immense picture windows. These also provide views extending miles. While modern, there are still subtle hints of the region's traditional forms. Many of the suites and villas lie around central pools, for instance. In addition, there's a complimentary airport and railway station pick-up and drop-off service. There's therefore really no excuse not to join our Essaouira Tour & Camel Trek or Agadir Tour from Marrakesh.
Route Du Golf Royal, Marrakesh
Four Seasons Hotel Casablanca
This hotel occupies a prime spot on the Casablanca foreshore of the Atlantic Ocean. It's another pick in our list of most beautifully designed hotels in Morocco with contemporary design. Four Seasons Hotel Casablanca drifts down a hillside towards the beach. Floor-to-ceiling windows and private balconies allow guests to make the most of the impressive location. Meanwhile, stylish modern pieces of furniture and furnishings finish the look perfectly.
Anfa Place Living Resort, Boulevard De La Cornishe, Casablanca
Ryad Dyor
A one-of-a-kind stay, Ryad Dyor lies hidden behind a relatively ordinary entrance which opens out into a mesmerizing series of interiors. Its handful of rooms – there are just seven – are each individually designed. Their starting point is always the riad's historic survivors, be that a fireplace, wall tiling, or painted wooden ceilings some five meters high. A rooftop terrace forms a wonderful escape from which to watch city life largely unchanged for centuries.
1 Driba Jdida, Marrakesh
Dar Kandi
The quiet surrounds of Dar Kandi belie its excellent location and well-considered design principles. The aim was to create a riad with authenticity but also a modern flair. The result is a stay that offers both comfort and style. Undergoing a two-year renovation in 2018, today Dar Kandi matches local products, such as tasa stone, with high-end technology and sought-after brands. Guests are therefore equally at home within their beautifully-finished rooms or the shared courtyards spaces.
215 Arset Aouzal Rd, Assouel – Mouassine, Marrakesh
Almaha Marrakesh & Spa
The Almaha Marrakesh & Spa lies in the Kasbah district of Marrakesh a stone's throw from the El Badii Palace and Saadien Tombs. It is awash with flowering plants. These soften the whitewashed stonework around the outdoor pool, roof terrace and shared lounges. Crowned with a plethora of international awards, its design was actually inspired by a poem. It was brought together by Belgian designer Charles Kaisin, who has also worked with Rolls-Royce and Cartier. In his own words, the design was meant to captivate both the senses and the soul, and we can't disagree.
55 Derb Ben Zina, Marrakesh
2Ciels Boutique Hotel & SPA, Marrakesh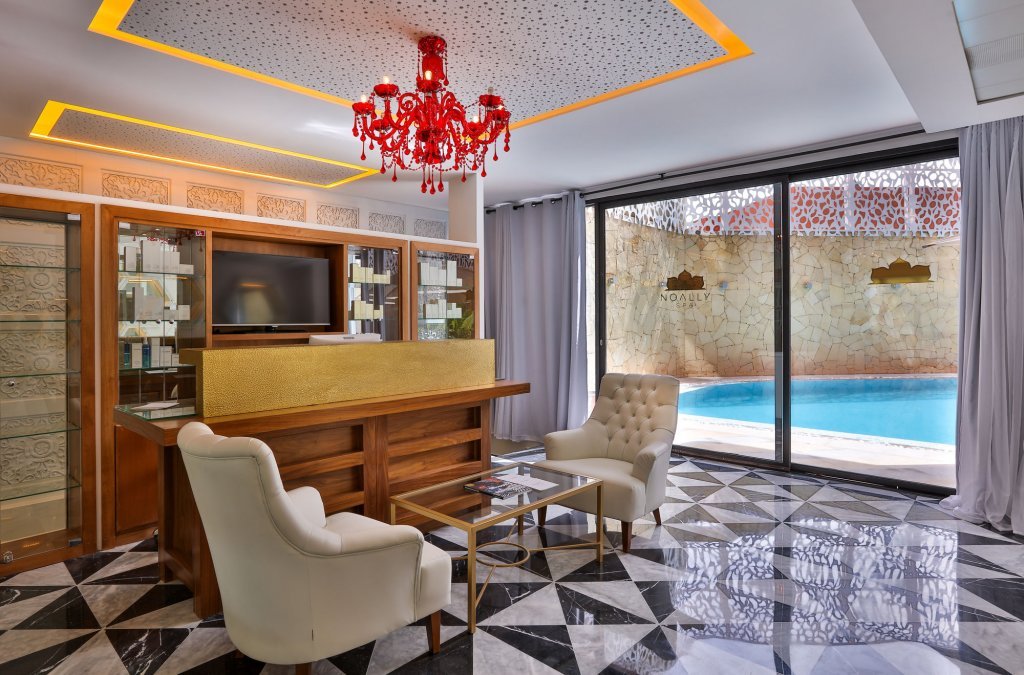 Dazzling red-orange exteriors add a splash of color to the design at 2Ciels Boutique Hotel & SPA, Marrakesh. From here guests stroll into spaces conceived as a blend of art deco luxury and age-old Moorish style. This is exemplified by the creation of a mezzanine level for guests to relax in. The onsite hammam remains deliberately traditional however, to give the authentic spa experience.
Rue Oued El Makhazine Angle Imam Chafai, Marrakesh
Beautiful Design in Morocco
We've focused our attentions for the most beautifully designed hotels in Morocco on the delights of Marrakech and Casablanca. But should you be heading further afield, you can still stay in some excellent hotels in Morocco. For more on Marrakesh, be sure to check out our Marrakesh travel guide and guide to the markets and souks of Marrakesh. Meanwhile our Culture Guide to Morocco lets you into the secrets of life in this intriguing destination.