It doesn't take long to see the Montserrat mountain when you travel north-west from Barcelona; a jagged, saw-like peak rising up from considerably lower lands. Standing at just over 1,200 meters, Montserrat is the highest peak in this part of Catalonia. It makes a perfect day out from Barcelona. The main attraction is a 10th-century monastery with the famous 'Black Madonna' statue. The area is also home to impressive hiking trails and boutique wineries. But how do you get from Barcelona to Montserrat? Once you're well-rested in one of our curated Barcelona hotels, these are the best ways to travel from Barcelona to Montserrat in a day.
A Guided Tour from Barcelona
If you're on holiday, a guided tour is the best way to see Montserrat. After all, it takes away the hassle of hiring a car or getting a train and will give you the best experience of this glorious mountain and all it has to offer. You could take a look at our Cogwheel train Montserrat tour. This tour not only includes a train ride up the mountain to Montserrat's stunning monastery but also a tapas and wine tour at a bodega for your fill of local wine and delicacies. Or take a stripped-down version that is a tapas and wine tour through this stunning region.
Check out all of our Barcelona to Montserrat tours.
Barcelona to Montserrat by Car
Car hire is easily arranged in Barcelona, mostly from the car hire hubs at Sants station or El Prat airport. Daily car hire costs greatly differ depending on the time of year but for a small car, generally range from €30-€60 a day. The journey in good traffic takes just an hour, straight out north on the AP-7 and A2 roads. You can park at Monistrol-Vila or Aeri de Montserrat stations for free. If you've already rented a car, we recommend heading further south to Sitges, a famous beach often compared to Saint Tropez. Or visit it with our Sitges tapas and wine tour.
Barecelona to Montserrat by Train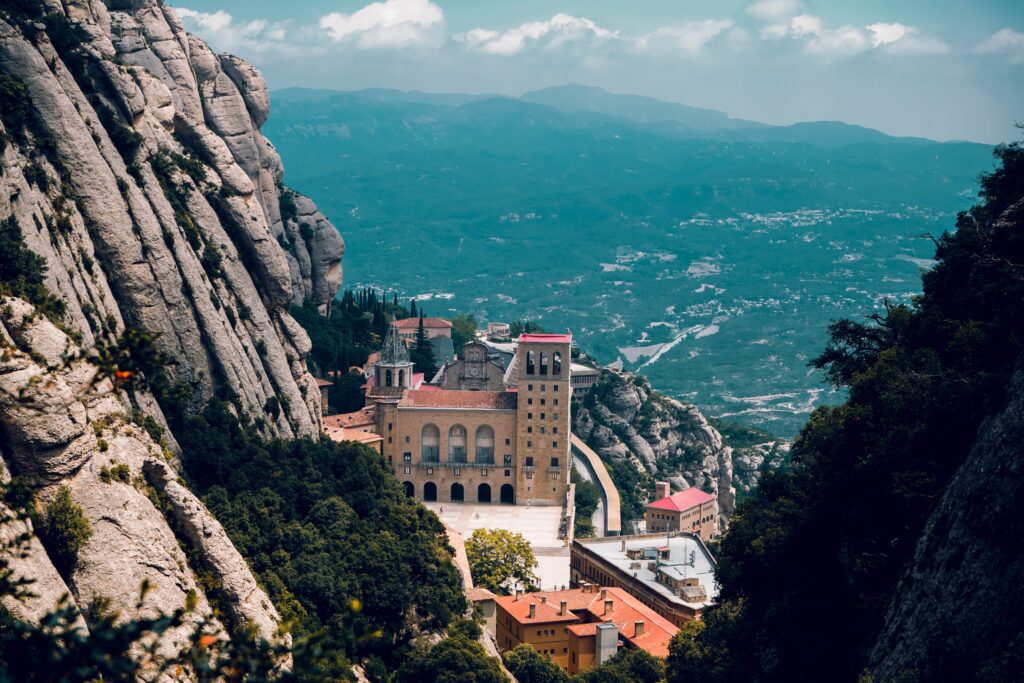 Travelling to Montserrat to Barcelona by train is an easy option, just take the R5 train towards Manresa from Plaça España. Alight at either Aeri de Montserrat or Monistrol de Montserrat stations. The ride takes about 1 hour and 10 minutes.
To continue your ascent to the top of Montserrat, you will need to take the funicular railway or the cable car. But be warned, tickets on both of these modes of transport are limited and it can be difficult to come by – the generally accepted wisdom is to come to Montserrat with a tour like the ones mentioned above, to same time and hassle. And then take a rest in one of the hotels we recommend in our guide on where to stay in Barcelona.
Visiting Montserrat from Barcelona
Travelling from Barcelona to Montserrat is easy and certainly not something to miss if you're visiting the area. But Barcelona itself is also full of great places to visit and explore, as our tours in Barcelona show. Whatever you do, if you're in Spain, be sure to visit these jewels in Catalonia's crown. They are too stunning to skip.