Coffee growing has a rich heritage in Costa Rica. An incentive after independence from Spain stated any farmer who grew coffee for over 5 years would own that land. Costa Rican coffee was not for locals to drink, and residents had to accept lower quality coffee beans. But today, this is changing. Costa Rica's coffee culture is more buoyant than ever with café owners gaining access to some of the finest beans in the country. Coffee Culture in Costa Rica is yet another element that you'll be eager to embrace. It's also our favorite thing to take back with us.
How Do You Grow Costa Rican Coffee?
Costa Rican coffee requires a combination of conditions to produce high-quality beans. High altitudes, mineral-rich volcanic soils, and cool climates with steady rainfall help to produce the most aromatic and flavorsome coffee beans in the world. The berries are picked between the months of October and January each year. They're then transported to processing facilities where the pulp is removed before the berries are dried. After drying, beans are sorted by shape and size and placed into hessian bags where they are stored until exported. To learn more about the coffee life-cycle from seedling to roasting join the Classic Coffee Private Tour From San José.
Which are the Best Costa Rican Coffee Brands?
Coffee Culture in Costa Rica is a matter of national pride. So get ready to sample some of the world's best brews. Costa Rica produces Arabica coffee beans which create a smooth cup of coffee. A few of the country's premier brands include Doka, Café Britt, Dota, and Tarrazu. There are also several boutique brands worth trying. Export-quality bags, when genuine, will say 'Hecho en Costa Rica' – guaranteeing you have 100% pure Costa Rican coffee.
How to Brew Like a Local
If you want to brew like a local, use a traditional chorreador. These old-fashioned wooden contraptions are carved or hand-painted and purchased from markets across Central Valley and in San José. The chorreador isn't electric, nor does it use regular filters: it's a cloth pouch and stand. To create the perfect cup of Costa Rican coffee, place ground beans inside the cloth and add hot water to the mix, filtering into your cup below.
Where Can I Sample the Best Coffee in San Jose?
Cafeoteca
The knowledgeable baristas of trendy Cafeoteca in San José serve coffees from eight different regions in Costa Rica. Coffee connoisseurs will enjoy sampling over 20 different types of coffee combined with tasty pastries for breakfast.
Alma de Café
This elegant café close to National Theatre in downtown San José is vibrant with murals and boasts an extensive coffee menu for bean aficionados to enjoy.
Café del Barista
A cozy, hip independent café in San José, Café del Barista roasts their own beans with staff having a passion and in-depth knowledge of the crop-to-cup process. Their cappuccinos are legendary and their food menu is delicious.
Want to know the perfect place to stay while sipping coffee in San José? Our curated selection of hotels is at your service.
Coffee Plantations in Costa Rica
Experience Coffee Culture in Costa Rica hands-on! There are several tourist destinations across Costa Rica such as Monteverde Cloud Forest, Barva de Heredia, and Santa Juana Lodge which offer visits to coffee plantations, showing visitors the entire crop-to-cup process. This Cost Rica 7-day tour package includes several of these stops and coffee-related activities. However, if you plan to make your own arrangements, the majority of coffee farms are located in the picturesque volcanic region of Central Valley within a short drive of San José. Here is a list of a few which you can visit during your Costa Rica stay.
Hacienda Espíritu Santo
If you seek a day trip from San José, Hacienda Espíritu Santo lies just 45 minutes outside the city close to the picturesque town of Sarchi. This 247-hectare plantation divided into several stations showcases the entire crop-to-cup coffee-making process. Visitors can learn about production, harvesting, roasting, and even learn how to brew coffee the Costa Rican way in a traditional chorreador.
Doka Estate
On the verdant slopes of Poás Volcano, this well-known estate doesn't just plant and grow coffee beans, it also specializes in sugar cane. The farm has a rich family history and is home to the oldest wet mill in the country. One of the largest coffee plantations in Costa Rica, Doka Estate also puts its name on some of the best coffee in all Central America. Exploring the estate and surrounding attractions is easy with this Poás Volcano, Doka Coffee, and La Paz Waterfall Tour.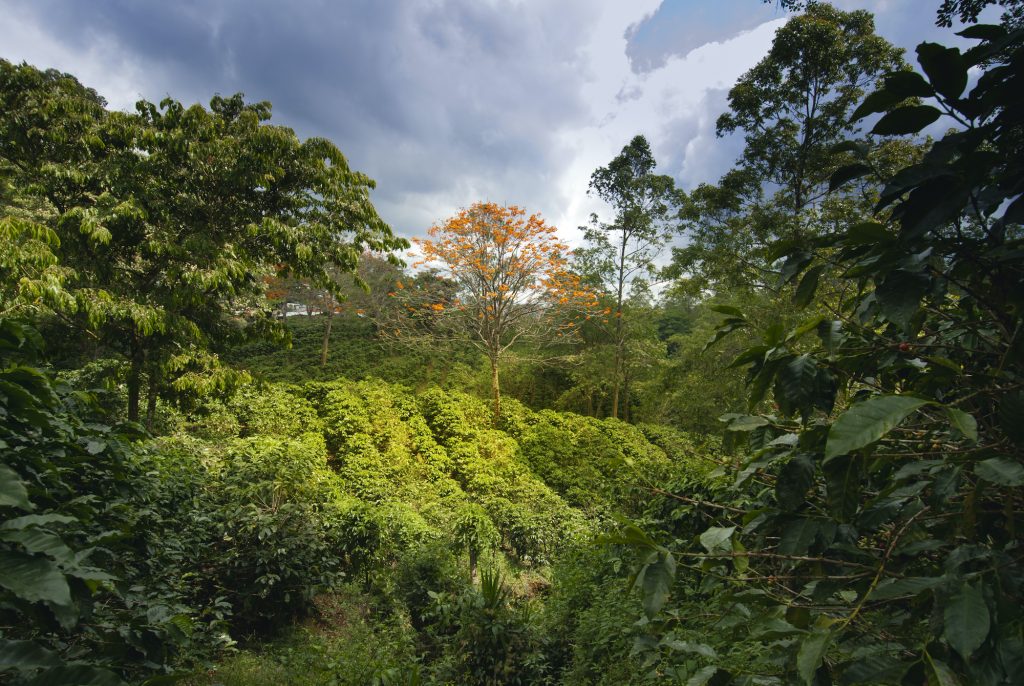 Finca Rosa Blanca
A short drive from San José International Airport, Finca Rosa Blanca is a boutique coffee farm and resort hosting extensive tours that demonstrate testing and rating of the coffee beans. If you arrive during harvest between October and January, you can participate in the bean picking process and make your own fresh coffee at the bar. Should you decide to spend the evening here, you can enjoy sampling farm-to-table cuisine and stay in luxurious lodge accommodations.
Santa Maria de Dota
Nestled in the mountains between San José and Manuel Antonio National Park is Santa Maria de Dota coffee plantation. This famous coffee farm in Tarrazu grows some of the tastiest coffee beans in the country. Visitors can learn about the gourmet coffee process on a behind-the-scenes tour and also gain knowledge about the cooperative and the role it plays in the local community. The tour includes a campesino style lunch and a breathtaking 4×4 journey back to your accommodation.
Costa Rica offers a wide variety of coffee drinking experiences. You can have a refreshing cup of joe brewed by skilled baristas in trendy coffee shops. Or use the traditional chorreador to brew your own, right in the middle of a plantation. Don't be afraid to explore – venture out of San Jose to witness the entire crop-to-cup process. If you're in the mood to explore some more, don't miss out on the Irazú Volcano Half-Day Tour from San José. You can also take in the views of the rainforest on a Pacuare River Rafting from San José tour. Looking for a more laid-back way to spend the day? Go on a luxury day at sea with the Manuel Antonio Catamaran Tour from San José. Our wide selection of day tours and multi-day packages make exploring the entire country simple, stress-free, and immensely enjoyable.