Wandering the streets of Jerusalem is a transcendental experience. The ancient city draws you in with its radiant light, fascinating history, and the captivating smells of cardamom and frankincense. Jerusalem is high on most bucket lists. With so much to explore, it's easy to spend the entire day roaming about without realizing how hungry you've become. Rest assured, when your stomach insists on a break, the culinary scene is ready to greet you with open arms. This city is a melting pot of different cultures and flavors. As you sit down to rest and refuel, prepare for an out-of-body experience at one of the best restaurants in Jerusalem.
Machneyuda
Arguably the best restaurant in Jerusalem, Machneyuda is famous among locals and tourists alike. Co-owners and chefs Assaf Granit and Uri Navon are native Jerusalemites. Emulate them on our Jerusalem market and cooking tour. They previously worked together at Lavan ("white") before deciding to unleash the color spectrum with Machneyuda. The menu is somehow elegant and down-to-earth at the same time. They harmonize homey dishes like pumpkin kibbeh, za'atar chimichurri, and an ancient Kurdish pastry with upscale filet mignon and seafood beurre blanc. For dessert, try the Bavarian cream from Ramle with some of Uri's mom's famous semolina cake. 
Eucalyptus
In 1960, a young Moshe Basson planted a small eucalyptus tree in his parents' yard in celebration of Tu B'shvat, the Jewish harvest festival. Many years later, the Basson family opened up their family restaurant beneath this very tree. It soon became one of the best restaurants in Jerusalem. The Eucalyptus offers a fine dining experience while incorporating biblical ingredients. This includes wild plants and roots foraged from the nearby hillsides. The menu is both traditional and innovative, fusing Levantine, Arab, and Jewish recipes. Centrally located in the Artist's Quarter, The Eucalyptus is one of the best restaurants in Jerusalem to experience elevated traditional cuisine.
Rooftop
Above the Mamilla Hotel, with breathtaking views of the Old City, Rooftop's kosher menu keeps it classic and sophisticated. Start with beef tartare and roasted bone marrow with cabernet sauce. Next, try the roasted goose breast, charcoal-grilled entrecote, and oyster bar. Be sure to save room for their chocolate mille-feuille and petit fours. With a fabulous menu and al fresco dining, Rooftop is a popular haven for hungry travelers. Don't forget to make a  reservation in advance. Pair dinner here with a stop at one of the nearby best bars in Jerusalem.
Azura
If you're craving authentic Turkish-Iraqi cuisine, served in a laborer's lunch joint turned hotspot, head to Azura to tantalize your taste buds. Its exterior is unassuming, but your nose, and then your tastebuds, will reassure you that this is one of the best restaurants in Jerusalem. Nestled in the winding alleys of the Mahane Yehuda market, this iconic establishment opened in 1952 and bounced around Jerusalem before returning home. Try their tasting menu. Or choose from a variety of traditional dishes, like stuffed vegetables, beef goulash, moussaka, and beet kubbeh soup. You'll pass nearby if you follow our itinerary for 2 days in Jerusalem, and can make a quick detour for lunch.
Chakra
Recognized as one of the best restaurants in the world by the prestigious La Liste in 2019, Chakra offers the haute-cuisine experience for culinary connoisseurs. Since this is an upscale affair, try not to drool on the menu as you peruse the sumptuous offerings, like stone oven focaccia, chopped liver with fig jam, black tiger shrimp, and beet tortellini with roquefort butter. For dessert, choose from crème brûlée or their deconstructed lemon tart with cassis sorbet. With an extensive wine list and respective menus for cocktails and grappa, Chakra elevates fine dining to a spiritual level.
La Régence
Another restaurant to grace the La Liste best of 2019, King David Hotel's La Régence infuses classical fine dining with passion and creativity. Executive Chef David Biton was born and raised in Jerusalem and has been an innovator of haute-cuisine since the age of 21. Biton invites diners to experience contemporary Israeli cuisine as performance art, inspired by fresh, seasonal, and local produce. Select from their main menu, which includes veal sweetbreads with Jerusalem artichoke, lamb chops with onion stew and parsley cream, and Rossini duck breast with mangold leaves, or indulge in their tasting menu for a culinary adventure guaranteed to elevate and entice your palate.
Satya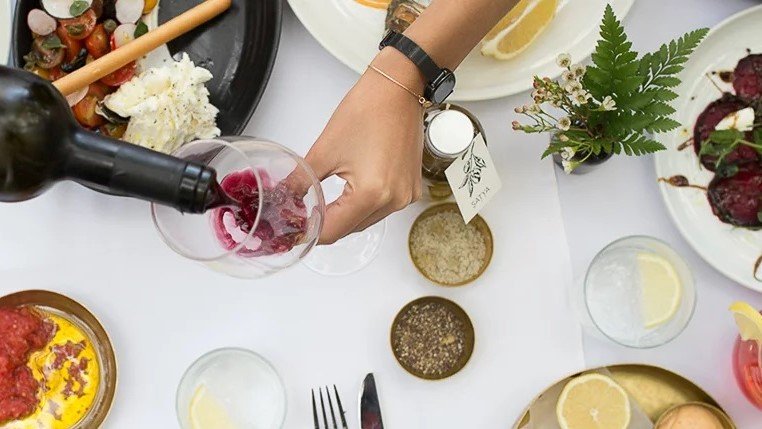 Ilan Garusi, former owner and chef at Chakra, now serves up exquisite Mediterranean cuisine in a relaxed atmosphere at Satya. The main menu is simply divine, featuring dishes like oxtail tortellini, crispy Asian trout, and surf 'n' turf pappardelle pasta. Or a chef's pick and a tasting menu are also available for gastronomic thrill-seekers.
Hamotzi
Celebrity chef Avi Levy won MasterChef Israel in 2011. Now he shares his Algerian and Moroccan heritage on a plate as his mother kneads pastry dough in the corner. Good luck focusing on the menu as the sizzling spices and vibrant colors set fire to your appetite. Hamotzi has something for everyone. They serve vegan options like hummus, fried cauliflower, and Algerian maakoud (fried leek and potato pie). They also serve boulettes (Algerian meatballs), filet of dennis, lamb kebabs, and Agadir mixed grill for carnivorous appetites. Hamotzi also offers cooking classes and workshops for foodies who want to learn from the MasterChef and bring the kitchen home with them. 
Dining in Jerusalem
This multicultural melting pot offers a variety of cuisines for adventurous diners. Whether you're seeking street food or haute cuisine, this iconic city offers it all. Don't forget to check our hotels and tours in Jerusalem while ironing out your itinerary!