For those traveling in Japan with a family, it can be difficult to find hotel accommodation that is suitable for small children, or families. Knowing where to look can reduce stress and make families feel more comfortable with options for family rooms and hotel amenities that are child-friendly. Here is our list of the best family hotels in Tokyo.
Grand Nikko Tokyo Daiba
Situated in the Tokyo Bay area in Odaiba, the Grand Nikko Tokyo Daiba Hotel is approximately a 20-minute ride on the train or monorail from the JR Tokyo Station, making it easily accessible. This hotel is one of the best family hotels in Tokyo given the spacious rooms, complete with free wifi and satellite channels on the televisions in each room. There are restaurants in the hotel which are convenient for families to dine within the hotel property. The Grand Nikko Tokyo also offers guests a free shuttle service to and from the Tokyo Disney Resort which is a big draw for families with smaller children. The hotel is also close to shopping and restaurants in Odaiba.
135-8701 Tokyo Prefecture, Minato-ku Daiba 2-6-1, Japan
Hilton Tokyo Odaiba
The Hilton Tokyo Odaiba is a popular choice amongst families traveling in that the property is conveniently located near shopping, entertainment, and restaurants, situated along the Tokyo Bay waterfront. Beyond the views of the Rainbow Bridge and Tokyo Tower, the Hilton Tokyo Odaiba offers families an airport shuttle as well as a complimentary daily shuttle to the Tokyo Disney Resort. The hotel also offers a pool and fitness center and the rooms are comfortable and accommodating making it one of the best family hotels in Tokyo.
135-8625 Tokyo Prefecture, Minato-ku Daiba 1-9-1, Japan
Keio Plaza Hotel Tokyo
Brightly colored rooms adorned with Hello Kitty make the Keio Plaza Hotel Tokyo a kid-friendly atmosphere along with the overlooking views of Shinjuku district. The hotel property is a large complex situated between two towers. The decor is playful, bright with pop-art on the walls, giant high-heel shaped chairs, and each room offers air purifiers and humidifiers, ideal for smaller children to have a good nights rest. The Keio Plaza Hotel also offers families a large outdoor pool, convenience store, buffet, and a karaoke room, along with a free shuttle making this hotel an obvious choice as one of the best family hotels in Tokyo.
160-8330 Tokyo Prefecture, Shinjuku-ku, Nishishinjuku 2-2-1, Japan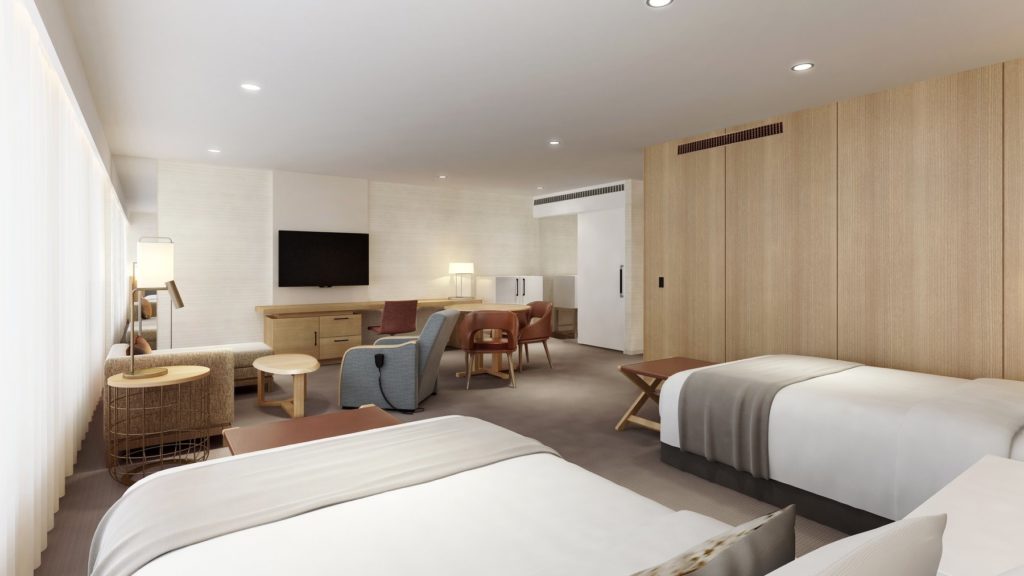 Hotel East 21 Tokyo
Conveniently located just 8 minutes walking distance from the Toyocho Subway Station, the Hotel East 21 Tokyo is a comfortable family-friendly hotel. The property includes a large outdoor pool, spacious rooms, and 8 restaurant dining options. Many family attractions are situated nearby the hotel including the Tokyo Skytree – 20 minutes drive and the Tokyo Disney Resort is approximately 30 minutes away. The hotel also offers families airport shuttles from both Narita Airport an Haneda Airport (additional charge). Deluxe Family rooms and suites are also available offering spacious accommodation for various sized families.
135-0016 Tokyo Prefecture, Koto-ku Toyo 6-3-3, Japan
Akasaka Excel Hotel Tokyu
The Akasaka Excel Hotel is a popular hotel among family travelers given its central location and easy access from the Akasaka-Mitsuke Subway Station. The hotel offers clean, spacious rooms and can be booked with a pull-out couch offering extra sleeping room for children. The Tokyu Plaza Akasaka shopping arcade is located in the hotel, making it very easy to access shopping and many dining options. The hotel also provides luggage storage and a daily breakfast buffet and spa, for tired parents looking to rejuvenate from a long day of traveling which all make a family stay more comfortable, and makes Akasaka Excel Hotel Tokyo one of the best family hotels in Tokyo.
100-0014 Tokyo Prefecture, Chiyoda-ku, Nagatacho 2-14-3, Japan
Check out the best family hotels in Kyoto as well.