Known for its traditional Japanese culture and rich history, Kyoto boasts beautiful gardens, cherry blossoms, Imperial palaces and Buddhist temples which makes it the perfect place to enjoy a Boutique Hotel experience infused with this in the same tradition. The concept of boutique hotels which offers personalized and curated experiences for guests can also be reflected in the traditional Japanese Inns known as Ryokan, which have been in Kyoto for centuries. Some of the best boutique hotels in Kyoto are thoughtfully crafted, intimate and reflect the same traditional aesthetic of Ryokans and the vibe of the city. Take your pick of some of the best boutique hotels in Kyoto.
Noku Boutique Hotel Kyoto
Noku Hotel Kyoto has quickly gained a name as one of the best boutique hotels in Kyoto. Conveniently located steps from the Metro Station and across the street from the Kyoto Imperial Palace famous for its cherry blossoms, Noku Hotel Kyoto has created a guest experience which carries the artisanal traditions of the city throughout the hotel. This boutique hotel offers 81 rooms which are bright, modern and imbued with classical Kyoto elements reflected in the artwork and design. Extra details in the room such as orange juice, water, baked goods, and coffee are offered complimentary and replenished every day. Travelers can enjoy coffee and breakfast (western or Japanese style) in the morning at the Noku Cafe – Maeda Coffee or partake in dinner at KYOU Karasuma the hotel restaurant serving sabu-sabu prepared beef and an extensive sake and wine selection. The sensibility of Kyoto is experienced both inside the hotel and in the surrounding neighborhood.
205-1 Okuracho, Nakagyo-ku, Kyoto 604-0861, Kyoto Prefecture
Tawaraya Ryokan
Recognized for its old-fashioned elegance and ethereal simplicity, the Tawaraya Ryokan offers a highly specialized experience based on the tradition of original Ryokan culture and Japanese hospitality. The Tawaraya Ryokan has a long-standing reputation among locals and tourists as one of the best boutique hotels in Kyoto. Upon arrival to the hotel you will be served warm tea and be asked to take your shoes off where hotel staff will greet you, and as a sign of respect and sincerity, they will bow as they welcome you. Small touches and attention to details can be felt and go a long way to enhance the experience. Rooms are simplistic, traditional and mindfully arranged taking Japanese hospitality and harmony to heart and each overlooking private gardens. The hotel invites rest, thoughtful contemplation and an authentic, unparalleled Japanese experience. As one of the few remaining authentic Ryokan and certainly one of Kyoto's best boutique hotels, Tawaraya is a special experience for guests to participate in a unique Japanese ritual deeply rooted in hospitality and grace.
278 Nakahakusancho, Nakagyo-ku, Kyoto 604-8094, Kyoto Prefecture
The Screen Boutique Hotel
Situated near the Kyoto Imperial Palace and downtown Kyoto, The Screen offers 13 guest rooms, each uniquely designed and integrating Japanese elements of design and culture. The Screen strives to offer guests personalization and the luxurious experience of "choosing their own sense of style". Focused on the preservation of the past and innovation of the future, The Screen has become a fan favorite, and one of the best boutique hotels in Kyoto. You can enjoy a cocktail or drink in the Bron Ronnery Restaurant along with well-prepared meals. The Screen also offers a rooftop bar which sets the perfect scene for evening drinks overlooking the city as well as a lounge, referred to as a Sun-Sun for relaxation, socializing or catching up on work. The neighborhood offers many quaint shops, cafes, and restaurants for exploration.
640-1 Shimogoryomae-cho, Tera-machi, Maruta-cho, Nakagyo-ku, Kamigyo, Kyoto 604-0995, Kyoto Prefecture
Gion Hatanaka
Simplicity and tradition can be felt at the Gion Hatanaka, a traditional and high end, boutique Ryokan offering a personalized guest experience. Situated close to Shijo-Dori street, Gion Hatanaka gives guests an authentically Japanese experience which includes sleeping on mats on the floor, eating dinner and breakfast served in the guest room, and luxurious public baths known as onsens. Each room has its own "Nakai-San" a room attendant to offer assistance and service. It is worth noting that the hotel has a curfew to enter the gate which encourages quiet in the evenings, a sense of calm can be felt through the property. For the ultimate relaxation, guests can indulge in a massage which is offered at the hotel. If you are looking for one of the best boutique hotels in Kyoto which will offer authenticity and culture, Gion Hatanaka is the place to stay.
Yasaka Jinjya Minamimon Mae Higashiyama ku, Kyoto 605-0074, Kyoto Prefecture
Boutique Hotel Kanra Kyoto
With traditional elements of Kyoto style yet practical and modern, Boutique Hotel Kanra Kyoto is a well-blended mix of Japanese and western styles. Located about a 15-minute walk from Sanjusangendo Temple and relatively close to the Kyoto Aquarium, Hotel Kanra Kyoto is a standing example of Italian influences on Kyoto architecture. The rooms showcase Japanese sophistication and are consciously designed. Guests can enjoy breakfast (Japanese set menu or western style) in the Kanra Lounge and can walk to nearby Kazariya and Ristorante Misato for lunch or dinner. Hotel Kanra Kyoto also offers a spa and wellness center and bike rental, a perfect way to explore the surrounding areas. The small details in this hotel make it an extra special experience that is uniquely Japanese, from beautifully crafted tea cups to the wooden bathtubs, Hotel Kanra Kyoto has certainly made a name for itself as one of the best boutique hotels in Kyoto and it is obvious why.
190 Kitamachi Karasuma-dori Rokujo Sagaru, Shimogyo-ku, Kyoto 600-8176, Kyoto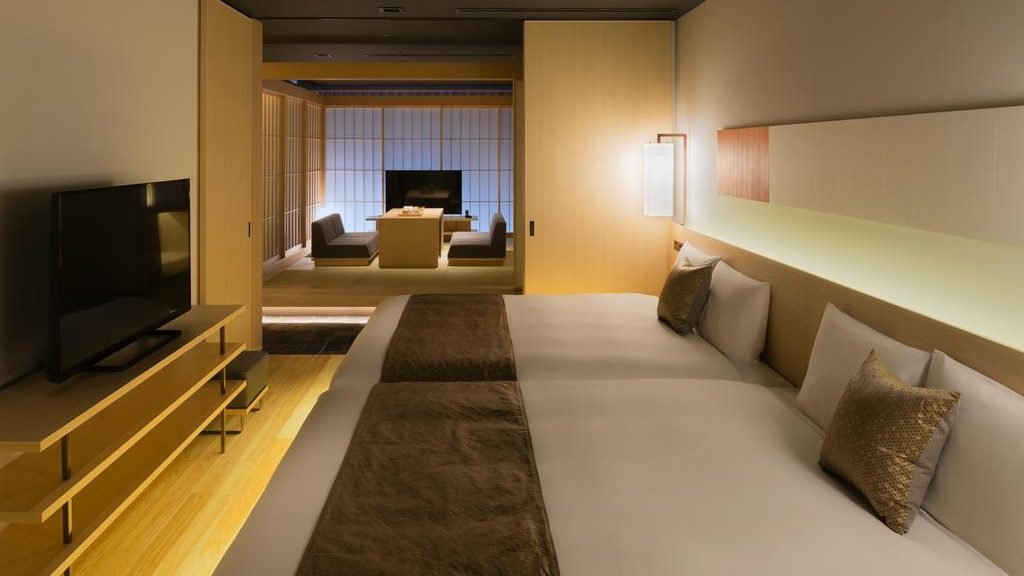 Ace Boutique Hotel Kyoto (Opening 2019)
Slated to open mid-to-late 2019, the Ace Boutique Hotel is projected to offer guests the same exceptional service experienced in their other international hotel locations and a reflective insight into the dynamic past and future of Kyoto. World famous architect Kengo Kuma who is also working on Tokyo's 2020 Olympic stadium, known for his use of natural materials and light, has designed the Ace Boutique Hotel in Kyoto. Deeply rooted in the natural surroundings and history of Kyoto, the Ace Hotel mixes past with the present and infused elements of the original Kyoto Central Telephone Office which was housed in the building in the 1920s. Innovative, contemporary yet intrinsically traditional, the Ace Hotel will offer guests a meaningful and thoughtful experience both through the hotel's design elements and guest experiences. Surrounded by landmarks such as the Nijō Castle, Museum of Kyoto and the Nishiki Market guests will be able to explore the neighboring locale which includes the former grounds of the Kyoto Imperial Palace.