Set just south of Oaxaca, Puerto Escondido is a surfing and outdoor lover's paradise. The beaches are pure golden sand with crashing waves and the town has a laid-back feel with plenty of markets, bars, and restaurants to while away a few hours. If you've not visited Puerto Escondido before, it can be difficult to know where to start. You could peruse our selection of Oaxaca tour packages to find an incredible adventure that folds in all the best experiences. But if you want to learn more first or plan a trip independently, this guide to spending 2 days in Puerto Escondido is a great place to start. This jam-packed, adventure-filled itinerary will ensure you leave the town with plenty of excellent memories, photos, and who knows, perhaps a new friend or two.
Day 1
Morning
Get off to a great start in Puerto Escondido with our mangrove kayak experience. A designated driver will take you and a small group a short drive to Puerto Suelo. Here, after a short kayaking lesson – you'll go down the channels and lagoons, filled with twisting mangroves on either side. This is a great experience for those who love birdwatching thanks to the vast array of birds who make this area their home. After your kayaking session, take some free time on Puerto Suelo's beach, complete with snacks. A great start to your time in this magical part of the world and your 2 days in Puerto Escondido.
Afternoon
It's time to explore Puerto Escondido itself. You could spend some time on each of the town's three beaches – Playa Marinero, Playa Principal, and Zicatela – watching the surfers that congregate here catch the wave of their lives. Or head into town to shop on the Adoquín street that runs parallel to Playa Principal. This street has everything you need, from souvenirs to local crafts and handmade jewelry. This area of Mexico is famous for its black pottery, so be sure to take a look for some, as well as Mexican art, sculptures, leatherwork, and tapestries.
And don't forget to eat! This town is full of great seafood options, try El Nene for some of the best. And if it's authentic tacos you're after, Metxcalli is the restaurant for you. It also does a great line in cocktails.
Evening
You can't come to this part of Mexico without partaking in a sunset or two. Our Pacific coast sunset & bonfire experience is just the ticket. We will pick you up from whichever of our hand-picked hotels in the city that you've chosen. Then, you'll get to hop on a panga boat towards La Isla del Gallo, situated in the middle of a lagoon. At the secluded beach of La Barra, you get to experience a stunning sunset, along with a bonfire made just for you where you can roast some marshmallows and other treats. On the way home is where the experience really takes off; you'll get to swim in the bioluminescent waters under the moon.
Once you return to Puerto Escondido, you can head out to town, to eat, drink and dance the night away. Try the Zicatela neighborhood for the best nightlife in town.
Day 2
Morning and Afternoon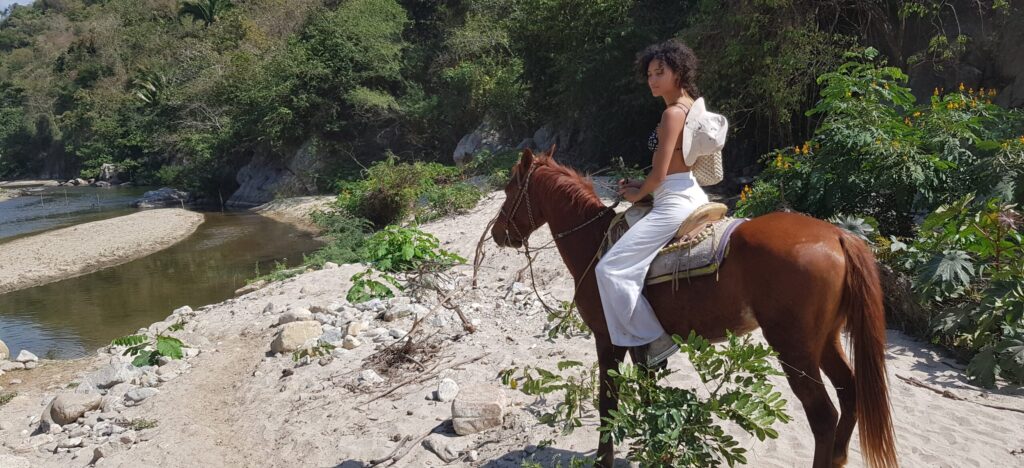 It's time to get active! Our horseback riding adventure & hot springs tour takes you deep into the Oaxacan countryside. You'll head to the traditional town of San José Manialtepec. There, you can enjoy a traditional breakfast before heading out on a guided horseback tour. This tour takes you through the Sierra Madre mountain range, crossing rivers and streams and passing by exotic wildlife. The horseback ride ends at the local thermal springs. These are volcano-derived, full of healing minerals.
An alternative route is taking a day trip out of the city, like with our Huatulco City Tour from Puerto Escondido. A beautiful national park, incredible views above and below the water, traditional food, local handicrafts, and more make this a great full-day excursion from Puerto Escondido.
Afternoon and Evening
You can't come to this area without visiting the Chacahua National Park, which is exactly where you'll head on our Chacahua National Park sunset experience. This national park is a network of lagoons, only accessible by boat. It's inhabited by many unusual types of vegetation, birds, and wildlife. You'll head to the local village of Zapotalito where a boat will take you through mangrove forests, on your way to the park. Our experienced guide will take you on a hike to a lighthouse, complete with panoramic views of the island.
The experience also comes complete with a traditional Oaxacan meal at a restaurant next to the lighthouse so you won't go hungry. And don't forget the sunset which is as stunning as anywhere along this coastline. Finally, return to the village, stopping to swim in the waters on the way. A perfect way to round off a 2 day Puerto Escondido itinerary.
Planning 2 Days in Puerto Escondido
We love Puerto Escondido for its laid-back vibe, adventurous nature, and great nightlife, and we think you will too! There is so much to do in Puerto Escondido, you may be tempted to stay longer. If you do, be sure to check out all of our Puerto Escondido tours. The Ventanilla, Mazunte, Zipolite & Puerto Angel Tour, for example, packs animal sanctuaries, secluded beaches, stunning coral reefs, and sleepy seaside villages all into one lovely day trip. The 7 Day Secrets of Oaxaca tour package folds all the best experiences we've mentioned above into one exquisite weeklong adventure. But why stop at just one region with so much of this stunning country to explore? Our Mexico tour packages offer incredible itineraries with unforgettable experiences across the country.